319 How To Build A Legendary Native Digital Business with Amy Porterfield
Wednesday 20th September 2023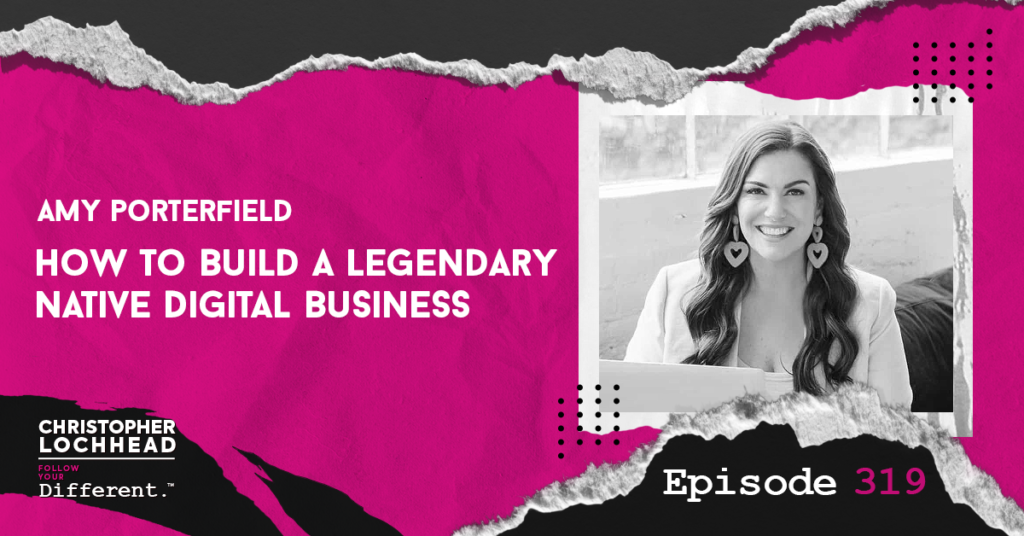 Podcast: Play in new window | Download (Duration: 54:28 — 37.4MB) | Embed
Subscribe: Apple Podcasts | Google Podcasts | Spotify | Pandora | Stitcher | RSS | More
Many people dream of being paid to create. That is, earning a living from both knowledge work, which is the application of existing knowledge to produce value, and creating net new knowledge, intellectual capital content, or what you can think of as creator capital, is simply cool. Our guest today is the Category Queen of teaching people to build highly scalable, highly profitable, native digital businesses, and specifically digital courses, content and communities, Amy Porterfield.
Amy Porterfield has a podcast called Online Marketing Made Easy, which is often the number one ranked marketing podcast in the world. and she also operates the leading digital course academy. Her book, Two Weeks Notice, find the courage to quit your job, make more money, work where you want, and change the world is a number one bestseller for a reason.
There are a lot of people who pay a lot of money to have the conversation with Amy that you're about to hear. The future of businesses native digital in yourself will thank you for listening to this episode.
You're listening to Christopher Lochhead: Follow Your Different. We are the real dialogue podcast for people with a different mind. So get your mind in a different place, and hey ho, let's go.
Amy Porterfield, the Category Queen of Digital Community Online Marketing
We start the conversation with a brief background as to what Amy Porterfield does in the online business field. As Amy puts it, she teaches people how to start online businesses, specifically how to turn their knowledge, know-how, and skill set into a profitable digital course that they can launch over and over again.
And when it comes to digital resources, careers, or businesses that one can have access to, there's a lot in the online sphere. Her courses teach you these options, so you can decide which ones you need to learn for your business, and which ones you might choose to delegate for efficiency.
Amy Porterfield on the magic of Digital Courses
Amy then highlights the benefits and advantages of digital courses. Both discuss from their POV the transformation that occurs when shifting from a product-focused marketing mindset to a teacher mindset. They highlight the scalability of digital courses, allowing creators and businesses to reach a larger audience and achieve greater freedom and financial success.
Amy emphasizes how digital courses can establish thought leaders and put individuals or companies on the map within their respective industries. Furthermore, digital courses help potential customers understand the value and power of a product, service, or brand, making it easier for them to buy in and become part of a community.
Teaching through digital courses is seen as a powerful strategy to educate and engage customers, ultimately leading to business growth.
The use of digital courses in a product-driven business
Amy then talks about the role of digital courses in educating people about innovative products or services and facilitating buy-in from potential customers. Amy highlights the value of digital courses in helping individuals understand the power and benefits of a business's offerings, leading to increased interest and engagement.
Christopher adds that the more groundbreaking the product or service, the greater the need for education to bridge the gap between the new concept and the target audience. He mentions the importance of teaching and providing knowledge within digital courses to support the adoption of new ideas.
Digital courses are an effective medium for educating and empowering users and businesses alike. They enable businesses to demonstrate their expertise, build trust, and highlight the value they can offer. Businesses can establish themselves as thought leaders and attract a dedicated community of followers by teaching first and providing valuable content. Because they provide a structured and accessible format for learners to grasp new information, digital courses can be especially effective for introducing innovative or complex concepts. Overall, digital courses can be used by businesses to educate and engage their audiences, resulting in increased awareness, customer loyalty, and business growth.
To hear more from Amy and how to build a Legendary Native Digital business, download and listen to this episode.
Bio
Amy Porterfield
Amy Porterfield is an ex-corporate girl turned online marketing expert and CEO of her own multimillion-dollar business.
Through her best-selling courses and top-ranked marketing podcast Online Marketing Made Easy, Amy has helped hundreds of thousands of entrepreneurs to trade burnout for freedom, income, and impact and find professional autonomy, independence, and success far beyond what a corporate glass ceiling would traditionally allow.
She has been featured in Forbes, Fast Company, CNBC, Business Insider, Entrepreneur, and her company has twice been awarded the Inc. 5000 Award as one of the fastest-growing privately held companies in the U.S.
She runs her growing business from Nashville, Tennessee, where she lives with her husband, Hobie, and their Labradoodle, Scout. Learn more at AmyPorterfield.com.
Links
Connect with Amy Porterfield!
Amy's Website | Instagram | Facebook | TikTok | LinkedIn
We hope you enjoyed this episode of Christopher Lochhead: Follow Your Different™! Christopher loves hearing from his listeners. Feel free to email him, connect on Facebook, Twitter, Instagram, and subscribe on iTunes!