039 Mentally Strong Women w/ Amy Morin
Wednesday 20th September 2023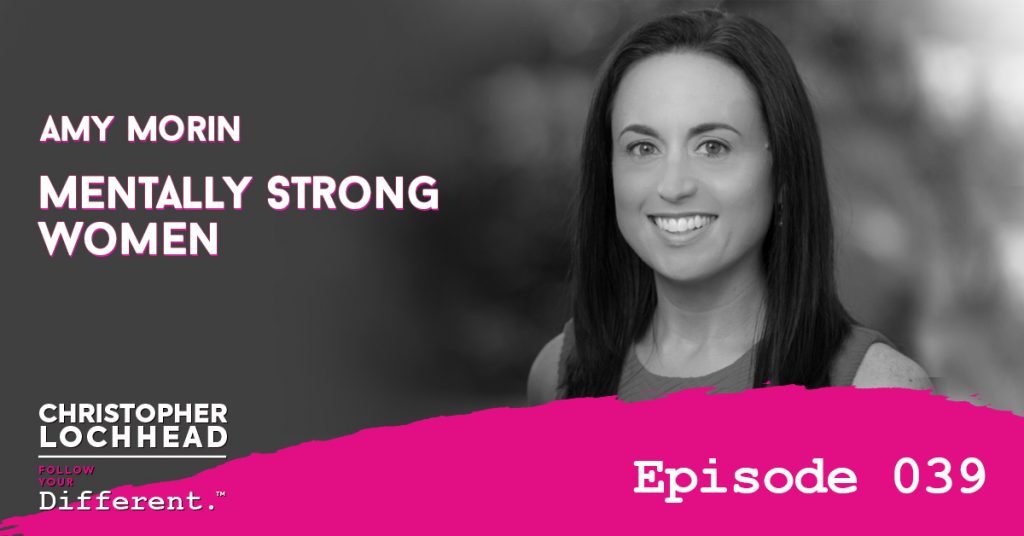 Podcast: Play in new window | Download (Duration: 1:07:09 — 61.7MB) | Embed
Subscribe: Apple Podcasts | Google Podcasts | Spotify | Pandora | Stitcher | RSS | More
On this first episode of a 3-part series on mental health and well-being, the mega-popular therapist, writer and speaker Amy Morin sits with us. She holds a powerful conversation with Christopher about how women can be super successful, why self-doubt can be a good thing and the power of true vulnerability.
"It's okay to be a mentally strong woman who doesn't act like a mentally strong man." – Amy Morin
Women on Criticism and Rejection
Amy studied a lot for her new book. She found out that women tend to treat rejection and criticism as if they were the same thing.
Walking the path towards mental health and success is not letting others limit one's potential. We must learn to take criticism where it comes from and separate criticism from people without stakes on our game. Studies also show that when people criticize you, they are likely telling you how they feel about themselves.
When Confidence Becomes Dangerous
According to Amy, people fail to recognize how dangerous confidence can be. Being completely confident that everything would work out without a hitch sometimes leads to some really poor decisions.
"A lot of the mistakes we make are because we're overconfident about our abilities and we underestimate how tough the challenge is gonna be." – Amy Morin

Nobody jumps on Get Rich Quick schemes unless they are 100% sure that nothing will go wrong. It goes to show how self-doubt can be used to one's advantage.
Embracing Your Self-Doubt
Self-doubt can sometimes stop us on our tracks towards success. Being less confident about one's attributes and qualities is only natural, but self-doubt doesn't have to be a bad thing.
Studies on how students predict their performance on tests show that those who are confident about acing their tests are likely to do worse than those who show some doubt. This is mainly because they turned their self-doubt into effort and studied harder.
"Having a little self-doubt means, 'I have to put in more effort, I have to study for this, I have to prepare, I have to sharpen my skills.' And it keeps you on your toes." – Amy Morin
Owning One's Vulnerability
We sometimes liken vulnerability to weakness. But to become mentally strong, we need to embrace its true power.
"To really be vulnerable, you have to let people know that you struggle with things, that you're not really okay sometimes." – Amy Morin
Having the means to open up about our own vulnerabilities to the world has made it easier to embrace. But being vulnerable is not something that we should necessarily announce on social media all the time. Sometimes embracing it means having a private conversation between you and a loved one.
To learn more about the secrets to women's success and Amy's take on the #MeToo Movement, download and listen to the episode.
Bio:
Amy Morin is a licensed clinical social worker, psychotherapist, and a lecturer at Northeastern University.
The Guardian dubs her as the "self-help guru of the moment." Forbes refers to her as a "thought leadership star."
Her knowledge of mental strength stems far beyond her professional experience.
She's experienced a series of losses in her personal life that gave her first-hand insight into the strategies that build resilience.
In 2013, her article 13 Things Mentally Strong People Don't Do was read by over 30 million people around the world.
Her best-selling book, also called, 13 Things Mentally Strong People Don't Do, is being translated into 25 languages.
Her newest book, "13 Things Mentally Strong Parents Don't Do: Raising Self-Assured Children and Training Their Brains for a Life of Happiness, Meaning, and Success" is a sensation.
Amy's advice has been featured by a number of media outlets, including Parenting, Time, Fast Company, Good Housekeeping, Elle, Business Insider, Cosmopolitan, Success, Oprah.com, Health, Fox News, US News & World Report, and The Washington Post. She has also provided on-camera interviews for Fox Business, Forbes, TheBlaze TV and an upcoming documentary with Red Bull. She's a frequent guest on a variety of radio shows as well.
Amy serves as Verywell's Parenting Teens Expert and Child Discipline Expert. She's a regular contributor to Forbes, Inc., and Psychology Today.
A sought-after speaker, Amy loves to share the latest research on resilience and the best strategies for overcoming adversity and building mental muscle.
Links:
We hope you enjoyed Amy Morin on this episode of Follow Your Different™! Christopher loves hearing from his listeners. Feel free to email him, connect on Facebook, Twitter, Instagram and subscribe on iTunes!