023 Sex & Intimacy w/ Allana Pratt
Sunday 1st October 2023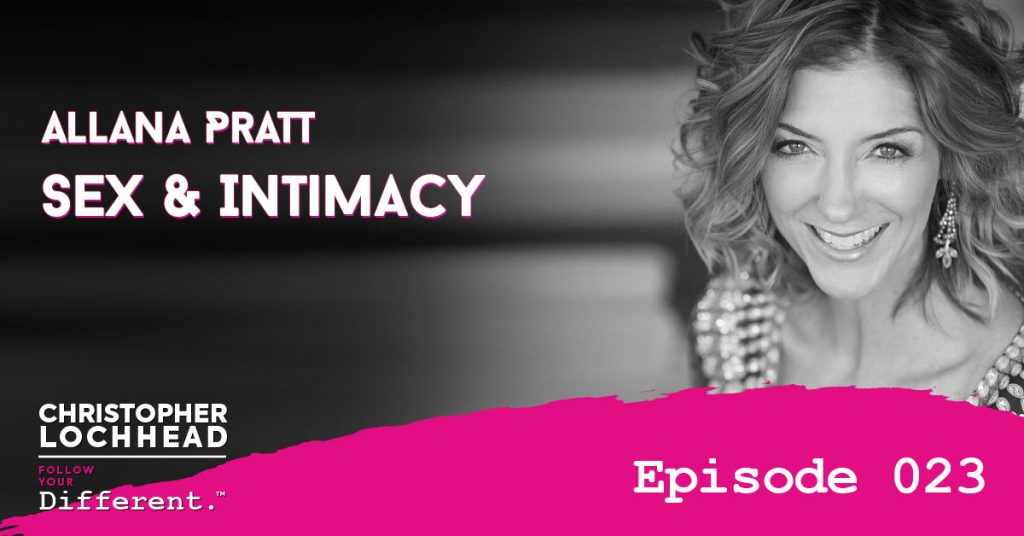 How does an orgasm relate to the birth of a planet? Intimacy expert Allana Pratt joins us on this special episode. The podcaster slash author shares how she unlocked her sexuality, why sex is sacred, and why our sexual energy is key to a life lived happily.
From Nerdy to Naughty
Allana hadn't always been the naughty, confident woman that she's now known for. She started off as the nerdy, insecure girl who always felt out of place. Eventually, she hopped on her uncle's 18-wheeler semi from British Columbia to Los Angeles to follow her dreams.
She moved to the States and has been a dancer since she was five, doing jazz, ballet, tap, and theater. And instead of taking over their family's pharmacy, she moved to Tokyo. On her very first show, 19-year-old Allana had to wear a G-string and fishnet tights—something she has never done before.
Coming to Terms with Sexuality
She ought to have enjoyed the experience of her first Tokyo show. But at the time, she hadn't figured out the sacredness of sexuality just yet. And neither did she own the power of her radiance.
"I believe that our sexual energy is life force energy." – Allana Pratt
To Allana, a person's sexual energy is the same energy that spins the planet, blossoms a flower, and creates the birth of a child. And the energy of an orgasm? It's the very same energy that births a planet.
Beyond the Bedroom
At the core of it, sexual energy is as pure as everything else that makes the world what it is. It's the root of existence itself within our bodies. When people learn to let go of all judgment to sexuality, they also learn to feel a lot more authentic and safe.
Many of Allana's clients come to her with shame or guilt, thinking they're weird or broken because of their sexual desires or the way they choose to have contact. This, she says, is the very reason why she loves to be that safe space for people. When people drop into their bodies and do the work to forgive themselves, there starts to be a buzz that will flow through all aspects of their day-to-day.
"Yes, sometimes the 'deliciousness' has a 'bow chika bow wow' energy, like a real sexual energy when we think of sensuality in the bedroom. But sometimes, this delicious energy is tenderness, care, healing, patience, listening." – Allana Pratt
To hear about more on intimacy and relationships and what it means to have Queen Energy, download and listen to the episode.
Bio:
Intimacy expert Allana Pratt inspires open-hearted living with delicious sass. Featured on CBS, TLC & FOX, this cum laude graduate of Columbia University is the author of 3 books. She's a coach to celebrities and the host of the sexy empowering show "Intimate Conversations LIVE".
After working with thousands of men and women who struggle to open their hearts again in the aftermath of a harsh breakup, Allana helps them learn how to date again and find lasting love.
She inspires women to embrace their sacred erotic nature to attract all the love and attention they can handle. She heals men's emasculated hearts, cures their 'nice guy', and awakens their 'noble badass' so they can create hot, healthy intimate relationships.
Allana's passionate devotion to helping men and women reclaim their joy, freedom and personal power is rooted in her own experience. Allana grew up insecure, ashamed of her body and afraid of men. She endured a brutal custody battle that threatened to compromise her joy, softness and feminine power.
Yet Allana sat in the fire embracing the experience as a spiritual teacher. She emerged more courageously vulnerable and radiantly loving than ever before.
Allana's joy for life is contagious. She savors being a mother and pole dances for pleasure.
She challenges and inspires her clients to be unapologetically true to themselves and to bow in reverence to their exquisite spiritual and sexual nature.
Links:
AllanaPratt.com – Intimacy Expert for Men
We hope you enjoyed Allana Pratt on this episode of Follow Your Different™! Christopher loves hearing from his listeners. Feel free to email him, connect on Facebook, Twitter, Instagram and subscribe on iTunes!