260 The Raging 2020s: Companies, Countries, People, and the Fight for Our Future with NY Times Bestselling Author Alec Ross
Wednesday 20th September 2023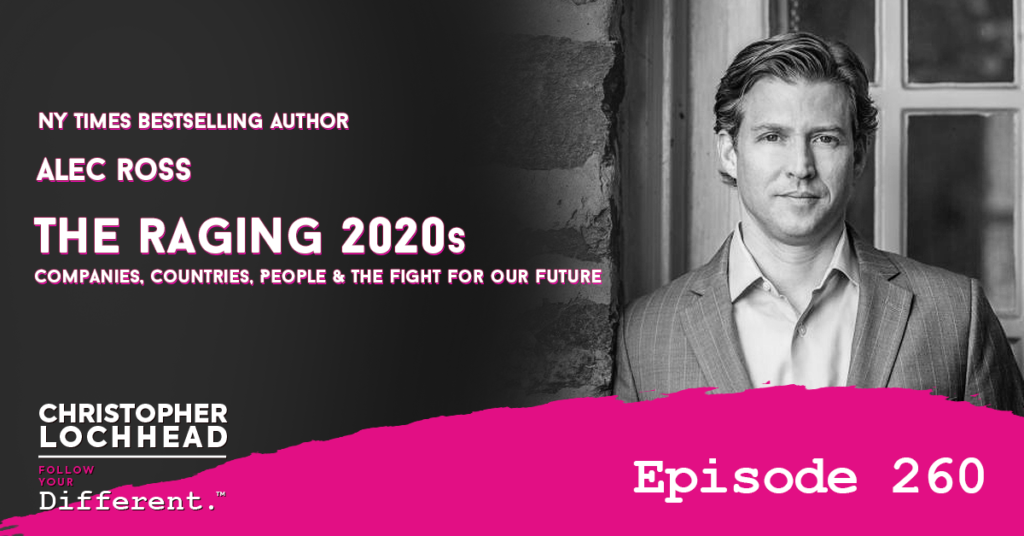 Podcast: Play in new window | Download (Duration: 1:40:51 — 69.2MB) | Embed
Subscribe: Apple Podcasts | Google Podcasts | Spotify | Pandora | Stitcher | RSS | More
On this episode of Christopher Lochhead: Follow Your Different, we ask the question: Will the future of the United States of America look more like Star Trek or Road Warrior? With us to answer that question is Alec Ross.
Alec Ross is the author of The New York Times bestseller, The Industries of the Future. And he has a brand-new bestseller out called The Raging 2020s: Companies, Countries, People and the Fight for our Future. Alec is a distinguished visiting professor at the University of Bologna business school, and he's a venture capitalist at Amplo, a global VC firm.
If you have listened to our recent episode with Dr. Cedric Alexander, this dialogue will serve as a great continuation on the State of America (FYD 259), albeit from a different perspective. If you haven't, why not give it a listen as well?
Alec Ross on Channeling Your Rage
The conversation starts on the topic of Alec Ross' new book, The Raging 2020s. While the term "raging" often has the connotation of being good, it also can have a bad meaning. While it can denote people having a rolling good time, it can also mean anger, on the verge of violence.
Which is not to say that we should always suppress our anger. For Alec, powerful emotions like that can be a huge part of the creative progress.
"Figuring out how you can harness emotion, anger, volatility, and produce beautiful words, beautiful music, (and/or) beautiful oil on canvas. Also, the greatest athletes are those who know how to focus their rage." – Alec Ross
For Alec, it's all about focusing and channeling those powerful emotions into something creative or productive, rather than letting it take over your life.
The Raging 2020s
Exploring further into the book, Alec explains that he wrote The Raging 2020s to show in part why everybody seems so angry right now. As discussed earlier, anger and rage could be channeled into ways that it could be productive. But when the rage becomes more collective, and entire segments of society are angry, what you get is violence.
"I do feel like a lot, there is rage coming right now in America, both from the parts of America that have nothing to lose, as well of those parts of America that have something to protect, and believe that they can't necessarily grow what they have." – Alec Ross
Oftentimes, this is what happens when the when there isn't a shared sense of what we can get together. For Alec, it is something both interesting yet terrifying to observe.
Star Trek or Mad Max?
Alec then talks about the question that is in the heart of his new book. Which is, will our future look more like Mad Max, or Star Trek?
If you aren't familiar, Star Trek is set on a future where humanity has reached for the stars and enjoys continued progress and abundance. Whereas in Mad Max, we get a dystopian future with scarce resources and chaos all around.
Alec says the future is entirely up to us.
"The degree to which the future does look more like Star Trek or more like Mad Max, is entirely up to us. And I do think that if you have a mindset and an approach that's rooted in production and creation, as opposed to destruction, that's the beginning of any sort of progress." – Alec Ross
To hear more from Alec Ross and how the United States of America will end up in the future, download and listen to this episode.
Bio
Alec Ross is a New York Times best-selling author and Distinguished Visiting Professor at l'Universitá di Bologna Business School.
He is the author of the recently published The Raging 2020s: Companies, Countries, People and the Fight for Our Future.
His prior book The Industries of the Future has been translated into 24 languages and been a best-seller on 5 continents.
He is a Board Partner at Amplo, a global venture capital firm and sits on the board of directors or advisors for companies in the fields of technology, finance, education, human capital and cybersecurity.
He is also an adviser to investors, start-ups and government leaders to help them understand the implication of macro factors emerging at the intersection of geopolitics, markets and increasingly disruptive network technologies.
Specialties include: international market development, executive coaching, cybersecurity, consumer Internet, and board governance.
Recognitions include:
Named one of Top 100 Global Thinkers by Foreign Policy Magazine
S. Department of State Distinguished Honor Award
Oxford University Internet & Society Award
Huffington Post's 10 Game Changers in Politics
Tribeca Film Festival Disruptive Innovation Award honoree
Links
Connect with Alec Ross!
Website | Twitter | LinkedIn | Amazon Books
We hope you enjoyed this episode of Follow Your Different™! Christopher loves hearing from his listeners. Feel free to email him, connect on Facebook, Twitter, Instagram, and subscribe on iTunes!