142 Extreme Life, Extraordinary Meaning w/ Marine Combat Vet Akshay Nanavati
Monday 25th September 2023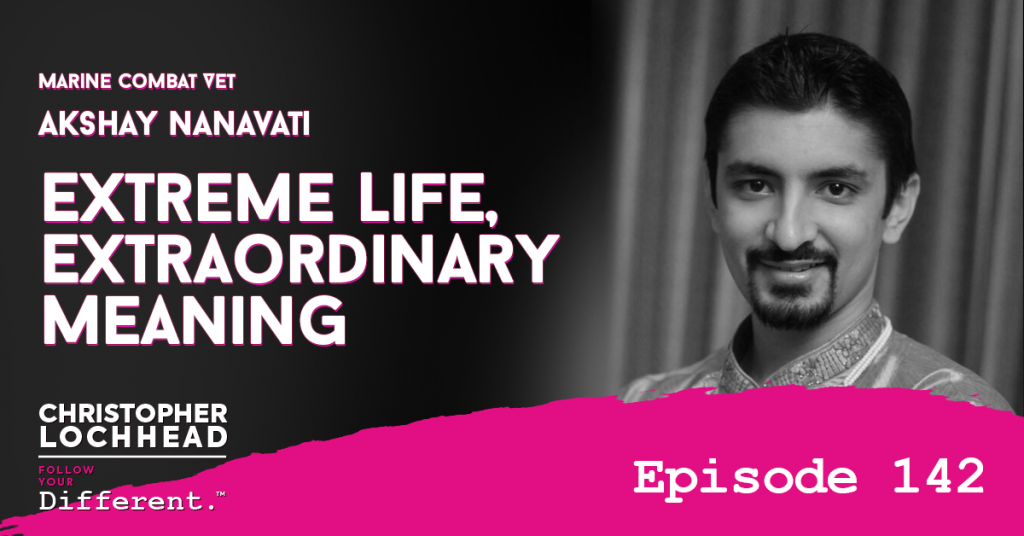 Podcast: Play in new window | Download (Duration: 1:25:01 — 58.4MB) | Embed
Subscribe: Apple Podcasts | Google Podcasts | Spotify | Pandora | Stitcher | RSS | More
Welcome to an amazing episode with Combat Veteran and US Marine Akshay Nanavati. He's a speaker, entrepreneur, ultra runner, non-profit founder and best selling author.
We have a stunning conversation about why overcoming extraordinary challenges is the key to a successful life, why we should all pick worthy struggles and the power of "earning your life." Further, we also touch on why the most important skill is having a positive relationship to suffering and so much more.
Body Not Built For Combat
Standing at 5"7'and weighing just 138 pounds, Akshay enlisted himself to join the Marines. He was a druggie and an alcoholic at the time when he watched the movie Black Hawk Down. It triggered something within him and in a snap, he found himself reading military books and life in combat genres.
It was also shortly after the 9/11 tragedy that moved him and made him ask question himself.
"What kind of human beings would knowingly put themselves in a situation like that and sacrifice their lives for somebody else?" – Akshay Nanavati
True Calling To Serve
Akshay sharest to Christopher that he felt at that time that he was called to serve. Nothing can stop him, even his pre-existing conditions such as depression, self-destructive tendencies, blood disorder, scoliosis, flat footedness and much more.
"It took me about a year and a half to take in all these medical waivers, but that was the turning point. That is why I wanted to join, to serve an institution where the good of the group matters more than you, the well being of the group. You serve for the people next to you and everything is your men and the mission and that's beautiful." – Akshay Nanavati
Experiencing Humanity at Extremes
Akshay shares his inner desire to go back in his previous assignment because there was something intriguing, unusual and beautiful when you experience humanity in its most extreme form.
"I mean, part of it is an addictive thing, part of it, you cannot experience and understand and taste the human experience at its fullest, unless you experience it at the most extremes." – Akshay Nanavati
His experiences led him to write his book, Fearvana. The Dalai Lama endorsed his book, saying "Fearvana inspires us to look beyond our own agonizing experiences and find the positive side of our lives."
To hear more on Akshay's thoughts on self-development like: "follow your passion" and more about his book, Fearvana, download and listen to this episode.
Bio:
Akshay Nanavati (born October 15, 1984) is a United States Marine veteran, speaker, entrepreneur, ultra runner and author.
He served in Iraq during Operation Iraqi Freedom and was later diagnosed with post traumatic stress disorder. His book Fearvana was endorsed by the Dalai Lama and Jack Canfield.
Links: