158 Turn Barriers Into Windows w/ Marine Akshay Nanavati
Sunday 1st October 2023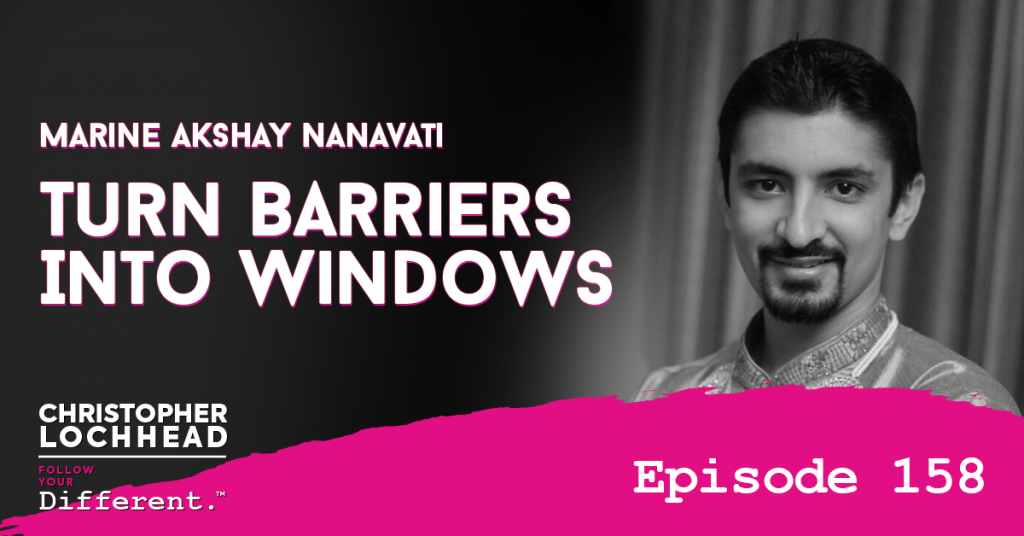 Podcast: Play in new window | Download (Duration: 1:04:25 — 44.2MB) | Embed
Subscribe: Apple Podcasts | Google Podcasts | Spotify | Pandora | Stitcher | RSS | More
Welcome to another amazing episode with Combat Veteran and US Marine Akshay Nanavati. He joined us at Episode 142, which was one of the top-rated episodes. Due to insistent public demand, he's back. Akshay is a speaker, entrepreneur, ultra runner, non-profit founder, and best selling author.
Today, we specifically talk about dealing with life and moving forward in the face of fear and adversity. He of all people is powerfully equipped to empower those who are having a hard time dealing with C19. Listen carefully to Akshay's ideas on how to change barriers with questions and more!
Solitude During C19
Akshay starts the conversation sharing about coins and medals with the iconic Marines raising a flag in the battle of Iwo Jima. He narrated how honored he is to be a part of the Marines who represents courage and valor in battles.
He further shares that he has been living in solitude prior to the Covid19 pandemic. He does some amazing activities to meditate and to practice stillness.
"I'm used to it and I don't mind the solitude. I've trained in solitude in the sense like, I spent 7 days in pitch darkness, isolation, and silence, to confront my fear of stillness to master the experience of solitude but at the same time, as we briefly touch on I do have moments that I feel that sense of loss." – Akshay Nanavati
Living in Paradox
Living in paradox, Akshay describes himself as someone who is social but likewise, enjoys his solitude. He shares how he cried himself to sleep while reading a book ISIS abducting a woman to become their sex slave.
"I read these intense books to remind me of the pain and suffering in the world and to stay focused on my mission. My solitude allows me to go into space that I would not be able to go to if somebody else was here." – Akshay Nanavati
He further shares another activity that he does, which Christopher describes as an activity he wouldn't do in a million years.
"When the world is intense, to me, that's a time to dig deeper into it. I actually put a horrible death metal music. It's not actually music, its noise, and I put on a strobe light. I meditate and practice stillness with it. It was very intense, but its a great practice to master stillness in the face of chaos." – Akshay Nanavati
Overcoming Solitude in C19
A lot of people have actually improved communications with others during this crisis. A number of people utilized Zoom and social media to communicate with friends, family, and loved ones. Akshay shares that connection is important as humans are naturally tribal creatures.
"I think the problem is, what we're doing right now, is the same as what we're doing before, which is basically running away from pain, running away to having to confront ourselves and now we're being forced into that world." – Akshay Nanavati
To hear more about dealing with life and moving forward in the face of fear and adversity and to learn more about Akshay, download and listen to this episode.
Bio:
Akshay Nanavati (born October 15, 1984) is a United States Marine veteran, speaker, entrepreneur, ultra runner and author.
He served in Iraq during Operation Iraqi Freedom and was later diagnosed with post traumatic stress disorder. His book Fearvana was endorsed by the Dalai Lama and Jack Canfield.
Links:
We hope you enjoyed this episode of Follow Your Different™! Christopher loves hearing from his listeners. Feel free to email him, connect on Facebook, Twitter, Instagram and subscribe on iTunes!