204 Equality Through Wealth w/ Teri Williams | President of Largest Black-Owned Bank in America OneUnited
Monday 25th September 2023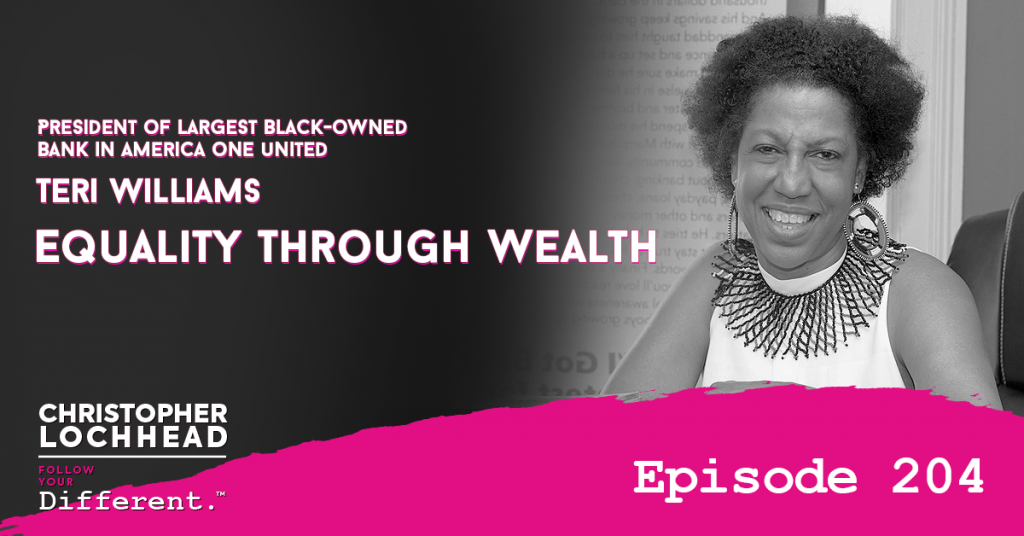 Podcast: Play in new window | Download (Duration: 1:18:52 — 54.2MB) | Embed
Subscribe: Apple Podcasts | Google Podcasts | Spotify | Pandora | Stitcher | RSS | More
Teri Williams is the legendary President and Chief Operating Officer of OneUnited Bank. She is helping transform the country with the empire she is currently building. From purchasing a small struggling community bank in Boston to creating OneUnited Bank, the largest black-owned bank in the United States of America. Since they have started, Teri and her husband, Kevin, with their team have made over $1 billion in loans together. Along with being an entrepreneur, she is also an author with her book,
I Got Bank!: What My Granddad Taught Me About Money.
Today, we have a powerful conversation about OneUnited Bank's mission and how the couple runs a successful powerful business while raising two wonderful children. Teri has some fascinating insights on what it really means to make money and the statistics of the black community in the financial system. We also talk about how Teri and Kevin are showing how banking and entrepreneurship can change lives, communities, and even a country.
The OneUnitedBank
OneUnited Bank is the largest black-owned bank in the country. It has not only started as a community but is also transforming to becoming a digital bank. The goal they have is to make financial literacy a core value in the black community. Teri gives a bit of her personal background and story, and how she learned business from her grandmother. She shares how one of the important things for the black community is to recognize those individuals who have been there, eliminate the carried shame, and value one's experiences.
"We're finding ourselves not being able to speak in our authentic voice. We're finding that our community is not listening to us because we're not speaking in our authentic voice. So we have changed our communication. It was important for us, as a bank, to speak to the challenges that our community faces, not to run away from them. From that came this bank black movement. It is a bank black movement where black people can speak how they are going to move their money to black owned banks and are going to support black businesses." – Teri Williams
Black Communities in the Financial System
Teri discusses the statistics and the poor treatment of the black community in the financial system. She shares how the homeownership rate in the black community is 30 percent lower compared to the white community. The number of loans and mortgages from national banks is 1 to 2 percent of all mortgages that are given to black families. Though, there is hope. OneUnited Banks is creating partnerships and transacting with big corporations that are currently making big differences to the community.
"Netflix was the first to come out with this. Because of corporations like them, a lot of corporations have followed. I think the corporations realize that this is a way to contribute to what these banks are trying to do. It's also important for people to know what we do. Over 70% of our lending actually goes into the community and our credit losses are almost zero. It's not like we're doing lending that is risky. We are just doing lending that isn't being done by other institutions. That lending is giving our community an opportunity to build well." – Teri Williams
OneTransaction Campaign and Conference
For Black History Month, Teri shares the OneTransaction Campaign and Conference that will be held on Juneteenth (June 19, 2021) from 1:00 – 6:00 PM ET (Eastern Time). The campaign will be a free virtual conference encouraging the black community to focus on one transaction in 2021. It will be filled with amazing speakers who are passionate to educate the community on how they can create generational wealth and close the racial wealth gap. We hope you can virtually join and
register
for the OneTransaction Campaign and Conference and be part of the conversation.
"We give them a choice of six transactions. It could be a will, life insurance, home ownership, having a profitable business, improving their credit score or savings, and investments. We ask them to select one of those six transactions and then we provide them with action steps to accomplish that in 2021. We're having this conference on Juneteenth which is an African-American holiday. We want to really educate the community on how they can build wealth." – Teri Williams
To know more about Teri Williams and the amazing work her and husband are doing at OneUnited Bank, download and listen to this episode.
Bio:
Teri Williams is President and Chief Operating Officer of OneUnited Bank. She is responsible for the implementation of the Bank's strategic initiatives, as well as the day-to-day operations of the bank. These operational areas include all retail branches, marketing, compliance, lending, information technology, customer support, legal, and human resources. Under her leadership, OneUnited Bank has consolidated the local names and product offerings of four (4) banks to create a powerful national brand supported by innovative products and services. She believes the financial services industry has not connected with urban communities to fully support economic development and wealth building. OneUnited Bank can serve as a bridge by offering affordable financial services for all and financial workshops. She brings 30 years of financial services expertise from premier institutions such as Bank of America and American Express, where she was one of the youngest Vice Presidents. Ms. Williams holds an M.B.A. with honors from Harvard University and a B.A. with distinctions from Brown University. She has served as Treasurer of Dimock Community Health Center in Roxbury, MA for over 5 years. She currently serves on the Boards of the Black Economic Council of Massachusetts (BECMA) where she serves as Treasurer and the 79th Street Corridor Initiative in Miami Florida. Ms. Williams is the author of I Got Bank! What My Granddad Taught Me About Money (Beckham Publishing) a financial literacy book for urban youth. Ms. Williams has received numerous notations and awards for her contribution to urban communities including from the Urban League, NAACP, and the National Black MBA Association.
Links:
OneUnited Management
Why OneUnited
Amazon Books: I Got Bank!: What My Granddad Taught Me About Money
Justice Deposits: How NetFlix, Twitter & Costco Are Leading Conscious Capital & You Can Too
We hope you enjoyed this episode of Follow Your Different™! Christopher loves hearing from his listeners. Feel free to
email
him, connect on
Facebook
,
Twitter
,
Instagram
, and subscribe on
iTunes