261 The Future of School with Ted Dintersmith, Bestselling Author of "What School Could Be"
Monday 25th September 2023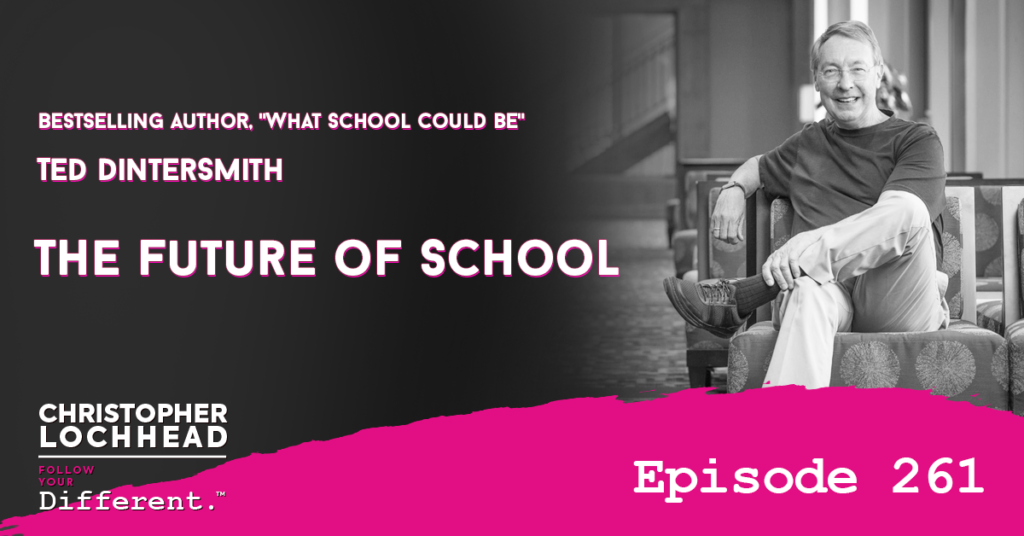 Podcast: Play in new window | Download (Duration: 1:39:13 — 68.1MB) | Embed
Subscribe: Apple Podcasts | Google Podcasts | Spotify | Pandora | Stitcher | RSS | More
We are currently at the start of a radical change in education of all levels. On this episode of Christopher Lochhead: Follow Your Different, Ted Dintersmith explains what the future of school will be like as the new category of humans begin to shape it anew.
Ted Dintersmith had a career in venture capitalism, but has now dedicated himself in the field of education and improving it. He is the author of a bestselling book, What School Could Be. It is quite an interesting read, and I would recommend you picking it up to learn more about the current state of education.
On this dialogue, we discuss how school can be reimagined, redesigned, and recreated to become legendary. We also discuss what parents, students, and education leaders can do now to develop young people to thrive in the new world.
Also, to hear about my thoughts and position on Spotify and the recent Joe Rogan scandal, please listen to the intro of this episode.
The Current School Systems are Outdated
The dialogue starts as Ted points out how relevant the difference is between Native Digitals and Native Analogs are. If you are not aware what a Native Digital is, check out one of our previous episodes (FYD 250) that talks extensively on the matter.
It is important to recognize the difference, because then you'll realize that the current school systems are still being run by Native Analogs that prepare students for a world that's Native Analog. With the rapid growth of technology and the birth of Native Digitals and services that cater to them and them alone, a Native Analog school system will and is slowly becoming obsolete.
The First Step is Recognizing the Problem
The other issue according to Ted, is that when you talk to Native Analogs, they don't think there's a profound difference on the matter. Whereas Native Digitals can easily spot the difference.
"You realize that, when you live in a digital world, you have control over what you do. You're able to go deep on what you're interested in, the content is either really compelling, or you just switch to something else.

Plop that same kid over into school, and oftentimes, it's programmed, scripted, boring content that the student has no interest in or voice in, that the teacher really is not that interested in either. But some state legislator, some College Board, or some curriculum writer says, "This is what you got to learn." And the kids just check out, because I think kids find school boring. They don't feel they have any real sense of purpose in it. And they know there's an alternative universe that's much more compelling." – Ted Dintersmith
Ted Dintersmith on What School Could Be
The conversation steers to the topic on what the future of school should look like. Ted was then asked this question:
"Besides the baseline subjects such as history, math, science, etc., should the student have the agency to say, "I really want to focus on this or that"?"
Ted shares that he has seen schools that have employed these types of learning system. What he saw was that students were very engaged, and they were easily retaining what they were learning. Also, both student and educator were really excited to be in the classroom every day.
Unfortunately, these school systems were quite rare across classrooms in America.
One issue was the disconnect between what students find enjoyable and engaging, to what the current system thinks the student needs to have a good career when they finish their education. Add to that the rift that growing between Native Analog frameworks and curriculum, and the gap grows bigger.
To hear more from Ted Dintersmith and how we can bring the current school systems to a new era, download and listen to this episode.
Bio
Links
Connect with Ted Dintersmith today!
Website | What School Could Be | LinkedIn
Other Related Links:
Category Pirates: The Digital Education Crisis
NPR: More than 1 Million fewer students are in college
CNBC: More Colleges face bankruptcy but top schools experience record wealth
We hope you enjoyed this episode of Follow Your Different™! Christopher loves hearing from his listeners. Feel free to email him, connect on Facebook, Twitter, Instagram, and subscribe on iTunes!