178 Transforming Education In The Era of Covid w/ Ted Dintersmith, Bestselling Author
Sunday 1st October 2023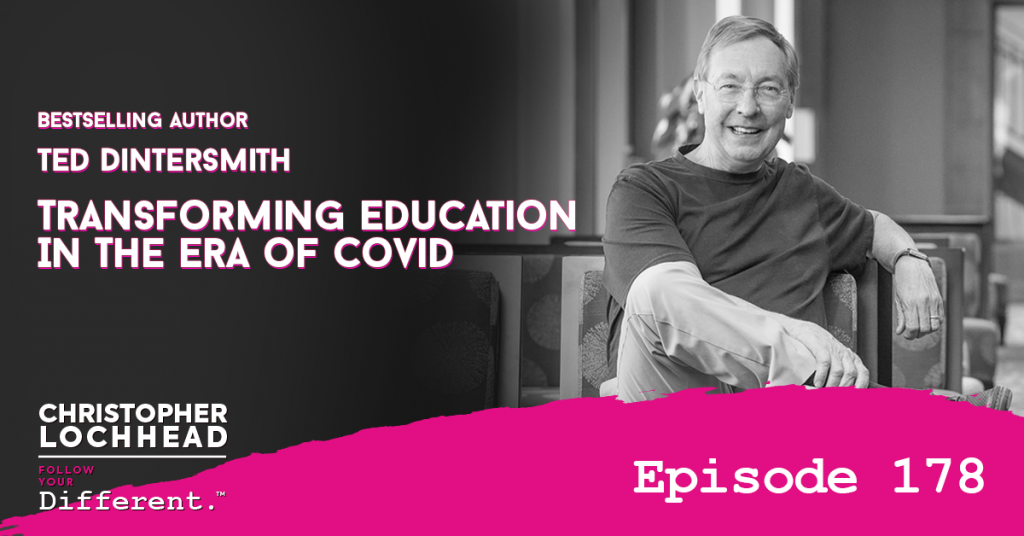 Podcast: Play in new window | Download (Duration: 1:26:09 — 59.2MB) | Embed
Subscribe: Apple Podcasts | Google Podcasts | Spotify | Pandora | Stitcher | RSS | More
Today, we have a legendary conversation about schools and education. This is a topic that is not getting enough attention right now. With us today is Ted Dintersmith, the author of a great book called What School Could Be: Insights and Inspiration From Teachers Across America.
We talk about how we can make school work, especially today that we have a new reality. Ted has some powerful insights and some great ideas about that. We even get into how to make the weirdest school year in modern history as an opportunity to reimagine school and reimagine learning.
What School Could Be
Ted was with us back in 2019, at Episode 117, shortly after his book came out and he's back as Chris digs into one of two important issues that we face today during Covid19, education. The other topic he will dive deep into is entrepreneurship. (Watch out for the next episode with the University of California. Santa Cruz, Professor Rob Fairley)
He's been talking to a lot of the top educators in the country. Further, he gives us insights as we are standing on the edge of the new school year. If you care about our future, if you care about kids, if you care about education, I think you're going to love this conversation with Ted.
Non-traditional Methods of Learning
Ted shares with Christopher how he checked back with parents, teachers, school administrators, and students when Covid19 started. One outstanding finding he got was that those who were practicing non-traditional methods of learning were optimistic during this time.
"The kids they work with were really good — pre-COVID — on identifying what they wanted to learn, turning that into an initiative. They wanted to manage their own time and draw out appropriate resources, other adults' online stuff, and then sticking with it until they proved something they cared about. In my book, with no sense of a looming pandemic. I said this is a really important skill for adults." – Ted Dintersmith
Anxiety and Stress
This time has caused much anxiety and stress for teachers and school administrators. There is no right formula and it involves a lot of variables in deciding how to operate schools come September.
Chris and Ted also discussed how "inconvenient" this set-up is for those who can privileged, but how devastating this set-up could be for a single-parent, juggling multiple jobs.
"Even if you had a great plan to reopen, it requires money. Now, you just start marching through everything that has to be done safely for you to say, here's our plan to reopen. Here's an effective transportation plan. Here's an effective disinfected plan. Here's how we're going to staff classrooms, here's what would happen to our students. Here's how we're going to add nurses on call. You look at everything that's required and then you say, 'oh, by the way, do it with even fewer budget dollars because state local budgets have been hammered." – Ted Dintersmith
To know more about Ted and how school could be during Covid19, download and listen to this episode.
Bio:
Links:
We hope you enjoyed this episode of Follow Your Different™! Christopher loves hearing from his listeners. Feel free to email him, connect on Facebook, Twitter, Instagram and subscribe on iTunes! Get amazing, different stories on business, marketing, and life. Subscribe to our newsletter The Difference.