240 "Your Life Depends on It": What You Can Do to Make Better Choices About Your Health with Talya Miron-Shatz , PhD
Wednesday 20th September 2023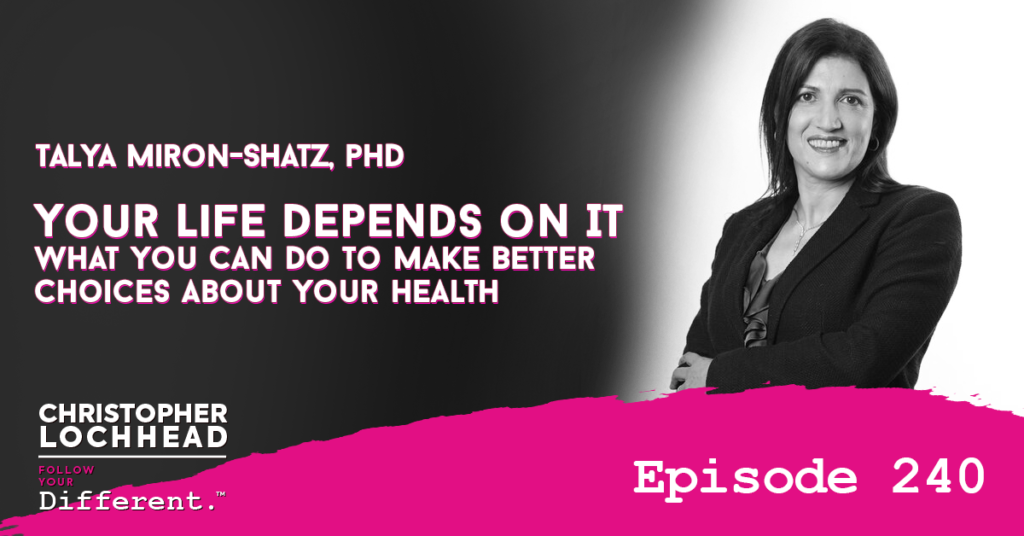 Podcast: Play in new window | Download (Duration: 1:25:17 — 58.6MB) | Embed
Subscribe: Apple Podcasts | Google Podcasts | Spotify | Pandora | Stitcher | RSS | More
Nothing is more important than your health. Though learning to make smart, complex health care choices is hard and is getting harder, especially in a world of massive healthcare information, and disinformation. In this episode of Follow Your Different, Talya Miron-Shatz aims to help us make the right health choices.
Talya Miron-Shatz has her doctorate in Psychology from the Hebrew University, and studied with Nobel laureate Daniel Kahneman. She is also a professor at the Ono Academic College, as well as a visiting research at Cambridge University.
Talya offers a clear and useful guidance for the hardest decisions in life. We go deep into her new book, Your Life Depends on It, to find out more on what you and your family needs to know about making critical health care decisions.
Talya Miron-Shatz on Studying Happiness
Talya talks about what it meant to study happiness. She explains that the way they study happiness is not like what most people would think to do it. Rather than just focusing on what activities bring happiness, they look at various activities and find out what brings people happiness in those activities.
One example that she gives was with colonoscopy, which isn't exactly a happy activity.
"For example, he (Daniel Kahneman) did work with colonoscopies. And he showed with Dr. Reto Meier that when the end is more gentle people remember the whole episode is better. So it can be weird because nobody likes a colonoscopy. But apparently when it's milder, when the end is milder, it's better. " – Talya Miron-Shatz
Measuring Happiness
With regards to measuring happiness, there are what is called Peak and Low moments. Low moments are the parts of the activity that makes us unhappy, and we try to avoid those parts as much as possible.
Yet avoiding all lows would be impossible. Which is why Talya encourages people to cherish the peaks we experience, however small or short they may be.
"We should just cherish and be happy with those moments and sort of elevate them and give them attention. Whatever draws your attention, whatever you pay attention to, determines how you feel." – Talya Miron-Shatz
Finding Ways to be Happy
Talya continues with how we use attention, or divert it to something else, to find a way to feel happy. One example is how people try to keep themselves busy with work or other activities when they have recently experienced something unhappy.
Some might put physical distance between their worries, and find that it helps them feel less depressed and think more clearly afterwards. It's literally taking your mind off the thing that is upsetting.
Though there's a part of avoidance that Talya doesn't like, and it pertains to medicine. Particularly, the discussion of death…
To hear more from Talya Miron-Shatz and how to make better choices with your health, download and listen to this episode.
Bio
For two decades author, consultant, researcher, writer, speaker, and entrepreneur Dr. Talya Miron-Shatz has been dedicated to the issue of health and medical decision making.
The questions she asks, and the answers she gives, are increasingly larger, and relate to the intersection of psychology and medicine. How do patients make choices? What do they need to understand their care and options? How can they be brought to enjoy the benefits of digital health? How can the human touch make a difference in times when medical challenges are inevitable?
She identified barriers to better decision making and shows how they can be overcome – by patients, physicians, and healthcare organizations.
She contends that while patients experience their challenges as very personal, these are rooted in institutional practices, and need to be considered as what constitutes good care. Often, it is beyond the doctors' control, and they too can benefit from an overhaul of the patient role.
Miron-Shatz did her BA, MA at Hebrew University's psychology department, and worked for over a decade as an organizational psychologist. Then she returned to graduate school at the psychology department, studying heuristics and biases.
Creating and teaching a course on 'The Psychological Aspects of Medical Decision Making' to genetic counseling students was her first foray into medical decision making. This was in 2004.
In 2005 she completed her PhD. And went with her family to Princeton University, for a post-doctorate position with Nobel Laureate Daniel Kahneman, until 2009.
Together, they studied happiness. From 2008 to 2011 she taught consumer behavior to undergraduates and MBA students at the Wharton Business School, University of Pennsylvania, and loved every minute.
In 2009 she joined the business school at the Ono Academic College, where she is now a full professor. She also became a writer for Psychology Today, where her blog, Baffled by Numbers which was read by over 130,00 people.
Since then she has written more than 60 academic papers: some on happiness, but mostly on medical decision making, covering multiple angles of the patient experience, physician decision making, and digital health.
The year 2010 marked the beginning of her now considerable industry involvement, with a white paper she wrote for Global Health, Johnson and Johnson, on The Potential of a Health Scorecard for Promoting Health Literacy. Since then she worked with PR agencies health advertisers (Edelman PR, DraftFCB, InTouchSolutions) on projects around adherence to medication, prescriber behavior, mechanisms of behavioral economics, and more.
Through these agencies, and directly, she worked with numerous pharmaceutical companies, including Pfizer, Abbvie, Boringer-Ingelheim, BMS, Novartis, and others on projects around leading physician advisory boards, designing patient outreach and communication, training sales reps, and more.
In her work with technology giants, such as NantMobile, she led teams of engineers in introducing an entire layer of psychological drivers to facilitate adherence to medication. Similarly, she has helped multiple startups—from Healarium to Glucome—hone their operating mechanisms in conveying health information to change patient behavior.
For several years, Dr. Miron-Shatz co-organized the eHealth Venture Summit at MEDICA, the world's largest medical device exhibition (with Dr. Stefan Becker), and ran the Pharma 2.0 series for NYC's Health 2.0 meetup.
As a keynote speaker for Donate Life America's 2014 annual conference, she demonstrated the use of behavioral economics to get people to sign up as donors. In her frequent speaking engagements—Financial Times NY and London, Digital Health Congress, Nudge Portugal, and numerous academic and industry events, she demonstrates her commitment to disseminating her knowledge around improving how people engage with their medical decisions and health.
She was the CEO and co-founder of Buddy&Soul, a platform for personal development, that offered comprehensive support for behavior change, and self-management of medical conditions. This marks the evolution of her ideas around shared decision making and health habits, where good intentions don't suffice, and people need tools and skills to achieve their health and participation goals.
In 2019, Miron-Shatz became a visiting researcher at the Winton Centre for Risk and Evidence Communication, at Cambridge University. She is a full professor at the faculty of business administration at the Ono Academic College.
Her book on medical decision-making will be published by Basic Books in 2021. This is the culmination of her efforts to improve how people deal with their medical decision making, and how their physicians, and the institutions that care for them, facilitate this process, rather than leaving patients to their own devices.
Miron-Shatz and her husband have three children.
Links
Connect with Talya today!
Website: TalyaMironShatz.com
LinkedIn: in/Talya-Miron-Shatz
Check out her new book: Your Life Depends On It
We hope you enjoyed this episode of Follow Your Different™! Christopher loves hearing from his listeners. Feel free to email him, connect on Facebook, Twitter, Instagram, and subscribe on iTunes!