215 How To Be A Mission-Driven Entrepreneur with Sylvie Leotin, Founder/CEO of Equify Health
Monday 25th September 2023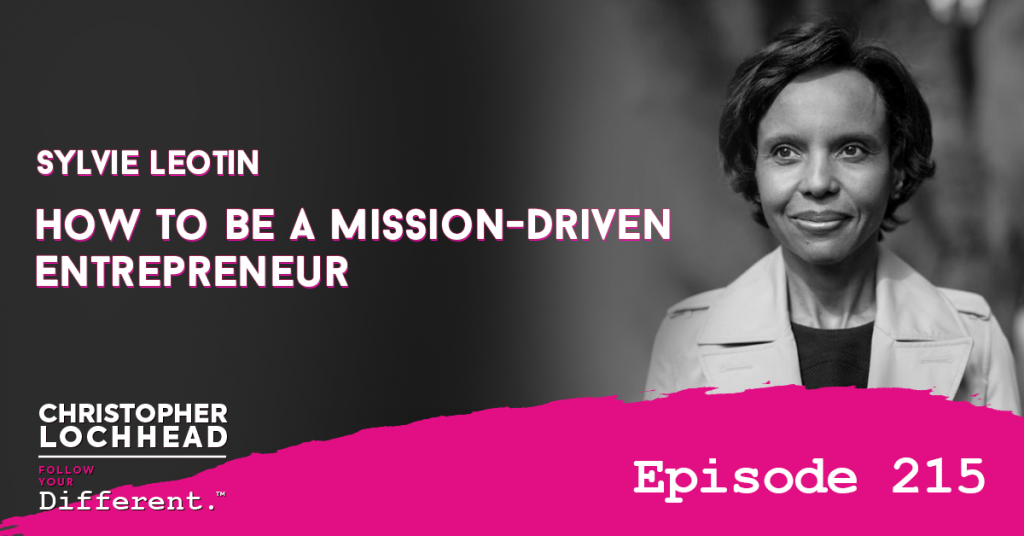 Podcast: Play in new window | Download (Duration: 1:09:08 — 47.5MB) | Embed
Subscribe: Apple Podcasts | Google Podcasts | Spotify | Pandora | Stitcher | RSS | More
As children, most of us had a wide range of interests, ideas, and dreams. We all wanted to do and be a lot of things. Though somehow, Life can beat us up.
Sylvie Leotin grew up pursuing those interests and dreams. She did ballet, became a visiting scholar at Stanford's Artificial Intelligence Laboratory, and now a Healthcare Entrepreneur. Sylvie also has a deep background in engineering, robotics, artificial intelligence, as well as product marketing and management. She is also a cancer survivor.
As a woman of color who have dealt with cancer, Sylvie has had a front row seat to the racial injustice faced by minorities in the American Healthcare System. So like other legendary missionary entrepreneurs, Sylvie decided to do something about it. She founded a company called Equify Health, and is on a mission to "elevate the experience and outcomes of patients of color in healthcare and medical research".
In this episode of Follow Your Different, we have a very real, very deep, and personal conversation with Sylvie Leotin about empathy, survival, entrepreneurship, and many more.
Sylvie's Mission
As someone who has navigated through the American Healthcare System, Sylvie Leotin knew the hardships that a person of color goes through to get proper healthcare. So when the COVID pandemic started, she started looking into reports on mortality rates and such.
What she found was heart-breaking. She learned that people of color were dying at higher rates. Upon digging further, she observed that it was not just for COVID or cancer-related ones, but every serious chronic illness.
"As a cancer survivor and someone that got a second chance to live, I felt really deeply distraught. I really felt that this is unfair. It really shouldn't be your race, your ethnicity, that is dictating that you have a right to health. So I started to do some research to look into this more deeply." – Sylvie Leotin
Using Her Setbacks as Motivation
When asked why she felt deeply connected to this cause, Sylvie shares that it was probably because she battled cancer and experienced these healthcare issues herself.
While she would still be distraught and concerned about these issues regardless, she feels that she wouldn't be doing all she is doing right now had she not had cancer.
"I think cancer took me close to mortality, close to being hopeless, close to feeling the biggest pain that I have ever felt in my life. And I really understood what it's like to be so sick, that you can die of the sickness. I don't think I would've understood if I just knew people, or even my family who died of cancer. I think cancer really opened up this huge well of compassion inside me, for the suffering of people in the world, but even more specially for the suffering of people that are affected by life threatening illnesses. And if there is anything I can do to help change that and make some people less hopeless, it will be a life worth living." – Sylvie Leotin
Mission-Driven Entrepreneurship
Sylvie talks about how she had the insight on her current mission. As a designer, she can see the things that were poorly designed in the system as she experienced things firsthand. If she can relate it to healthcare providers, it can make a difference for future patients.
The opportunity to turn her pain and experience into easing the experience for other people felt transformative for her.
While it started as something to improve other cancer patient's experience, it soon expanded to other serious illnesses as Sylvie saw more of the disparity and how Equify Health can help those in need.
"I have witnessed so my first experience was more altruistic. But it was very visceral to go to treatment every day. While I was in the waiting room for a long time, and I was very distraught by the fact that I went to one of the top five cancer centers in the country. I didn't see a single Black patient during my entire treatment, and I knew that this hospital is located less than three miles away from a very large black community." – Sylvie Leotin
Sylvie knew that she not only has to point out these disparities to healthcare providers, but also offer ideas and solutions to help POC and minorities who are often overlooked.
To hear more from Sylvie Leotin, Equify Health and her mission-driven style of entrepreneurship, download and listen to this episode.
Bio
Sylvie Leotin is an entrepreneur, writer, speaker, consultant, and polymath.
She's the founder/CEO of Equify Health. Equify Health is on a mission to elevate the experience and outcomes of patients of color in healthcare and medical research.
A gold-medal ballerina and computer scientist, she combines a unique breadth and depth of expertise, with a keen eye for connecting the dots between disciplines, thoughts, people and ideas.
Sylvie's multifaceted career path crosses industries, continents, and boundaries. Transitioning from ballet to robotics, she made her way from France to Silicon Valley.
She was also a visiting scholar at Stanford Artificial Intelligence Laboratory, and has worked in a wide range of engineering, product and marketing roles at Oracle, Sun Microsystems and startup companies.
Driven by a lifelong thirst to understand the human mind, she is also passionate of literature, philosophy, and psychology.
As a consultant and facilitator, Sylvie combines her rich multidisciplinary knowledge, and holistic system thinking skills to help companies find unexpected insight and growth opportunities.
Passionate about empowering human potential, she developed a innovational framework to help companies uncover unrealized levers to increase customer and employee wellbeing and success. She teaches creative workshops on customer and patient experience design.
A skillful writer, her articles have been published in business, technology, and literary publications.
Sylvie holds a Masters of Science in Engineering Economics Systems from Stanford University, a Masters of Science in Computer Science from ENSIIE, and a gold medal in ballet from France's National Conservatory.
Links
Website:
Follow Sylvie at Twitter:
We hope you enjoyed this episode of Follow Your Different™! Christopher loves hearing from his listeners. Feel free to email him, connect on Facebook, Twitter, Instagram, and subscribe on iTunes!