328 Crime, Justice, & America with Morgan Wright & Steve Murphy, Hosts of The Game of Crimes Podcast
Wednesday 20th September 2023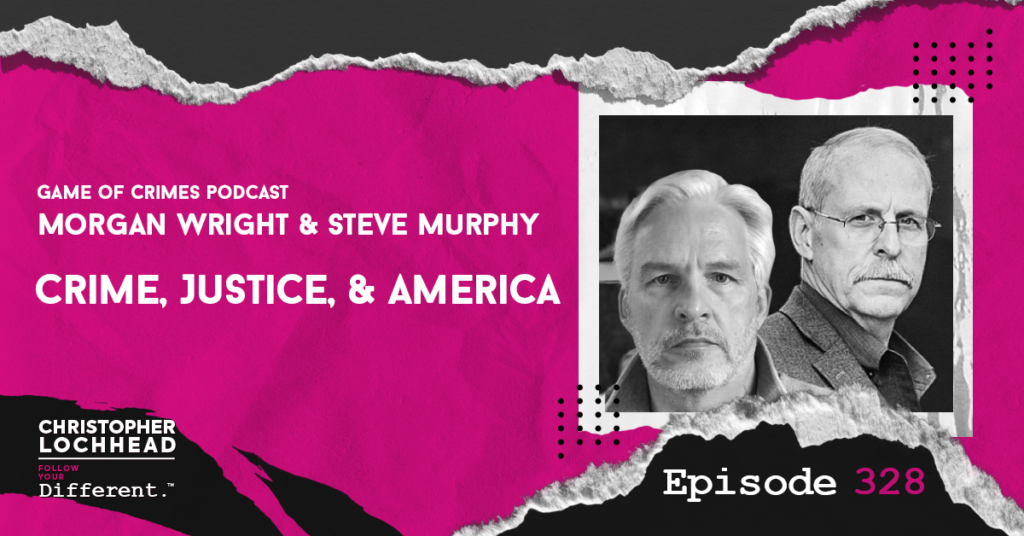 Podcast: Play in new window | Download (Duration: 1:30:22 — 62.1MB) | Embed
Subscribe: Apple Podcasts | Google Podcasts | Spotify | Pandora | Stitcher | RSS | More
On this episode of Christopher Lochhead: Follow Your Different, we have a riveting dialogue with two of America's favorite crime fighters. The hosts of the Game of Crimes Podcast are here: Morgan Wright and Steve Murphy.
Steve Murphy was one of the real DEA Narcos who took down Pablo Escobar. The Netflix series Narcos is based on his work.
Morgan Wright spent 18 years in state and local law enforcement is a highly decorated police officers state trooper and detective. He was even trained by the original members of the FBI as Behavioral Science Unit on serial crime profiling, which led him to training spies and spooks at places like the NSA.
If you're a crime buff care about justice and or care about the future of the United States, you're going to love this episode.
You're listening to Christopher Lochhead: Follow Your Different. We are the real dialogue podcast for people with a different mind. So get your mind in a different place, and hey ho, let's go.
How Gangs are extending their Influence in certain parts of America
The conversation starts off with Steve Murphy sharing shocking revelations about Mexican gangs and their influence on California laws. He mentions their podcast called "Game of Crimes", which has been running for over two years, and their recent episode about an interview with a former member of the Mexican Mafia, referred to as "Mundo." They emphasize not sharing his real name due to safety concerns, as there is a history of violence associated with such revelations.
Steve explains further how criminal groups like the Mexican Mafia manipulate the California penal system and legislators. They work to secure more lenient laws, better prison conditions including improved food, reduced responsibilities, and access to phones for conducting criminal activities from behind bars. The speaker expresses how these criminals mock the California legislators, exploiting their reluctance to confront them, resulting in laws that favor the criminals. This situation is portrayed as detrimental to honest taxpayers in California, who end up losing out.
On Gangs using children in their operations
The conversation continues as they discuss the disturbing trend of gangs involving children in their criminal operations, particularly in relation to Mexican fentanyl gangs and trafficking. Christopher expresses his shock about the leniency of consequences for minors involved in serious crimes due to certain laws in California. He describes a conversation with a police chief who shared a case of a 14 or 15-year-old who stabbed a rival gang member and received only a three-month ankle bracelet as punishment.
They then delve into the concept of gangs using children, mentioning how historically even New York City drug dealers employed young kids as lookouts. Steve Murphy shares insights into the psychology of recruitment, explaining how gangs exploit children's need for attention and affection, particularly in impoverished neighborhoods where parental support may be lacking, and the allure of earning "easy money" even as a child. This dynamic leads to these kids being drawn into gang activities.
Morgan Wright adds that Mexican fentanyl gangs are trafficking even children, who are forced into various criminal roles such as drug distribution, human trafficking, and even employment. He highlights the shift in focus for cartels from drug trafficking to human trafficking due to the increased profits and lower risks involved. The term "Minutemen" is mentioned, referencing how quickly kids are released from custody due to relaxed laws, allowing gangs to maintain control over them easily.
Keeping children out of jail
Morgan Wright then stresses how important it is to keep children out of the streets and jails, so they do not fall further into the machinations of these gangs.
"The intervention has to start early and often because if you don't, they'll arrive at a path to where as he could either stay on the good side, or he could go to the other side. And it's that age around 12 or 13 is the one of the most critical times for a kid."

– Morgan Wright
He says that once these kids start getting involved in gangs, it's like a rabbit hole that sucks them in deeper, and it'll be harder to get them out later on. You'll not only be fighting the gangs, but also these young adults as well, because now they think that's the only thing they can do with their life.
To hear more from Morgan Wright and Steve Murphy and the current state of Crimes and Justice in America, download and listen to this episode.
Bio
Morgan Wright
Morgan spent 18 years in state and local law enforcement as a highly decorated police officer, state trooper and detective.
He solved a lot of cases, interviewed a lot people, and interrogated a bunch of suspects.
In fact, he was trained by the original members of the FBI's Behavioral Science Unit on serial crime profiling.
This led to him training spies and spooks at places like the NSA.
Morgan's sister once accused him of being a spy because he was spending a lot of time in foreign countries like Pakistan, Turkey, Colombia and the Middle East.
To this day, Morgan denies that accusation, saying "You can't prove it…so there."
He continues to do a LOT of stuff on television talking about cyberterrorism and other things Murph doesn't understand.
Morgan is the co-host of The Game of Crimes Podcast.
Steve Murphy
Yes, he and Javier Pena helped catch Pablo Escobar. So he's got that going for him.
Netflix made a big deal out of it and created one of the most successful series ever called "Narcos".
The scenes where Steve looks good are all true according to…Steve.
During his long career he helped bring down dangerous drug traffickers, dismantled criminal organizations, and worked with state and local law enforcement to go after the worst of the worst.
Their bestselling book "Manhunters: How We Took Down Pablo Escobar" is a must-read for anyone who wants to know what it takes to bring down the world's first narcoterrorist.
When Steve isn't podcasting or getting lost driving around town, he and Javier are traveling the globe doing live presentations. Check them out at DEA Narcos.
Steve is also the co-host of The Game of Crimes Podcast.
Links
Connect with Steve Murphy and Morgan Wright
LinkedIn: Morgan Wright | LinkedIn: Steve Murphy | DEA Narcos
The Game of Crimes Podcast | Manhunters: How We Took Down Pablo Escobar
We hope you enjoyed this episode of Christopher Lochhead: Follow Your Different™! Christopher loves hearing from his listeners. Feel free to email him, connect on Facebook, Twitter, Instagram, and subscribe on iTunes!