194 The Life of A Legendary Songwriter w/ Nashville Songwriters Hall of Famer Sharon Vaughn
Wednesday 6th December 2023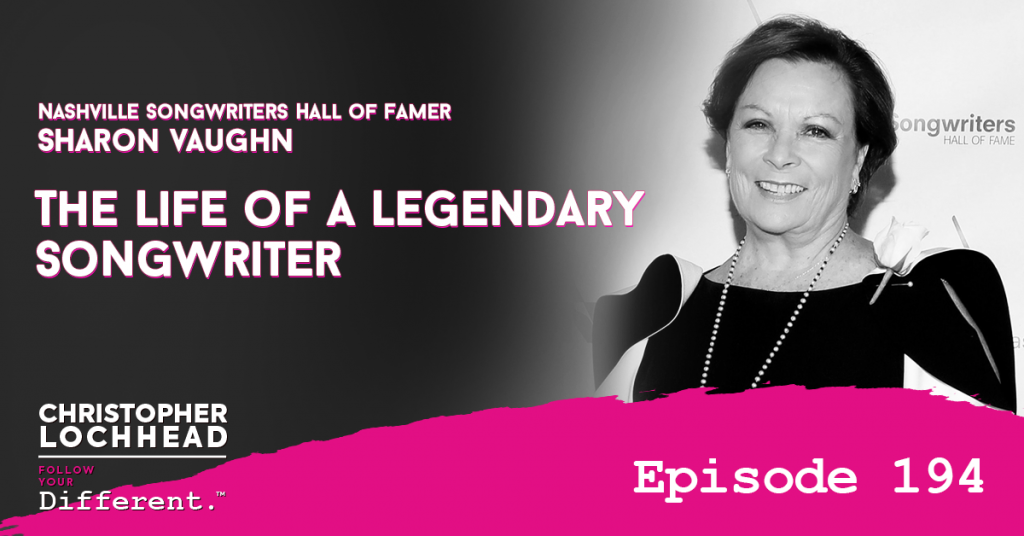 Podcast: Play in new window | Download (Duration: 1:06:45 — 45.8MB) | Embed
Subscribe: Apple Podcasts | Google Podcasts | Spotify | Pandora | RSS | More
Today, we go deep into the life, lessons and learnings of a legendary musician, singer, producer, and songwriter Sharon Vaughn. Sharon has written hits for legends like Willie Nelson, Waylon Jennings, Reba McEntire, The Oak Ridge Boys, George Jones, Kenny Rogers, Randy Travis, Patty Loveless, Agnes, and Kate Ryan. In 2019 Sharon was inducted into the Nashville Songwriter's Hall of Fame.
If you're a creative person, if you love music and if you find inspiration in stories of amazing triumph, you'll love this episode. Pay special attention to Sharon's thoughts on the grand dame of country music, Dolly Parton.
A Creative Writing Instrument
Sharon discusses her professional and personal background and how she developed an interest in singing and songwriting. She goes into detail about how her writing process has been a schizophrenia lifestyle.
"It's a very difficult line to walk because if you're writing for strictly commercial, it gets vapid. If you're writing strictly for an emotional purging, then it gets selfish and self centered. But if you walk that straight and narrow line between commercial and genuine emotion. That's where the tension lies." – Sharon Vaughn
Admiration of Musical Genius
Sharon continues to discuss her professional journey. She lets us in on her joys and difficulties of what it was like to work as a harmony singer. Further, she shares what it was like working with Jimmy Buffet, Porter Wagoner, Bill Anderson, and Dolly Parton.
Nashville Songwriters Hall of Fame
Sharon describes her excitement and her thankfulness for being inducted to Nashville Songwriters Hall of Fame. Further, she expresses her gratefulness to the people along the way who have been instrumental to her life. This all had contributed to her becoming a great listener and a legendary storyteller.
"Everybody on this planet has a story. Most of them are very eager for you to hear it, to tell it. All you have to do is have enough curiosity to listen and respect what they're saying. You have to realize that everybody in this world is worthy of listening to. I, for one, have been the recipient of listening to people and that's the main thing I'm most grateful for. " – Sharon Vaughn
To know more about the legendary Sharon Vaugh and her incredible life journey, download and listen to this episode.
Bio:
Vaughn moved to Nashville in her early 20s. In 1974, she charted two singles as a performer for Cinnamon Records: a duet with Narvel Felts titled "Until the End of Time", and "Never a Night Goes By". A year later, she signed with Dot Records and released a third single, "You and Me, Me and You". She was also the lead singer in the Lea Jane Singers, and worked with the Jordanaires, the Nashville Edition and The Holladay Sisters.
Vaughn's first big songwriting success was Waylon Jennings (1976) "My Heroes Have Always Been Cowboys." Willie Nelson later popularized the song in 1980 for the soundtrack of the movie The Electric Horseman.
Her next songwriting hit was The Oak Ridge Boys (1977)'s "Y'all Come Back Saloon." Since then she has worked with country artists such as Dolly Parton, Waylon Jennings, George Jones, Tammy Wynette, Tanya Tucker and Kenny Rogers. Vaughn was a nominee for the Nashville Songwriters Hall of Fame three times, and was inducted in 2019.
Vaughn has during the last couple of years had over 100 cuts with European artists and four number ones in Japan. She has worked with several Swedish Idol artists including the winner Jay Smith (2010) and a number one hit for Ola. She has also worked with many Scandinavian songwriters and artists including Agnes, Mutt Lange, Tony Nilsson, Vendela, Anders Hanson and Emilia.
In 2009, her co-written song Release Me by Swedish pop artist Agnes reached #1 on the U.S Billboard Dance Club Songs Chart.[8] In 2013, Vaughn received a JASRAC Award as #1 of the Top 10 Foreign Works for her 2011 co-written song "Rising Sun" by the Japanese pop band EXILE.
During 2014, Vaughn competed as the songwriter of three songs in Melodifestivalen.
Vaughn has also co-written songs with Ian Dench[11] and Carl Falk.
Links:
Nashville Songwriters Foundation Hall of Fame
My Heroes Have Always Been Cowboys – Waylon Jennings
My Heroes Have Always Been Cowboys – Willie Nelson
Wikipedia – My Heroes Have Always Been Cowboys
We hope you enjoyed this episode of Follow Your Different™! Christopher loves hearing from his listeners. Feel free to email him, connect on Facebook, Twitter, Instagram, and subscribe on iTunes!