237 Creative Acts for Curious People with Stanford Design School Executive Director Sarah Stein Greenberg
Monday 20th November 2023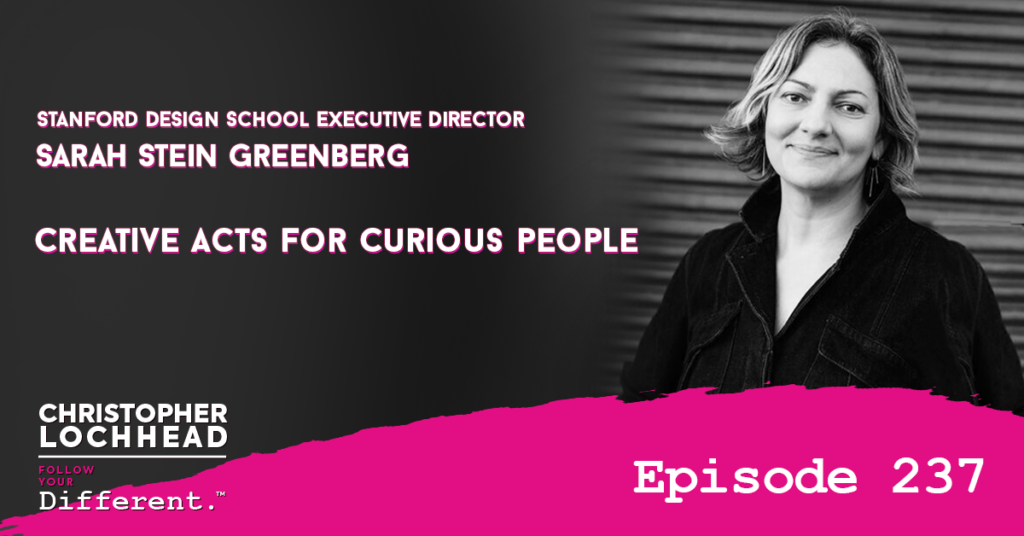 Podcast: Play in new window | Download (Duration: 1:04:45 — 44.5MB) | Embed
Subscribe: Apple Podcasts | Google Podcasts | Spotify | Pandora | RSS | More
In this episode of Follow Your Different, we talk about all things creativity, innovation, and design. Our guest today is Sarah Stein Greenberg, the Executive Director of Stanford's Design School, aka the d.school.
She has a new book out called Creative Acts for Curious People: How to Think, Create, and Lead in Unconventional Ways. They have taken years of learning and ideas from Stanford's Design school and put it in this awesome new book, and we get to dive in to all of it.
Sarah shares why reflections matter so much, and also tells why metacognition is important. We dig into what it's like running one of the most well-known design schools in the world, and how design students are different today than they were in the not-so-distant past. Also, pay special attention to Sarah's ideas on weird and the role of curiosity in creativity and design.
Sarah Stein Greenberg on Reflections and Creativity
Sarah talks about finally being back in the physical space of Stanford campus. She describes the space that she has a space for reflection, full of writing space to record her thoughts as they come.
When asked if reflection is really important in design, Sara shares that it plays a part in it. That it is something that should go hand-in-hand with action.
"I think reflection is kind of the underappreciated partner of action. In a lot of cases, when people think about creativity, they think about brainstorming and exuberance, and that that spark of inspiration. But reflection, I think about it as it's like the peanut butter and jelly sandwich, those two things are, inextricably linked action and reflection. So yeah, I'm a big proponent of those quiet moments, where you're trying to make sense or really think about what might be the implications of your creative work." = Sarah Stein Greenberg
What? So What? Now What?
Sarah shares about the difference between thinking and reflection. Thinking might include everything from coming up with new ideas, charting the vision, or even some parts of analysis / research. Reflection focuses more on thinking about your own process or practice, or looking back at your data more critically.
Sarah goes on to say that reflection in particular benefits from specific scaffolding and practices, and brings up one of her favorite one: the What? / So What? / Now What?, which a few of her colleagues have originated.
"The scaffold is called What? So what? Now What? You can kind of have a scaffolded reflection and think about, what did I just learn in that particular class or that particular project? How do I want to improve my own work? But if you use a scaffold like What, So What, and Now What, you really get into the details. You might write down everything that happened, then you might think about what did all of that mean? Why is that important? Why did that feel like what I wanted to capture? And then Now What is the opportunity to think for each of those. So what for each of those implications? What do I want to do about that? Is that something I want to practice? Is that something I want to improve?" = Sarah Stein Greenberg
For Sarah, the quality of reflections changes dramatically if you have a detailed flow on how to approach and assess what you currently have.
Sarah Stein Greenberg on Metacognition
The conversation then steers into how a lot of people nowadays aren't really thinking, or thinking about thinking. Most content or "new things" in the market are just variations of the same things that we already have, just rebranded or given a new "spin".
Sarah agrees with this sentiment, and also talks about metacognition, which is the technical term for "thinking about thinking". For her, it's a skill that should be embedded in the heart of our education.
"(Metacognition) is one of those kinds of secret skills that I firmly believe should be embedded in the heart of our education. What goes along with that is the idea of learning how you learn, is actually the key to like being able to then continue to be a learner, no matter what environment you're in. That's actually where reflection which we just talked about is so important. Because that's actually how you can start to take control. That kind of self-awareness is part of that practice of learning how to learn." = Sarah Stein Greenberg
To hear more from Sarah Stein Greenberg and how reflection and metacognition can be helpful in creating new categories, download and listen to this episode.
Bio
Sarah Stein Greenberg helps lead the d.school, an interdisciplinary institute at Stanford that nurtures innovators and spreads design thinking.
As Executive Director, Sarah supports a multidisciplinary learning program of about 25 courses that reach more than 500 Stanford graduate students annually, taught by more than 60 experts from the d.school, Stanford faculty and the Silicon Valley community; she also launches and supports new or newly iterated d.school initiatives, including the fellows program (a creative leadership accelerator), a new version of the K-12 Lab focused on innovators changing education, curriculum experiments like "pop-up classes," and a new project to help university leaders imagine the future of the on-campus experience at Stanford.
Previously, she worked in the innovation practice of Monitor Group in the US and India and advised multinational companies on developing innovation capabilities. Her background includes developing new products and services in a number of emerging markets in Asia and Africa.
In the classroom Sarah has co-taught the d.school's foundational Design Thinking Bootcamp, and its legendary course on design for the developing world, Design for Extreme Affordability. This year she helped start a new course that aims to spark students' appetites for disruptive innovation in addressing poverty in the Bay Area.
Sarah holds an MBA from Stanford University and a BA in History from Oberlin College.
Links
Follow Sarah today!
LinkedIn: in/Sarah-Stein-Greenberg
Check out her new book here: Creative Acts of Curious People
We hope you enjoyed this episode of Follow Your Different™! Christopher loves hearing from his listeners. Feel free to email him, connect on Facebook, Twitter, Instagram, and subscribe on iTunes!