279 How To Improve Your Mental Health with Sarah Fay, PhD, Author of Pathological: The True Story of Six Misdiagnoses
Friday 1st December 2023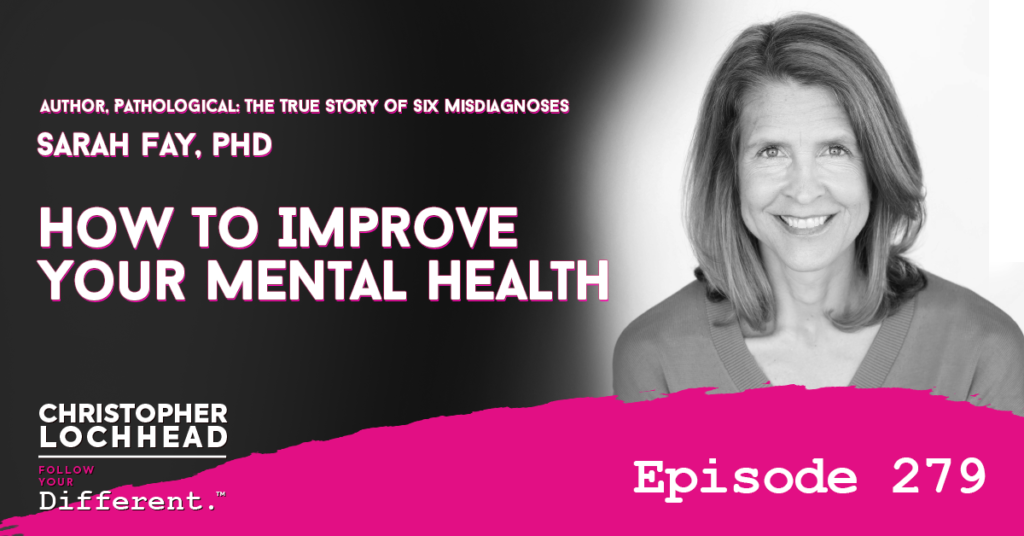 Podcast: Play in new window | Download (Duration: 1:30:34 — 62.2MB) | Embed
Subscribe: Apple Podcasts | Google Podcasts | Spotify | Pandora | RSS | More
Welcome to the second part of a two-part series on neuro-diversity and mental health. If you happened to miss the first one, you can check out our dialogue with M.E. Thomas on psychopathy (FYD 277). On this episode of Christopher Lochhead: Follow Your Different, we talk about how to improve your mental health. And who better to have that conversation but with Sarah Fay, PhD.
Sarah Fay is a bestselling author, and her new book is called Pathological: The True Story of Six Misdiagnoses. Apple books said Sarah's new book is "a powerful memoir by a deeply compelling person and a fantastic writer."
Whether you are curious about neuro-diversity, or looking for ways to improve your mental health, you can't go wrong with listening to this episode.
The world that Sarah Fay lives in
The conversation starts off on the topic of how Sarah is processing the world we live in today.
As someone who was in the vacuum of the academe for a while, one might not even notice the world outside. Sarah admits that she pretty much missed the Obama administration while she was working on her PhD.
There is a certain appeal of the academe of being away from the world and being surrounded by actual books, and being in pursuit of knowledge. That is, until the world comes calling.
How things have changed
Sarah shares that she has been writing about how different things have changed for her and how she saw herself. One of the things she has noticed is the change in her mental health, and how it has changed for the better.
"I was writing about how different things have changed for me and how I see myself. Now as someone who had a mental illness, I believe I've been cured. There's no evidence to suggest that we cannot fully heal from mental illness, even serious mental illness like what I had." – Sarah Fay
Sarah finds the notion that mental illness only lies dormant at times very pessimistic, as it sets the precedent that it could never be fully healed.
The Metaphor of Mental Illness
Sarah shares the metaphor of mental illness that she absolutely loves, which is much like breaking a bone.
"When you break a bone after it heals (which I didn't know, this is in physical medicine), the point of the break becomes the strongest part. And so if we think of mental illness, or some sort of psychosis as a break, then we heal stronger." – Sarah Fay
And if you look how resilient and strong people are who have recovered from mental illness, it makes a whole lot of sense for Sarah.
To hear more from Sarah Fay and how to improve your mental health, download and listen to this episode.
 Bio
Sarah Fay (Ph.D., MFA) is an award-winning author and mental health advocate working to improve how we think and talk about our mental health.
Her experience of being diagnosed with six different mental health disorders and finding no relief led her to write her journalistic memoir Pathological: The True Story of Six Misdiagnoses, an Apple Best Books pick that was hailed in The New York Times as a "fiery manifesto of a memoir."
Sarah has shared her story on NPR's 1A, Oprah Daily, Salon, NPR's KERA/Think, The Rumpus, in The Los Angeles Times, and more.
Pathological has been featured in Forbes, mindbodygreen, Thrive Global, Lit Hub, Psychology Today, and others.
Links
Connect with Sarah Fay!
We hope you enjoyed this episode of Follow Your Different™! Christopher loves hearing from his listeners. Feel free to email him, connect on Facebook, Twitter, Instagram and subscribe on iTunes!