277 Confessions of a Sociopath with M.E. Thomas
Monday 25th September 2023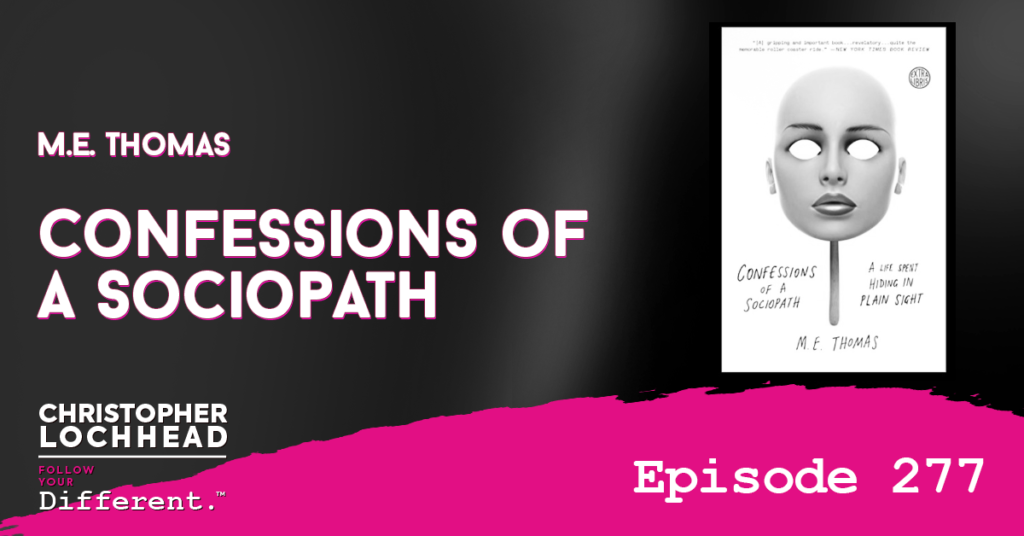 Podcast: Play in new window | Download (Duration: 1:39:01 — 68.0MB) | Embed
Subscribe: Apple Podcasts | Google Podcasts | Spotify | Pandora | Stitcher | RSS | More
On this remarkable episode of Christopher Lochhead: Follow Your Different, we talk with M.E. Thomas about psychopathy, and how you can be in a relationship that works with a psychopath.
M.E. Thomas is a pseudonym of the bestselling author of Confessions of a Sociopath. She's a lawyer, musician, and now a teacher. She is among the first psychopaths or sociopaths to come out of the closet, and share her life and experience.
This episode will have you thinking deeply about your identity, relationships, and the masks that we all wear. So stay tuned.
M.E. Thomas on Knowing she was "Different"
The conversation started with the question of identity. Specifically, about when M.E. Thomas found out she was "Different".
"I always knew that I was different. But I had so many things that they'd be different, I just assumed it was one those – like, I was raised in a big Mormon family, so I grew up with five siblings. We just had weird idiosyncrasies. My dad was kind of a crazy guy. Even now, they call him Einstein because he wears his hair, kind of like white and crazy, and his eyebrows were long and curly. He says, he thinks that makes him look distinguished." – M.E. Thomas
Aside from this, there were a lot of things that people would think weird about her. But it came off most of the times as precocious and charming as a child, and cool and collected growing up.
M.E. Thomas on Not Experiencing the Same Things
Another way M.E. Thomas knew she was different from others was when she and the other kids her age hit puberty. Simply put, she wasn't experiencing the same things that others were being self-conscious or worried about.
"During puberty, everybody was kind of losing their collective minds. And I was just like, "I don't get it". I didn't get the self-consciousness, and I didn't get the awkwardness. And I didn't get the kind of like, "we're going through some sort of new identity". I kind of didn't get that, although I got it in a way because I would kind of choose a new identity every day for whatever situation I was in." – M.E. Thomas
Looking back, M.E. Thomas was kind of relieved that she didn't go through all that, citing a Reddit page that showed teenagers and all the stupid things they did and wear growing up.
How to Work the Social System
M.E. Thomas muses that she was glad that she didn't go through the same experience, as she's heard stories of how people were both very happy and unhappy during those times in their life. She particularly calls out peer pressure, which is probably the number one reason teenagers do stupid things for stupid reasons.
She herself wasn't subjected to peer pressure, because she admits that she already knew how to work the social system even then. Given the cool demeanor she portrays, she was easily part of every social circle and friends with different groups. Though she does say that being that much of a social butterfly should've been an indicator of a personality disorder.  
To learn more about M.E. Thomas and her experiences growing up, download and listen to this episode.
Bio
M. E. Thomas (a pseudonym) is the author of Confessions of a Sociopath: A Life Spent Hiding in Plain Sight. (Penguin Random House)
She is a former law professor who has written extensively on music copyright issues, a current California attorney, and the founder of a non-profit. She is also, most recently, a professional musician.
Links
Connect with M.E. Thomas!
Website | Twitter | More about the Author
More about M.E. Thomas
NYTimes: Confessions of a Sociopath
Slate: American Psychopath's Patrick Bateman Reviews M.E. Thomas' Confession of a Sociopath
YouTube: Ask a Psychopath – What is your background?
YouTube: Ask a Psychopath – What are some things you've done?
We hope you enjoyed this episode of Follow Your Different™! Christopher loves hearing from his listeners. Feel free to email him, connect on Facebook, Twitter, Instagram and subscribe on iTunes!