224 The Power of Trust with Harvard Business School Professor Sandra Sucher
Monday 20th November 2023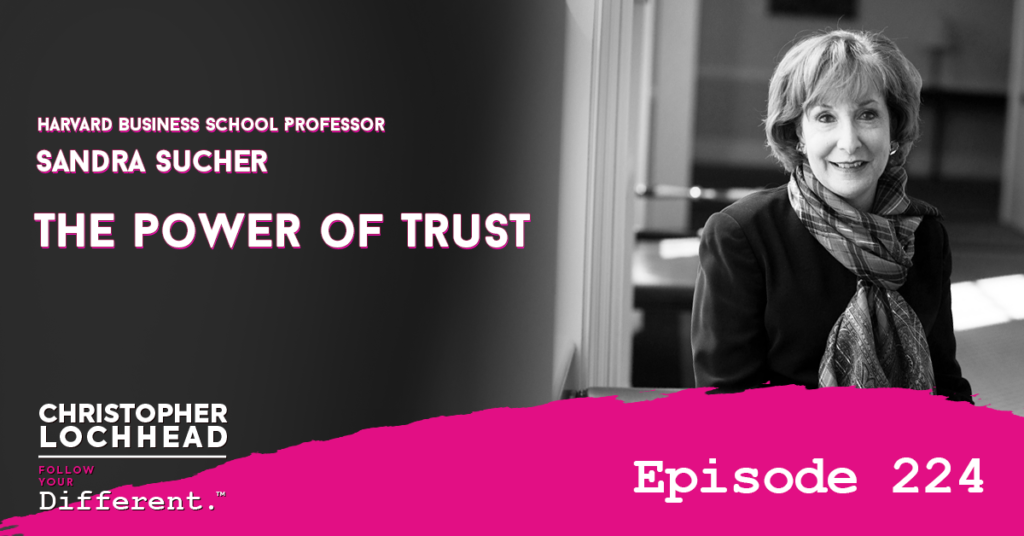 Podcast: Play in new window | Download (Duration: 1:16:22 — 52.4MB) | Embed
Subscribe: Apple Podcasts | Google Podcasts | Spotify | Pandora | RSS | More
Trust is a cornerstone of society. It's the seminal component that's required for everything to work, including everything in business. Professor Sandra Sucher says that trust at every level of business and society has never mattered as much as it does right now.
In this episode of Follow Your Different, Professor Sandra Sucher talks about The Power of Trust, and how companies could earn, lose, and regain people's trust. So if you are interested in learning about the different levels of trust across different levels in business, stay tuned to this episode.
Why Trust is Important
When asked what she thinks is the most important thing to learn about trust, Professor Sandra points out that it is important to know that trust is a type of relationship. It's a relationship of almost like trusting your vulnerabilities to another person and believing in their actions.
While not entirely quantifiable, this insight makes us aware of how we should handle trusting another person, whether in business or in our daily lives.
"This is not like terra incognita, to any of us. And it says the trust is something you can get your arms around. It's not ether, nor magic. And it's not fairy dust. It's resolved." – Professor Sandra Sucher
Knowing this, we now have an idea as to where to think about how we can become a trustworthy person.
Culture and Trust in the Company
One of the things Professor Sandra have found in their research is that developing culture in a company is also based on trust.
People often associate culture as a kind of reputation management, more on handling how people think about them and the company. Though it's better defined as building trust from within. When the people in your company trust the management and the company, they will be more invested in making it better. They trust that the company is doing its best, so they should do their best as well.
"So if you don't have trust inside the company, kiss it goodbye. It's not going to get it outside the company." – Professor Sandra Sucher
Trust is a Judgement Call
Professor Sandra also defines trust as a judgement call people make, based on different factors that they perceive from someone. In terms of business, it could be with regards to their competence, their motives, and whose interests they are serving, among other things.
Another thing to note is that people also focus on how companies treat their people. So it's not just about getting results. How you accomplish your goals also matter.
Professor Sandra thinks that one of the key things that set them apart from other research is their focus on Impact. While that previous point pertains to knowing how they interact with equals and those who work below them, a person or company's impact pertains to how they affected others with their actions, whether directly or indirectly. This is quite important because then, you are basing your judgement on actual experience rather than information from second to third hand information.
With all this information, at hand, we make our judgement call. Are they competent? Do they care about other people's interest? Have their actions impacted you in some way? If that was the case, did they take accountability for unintended impacts?
So while you can't entirely quantify how Trust can be gain or lost by a company, having these parameters to have an estimate is a great way of gauging the current level of trust.
To learn more about Professor Sandra Sucher and The Power of Trust, download and listen to this episode.
Bio
Sandra Sucher
Sandra Sucher is a professor of management practice at Harvard Business School, where she has been teaching for the last twenty years. She's an advisor to the Edelman Trust Barometer, and has spoken about trust at Edelman and numerous companies and at Harvard Business School events.
She provides expert commentary for Bloomberg, The New York Times, The Washington Post, The Wall Street Journal, NPR and Fortune.
Prior to teaching at Harvard, Sucher had a two-decade career as a senior level executive and business 'fixer,' specializing in uncovering complex organization problems and creating new ways to address them.
She lives in Massachusetts.
Links
Learn more about Sandra: Harvard Business School Profile
LinkedIn: in/Sandra-Sucher
Twitter: @SandraSucher
Check out her new book: The Power of Trust
We hope you enjoyed this episode of Follow Your Different™! Christopher loves hearing from his listeners. Feel free to email him, connect on Facebook, Twitter, Instagram, and subscribe on iTunes!