186 Purpose Driven with Sal Khan (Khan Academy) & Navin Chaddha (Mayfield)
Monday 25th September 2023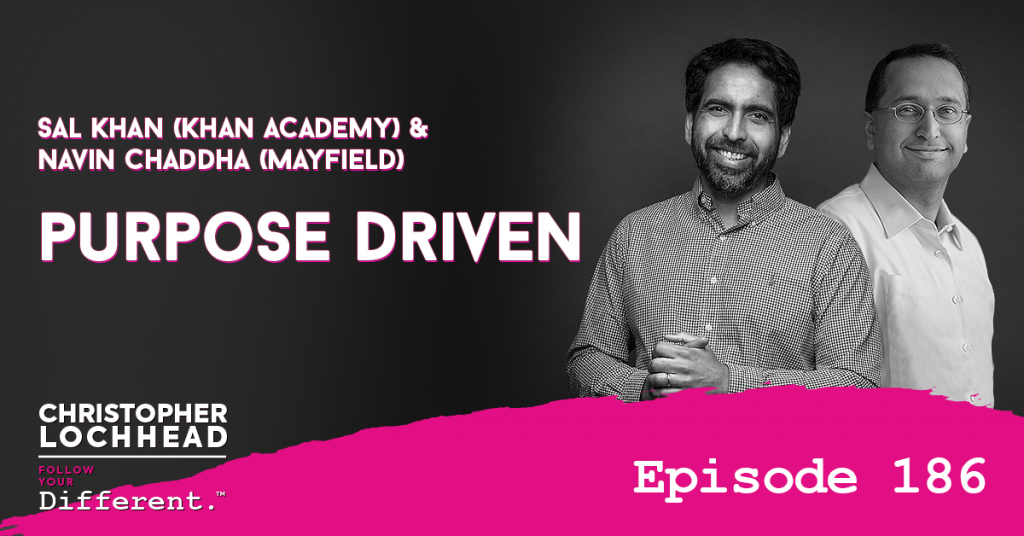 Podcast: Play in new window | Download (Duration: 39:15 — 26.9MB) | Embed
Subscribe: Apple Podcasts | Google Podcasts | Spotify | Pandora | Stitcher | RSS | More
We have another super special episode for you today. Recently, Christopher was lucky enough to get an opportunity to start a new podcast with Navin Chaddha, who leads Mayfield, one of the top venture capital firms in Silicon Valley. What you're about to listen to is a recent episode of the brand new podcast called Conscious VC. It's with an extraordinary man named Sal Khan.
In this episode of Conscious VC, Naveen and Christopher have a riveting conversation with Sal, he takes you into why his mission is free education for everyone in the world. He unveils some of his biggest learnings in building an incredible education nonprofit, the Khan Academy, and his key learnings for entrepreneurs.
Free World Class Education
Navin, Sal, and Christopher discuss Sal's professional and personal achievements, as well as, Khan Academy, its mission and what it stands for. Sal goes into detail about Khan Academy's mission not being about profit, but rather establishing free world class education for anyone anywhere. He hopes that this platform can lead to various opportunities for the children. Whether that be through college admissions, apprenticeships, and job opportunities.
"You know, I think these days, it's very easy to beat up on public education. There's a lot of things that are imperfect, a lot of things that need to be fixed. We're trying to work in partnership with school districts and teachers to help address some of that. I think it is worth it. Giving credit for how much the world has transformed because of this very aspirational public education." – Sal Khan
Be Authentic and Honest
Sal and Navin dive deeper into the factors that have contributed to Khan Academy and Mayfield's success. Sal shares his key learnings and advice for entrepreneurs who plan to follow in his footsteps. It all starts with the vision, mission, and key insight. These all bring back to the question of how one can make the world a better place. He continues to discuss how content should be based on what you're excited about and what you truly believe in. Sal hopes Khan Academy can fulfill this potential and create a legacy that can help shape the world.
"My role is to make sure that Khan Academy can really stay true to the vision. Now, while hopefully I'm alive for many decades. I want to retain it, that focus on a mission, which historically, nonprofits can be reasonably good at. At the same time, I want to stay nimble. There's one fear that Khan Academy disappears, and it's not able to fulfill its potential. There's another fear that it fulfills its potential, but then it becomes the legacy, it becomes the entrenched interest." – Sal Khan
Creating Pathways to Learning
Navin and Sal share more about Mayfield and Khan Academy as well as the programs they offer to help expand the students opportunities for learning and growth. He discusses his fascination on these innovative models and how they have paved a way to the hybrid online world. Sal then goes on to talk about how these programs are truly a fast track opportunity for the students. In addition, he shares the struggles that they have been facing combining both the platforms of education in the midst of the pandemic.
"I think from my perspective, we need more people like what Sal has done with his life. People who are helping build businesses, for better and are making a positive impact in the world. I hope many people and entrepreneurs who don't need to do this, including VCs like me, use our time, money, ideas and access. We can even start with 1%. And that's what Mayfield has started with the pledge 1%. And my belief is, each smaller drop in the bucket fills buckets that can fill in a pond, and then sky's the limit. So we have to just get started and have role models like Sal and others who are showing us the way. I think we have endless possibilities." – Navin Chaddha
To know more about the mission and vision of Khan Academy and Mayfield, download and listen to this episode.
Bio:
Navin Chaddha
Navin Chaddha leads Mayfield. He has ranked on the Forbes Midas List of Global Tech Investors 12 times, including being named a Top Five investor in 2020.
During his career as a venture capitalist, he has invested in over 50 companies, 17 of which have gone public and 20 have been acquired. Some of his investments include Lyft, Poshmark, SolarCity, Hashicorp, Elastica, CloudGenix, and CloudSimple.
As an entrepreneur, he has co-founded or led three startups including VXtreme, a streaming media platform, acquired by Microsoft to become Windows Media.
Navin is a committed philanthropist who directs Mayfield's 50-year tradition of philanthropy to support many causes including diversity, health, hunger, and education.
Interests: Cricket, Bollywood.
Salman Khan
Salman Amin (Sal) Khan (age 42) is a New Orleans educator, entrepreneur, philanthropist, and former hedge fund analyst. He is the founder of the Khan Academy, a free online education platform and nonprofit organization. From a closet in his home, Khan has produced over 11,500 videos, teaching a wide spectrum of academic subjects, mainly focusing on mathematics and the sciences. As of August 2019, the main Khan Academy Channel on YouTube attracted more than 5,017,000 subscribers.
Being founder and faculty means Sal's busy setting the vision for the Khan Academy and expanding our library of educational videos.
Before quitting his job as manager of a hedge fund to run the Khan Academy full-time, Sal also found time to get three degrees from MIT and an MBA from Harvard. – Khan Academy
Links:
Follow Your Different Episode 168
We hope you enjoyed this episode of Follow Your Different™! Christopher loves hearing from his listeners. Feel free to email him, connect on Facebook, Twitter, Instagram, and subscribe on iTunes!