168 Conscious Capitalist Navin Chaddha of Mayfield
Sunday 1st October 2023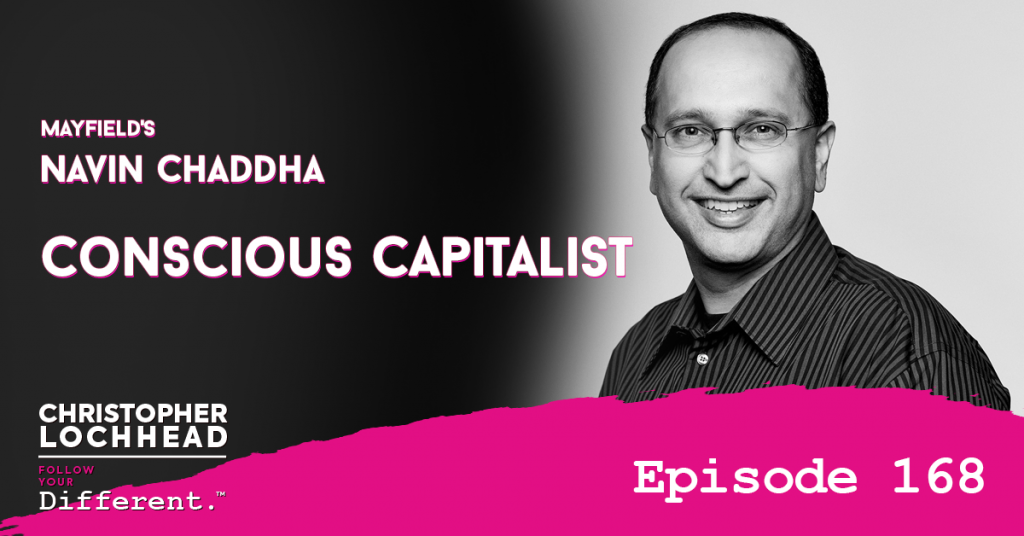 Podcast: Play in new window | Download (Duration: 1:06:16 — 45.5MB) | Embed
Subscribe: Apple Podcasts | Google Podcasts | Spotify | Pandora | Stitcher | RSS | More
In this episode, we continue our run of top Silicon Valley venture capitalists with Navin Chaddha, who leads Mayfield, one of the oldest and most storied venture capital firms in the Silicon Valley startup world. Navin has been on the Forbes Midas list for a long time and is a top-five investor according to Forbes.
We have a wide-ranging conversation where we deal with everything from diversity to philanthropy, Navin's backstory, what he calls superhumans, and pay special attention to why Navin thinks that biology is a technology.
Leading a 50-Year Old Company
Navin leads the company Mayfield, which is on its 51st year of operations in 2020. He considers this opportunity as a real blessing and one that is filled with responsibility as well. He is optimistic about the future, but is wary of serious impending issues of the world such as this widespread disease and racial disparity.
"We have to ensure it's all about people because one of the founding mottos of the firm is people make products, products don't make people are everything. So whatever we do, we want to live by the people and do good by others, at the same time, do well as a firm and for our investors and entrepreneurs. – Navin Chaddha
Becoming A Conscious Capitalist
Navin shares how venture capital needs to change. Instead of investing money and helping entrepreneurs, Navin challenges his fellows to become conscious capitalists. Mayfield pledges to this movement, as they aim to contribute yearly 1% of their management fee and 1% of their carry, to give the opportunity to underrepresented students and entrepreneurs.
"There we take a balance of what we can do, not only financially, but what can we do for human and planetary evolution in the form of giving back some of the financial resources we have, but also giving back our time." – Navin Chaddha
Entrepreneurship & Underrepresented Communities
Navin shares his thoughts about underrepresented communities and entrepreneurship. He encourages them to reach out to VC's such as Mayfield, who will launch the program Access For All, with the premise of making capital available across all boards.
"It has to be done by people who want to be entrepreneurs. They need to just lean forward and make the plunge. They need to go make sure they get good mentors, whether it's their advisors, whether it's former entrepreneurs, whether it's potential customers, whether it's legal firms, or people like you, beyond venture capitalists, whom they can look upon and get some advice and I call that mentorship capital. Once they have those things in place, please come approach the venture community because we are all focused around funding innovation, and helping people achieve their dreams." – Navin Chaddha
To hear more about Navin Chaddha and becoming a Conscious Capitalist, download and listen to this episode.
Bio:
Navin Chaddha leads Mayfield. He has ranked on the Forbes Midas List of Global Tech Investors 12 times, including being named a Top Five investor in 2020.
During his career as a venture capitalist, he has invested in over 50 companies, 17 of which have gone public and 20 have been acquired. Some of his investments include Lyft, Poshmark, SolarCity, Hashicorp, Elastica, CloudGenix, and CloudSimple.
As an entrepreneur, he has co-founded or led three startups including VXtreme, a streaming media platform, acquired by Microsoft to become Windows Media.
Navin is a committed philanthropist who directs Mayfield's 50-year tradition of philanthropy to support many causes including diversity, health, hunger, and education.
Interests: Cricket, Bollywood.
Links:
Top VC Unveils Crisis Leadership Strategies For Entrepreneurs
We hope you enjoyed this episode of Follow Your Different™! Christopher loves hearing from his listeners. Feel free to email him, connect on Facebook, Twitter, Instagram, and subscribe on iTunes!