193 Ryan Holiday NY #1 Best Seller On "Lives Of The Stoics"
Wednesday 20th September 2023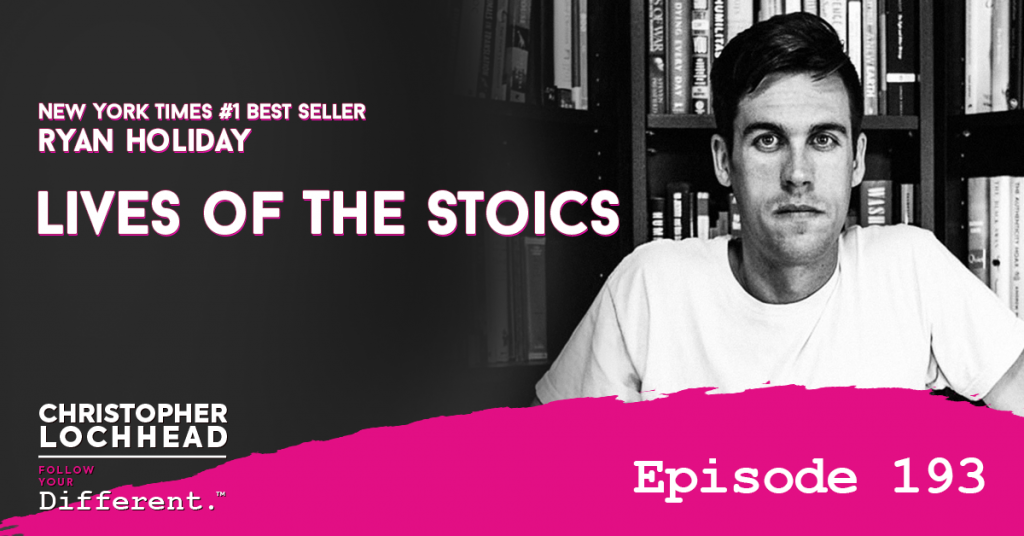 Podcast: Play in new window | Download (Duration: 1:17:52 — 53.5MB) | Embed
Subscribe: Apple Podcasts | Google Podcasts | Spotify | Pandora | Stitcher | RSS | More
We continue our run on legendary authors today with none other than NY #1 Best Selling Author, Ryan Holiday. You see, the only authors we ever have are the ones that we think have ideas, teachings, and stories that are worth digging into.
Today, we go deep into the teachings of some of the greatest thinkers in history. Ryan helps us see the events of today through the lens of powerful philosophers and history, providing today, in an incredible context. We deal with big topics like truth, character, pain, and suffering humor, and a lot more.
Invest Time in Reading
Chris lauded Ryan for writing a historical book in the age where almost everyone is addicted to selfies. Ryan was actually amazed himself how in this age and time, people still invest in time and money reading books. He shares what he thinks about good books and why people still opt for a book, instead of getting validation in social media.
"I opened the book, there's a story about Xenos, the founder of Stoicism. You get this prophecy as a young man that the Oracle tells him 'you will become wise when you begin to have conversations with the dead.' Years later at a chance encounter in a bookstore, do you come to realize that this prophecy was about reading, that books are a way to speak to the dead." – Ryan Holiday
Condensed Life Experiences
Ryan and Chris discuss life-changing books. Ryan shares an anecdote from Socrates saying: "the reason you read is that you gain quite easily what others learned quite painfully." He further describes his new book Lives Of The Stoics, as something less about him and more about the wisdom of the past.
"Reading is condensed information. It's distilled down information. In reading one book, you could jump forward a year of your life, or 10 years of your life. It can save you painful trial and error." – Ryan Holiday
An Escape and Reassurance
Ryan further shares what he thinks about good books being an escape and reassurance. Reading books, especially historical ones, will make you realize that you are not alone dealing with your feelings or that there are universal truths that span from generations. One of which is human struggling and the fight between good and evil.
"I find whenever I'm stressed about what's happening, I try to study the past. This gives me a clear view of what's happening right now." – Ryan Holiday
To know more about Ryan Holiday and his new NY best-selling book, Lives of the Stoics, download and listen to this episode.
Bio:
Ryan Holiday is one of the world's foremost thinkers and writers on ancient philosophy and its place in everyday life.
He is a sought-after speaker, strategist, and the author of many bestselling books including The Obstacle Is the Way; Ego Is the Enemy; and The Daily Stoic.
He's newest book Lives Of The Stoics is an instant New York Times Advice & Business Bestseller, USA Today Bestseller, and Wall Street Journal #1 Bestseller.
His books have been translated into over 30 languages and read by over two million people worldwide. He lives outside Austin, Texas, with his family.
Links:
Amazon – Lives of the Stoics: The Art of Living from Zeno to Marcus Aurelius
Lives of the Stoics by Ryan Holiday and Stephen Hanselman: Book Review, Key Lessons, Best Quotes, and More
We hope you enjoyed this episode of Follow Your Different™! Christopher loves hearing from his listeners. Feel free to email him, connect on Facebook, Twitter, Instagram, and subscribe on iTunes!