174 Intentional Integrity | Rob Chestnut, former Airbnb Chief Ethics Officer
Wednesday 20th September 2023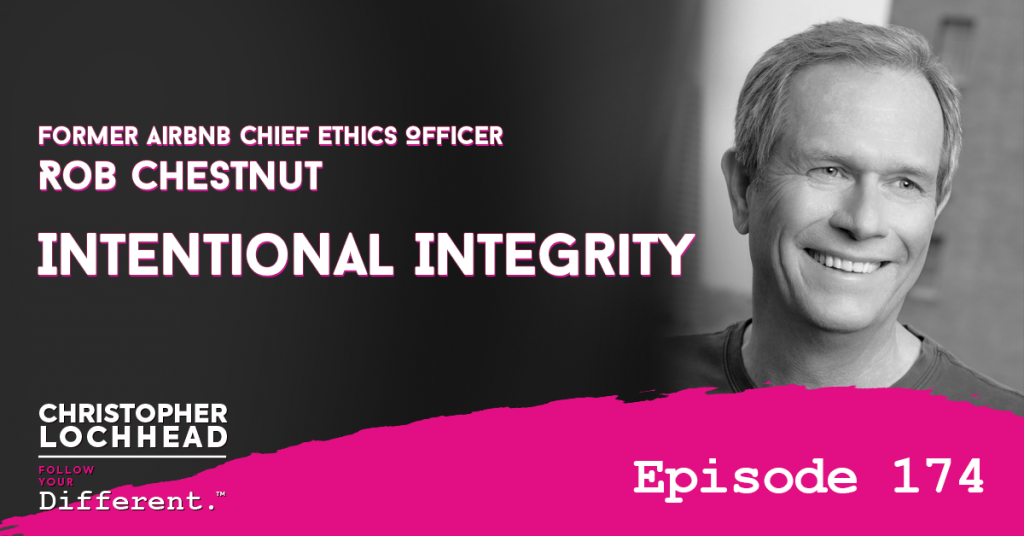 Podcast: Play in new window | Download (Duration: 54:16 — 37.3MB) | Embed
Subscribe: Apple Podcasts | Google Podcasts | Spotify | Pandora | Stitcher | RSS | More
In this episode, our host Christopher Lochhead speaks with Rob Chestnut on why integrity matters more than ever. Rob is the former chief ethics officer of Airbnb and the author of the new book Intentional Integrity.
Chris and Rob go deep on strategies for handling a crisis and how leaders have to deal with the speed required in this age of canceled culture to get positive results. They talk about what exactly a chief ethics officer is, and why more companies are adding the position. Pay special attention to what Rob says about corporate MBAs and his thoughts on what the work world looks like after C19.
Coping With Change
Rob shares that the world is changing so rapidly. He says that he admires how we, especially kids, are coping with this incredible rate of change. He also shares the changes in leadership both corporations and governments.
"I think the world is moving toward integrity, though. There's a connectedness that has led all of us to think about others in ways that maybe we haven't been thinking about people in the past." – Rob Chestnut
Cancel Culture
Christopher shares a recent incident in a Santa Cruz restaurant and how it got a taste of "cancel culture" from its customers and employees, Rob shares his insights into this current movement, where employees and customers rally online.
"Customers want to do business with businesses that share their values. Employees want to work in places that share their values. What we're seeing more and more is, if there's a mismatch, customers leave. Customers will leave very quickly and move their business elsewhere. If they perceive a business that isn't in line with their values. The same thing with employees, more than ever today." – Rob Chestnut
Chief Ethics Officer
Rob also shares what a chief ethics officer does. Rob shares it is important for employees to know that someone is standing up and speaking about issues. He shares how this was implemented in Airbnb who has 5000 employees now.
"The chief ethics officer does not make a company ethical, and a company doesn't need a chief ethics officer to be ethical. That role can help drive integrity into the culture of the company, by being the spokesperson on the leadership team, for ensuring that the company doesn't lose sight of its Northstar, of its purpose and its mission and to ensure that the company is thinking about all of this different shareholder, stakeholders, employees and alike." – Rob Chestnut
To know more about Rob Chestnut and intentional integrity, download and listen to this episode.
Bio:
Rob Chesnut is the general counsel at Airbnb Inc.
As Senior Vice President and General Counsel for Chegg, Rob oversees the company's corporate and legal relations.
Rob brings over twenty-five years of legal experience from high profile e-commerce and technology companies.
Prior to Chegg, Rob served as the Senior Vice President and General Counsel for LiveOps, Inc., a leading provider of call center outsourcing services. Before LiveOps Inc., he worked as eBay's Senior Vice President of the Trust and Safety Department, where he oversaw the development of the company's global detection infrastructure.
With extensive experience in the U.S. Justice Department, Rob is the recipient of the Department's John Marshall award for litigation, and the CIA' Outstanding Service Medallion.
When he's not working, Rob loves to spend time with his family or head out to the golf course.
Links:
Intentional Integrity: How Smart Companies Can Lead An Ethical Revolution
We hope you enjoyed this episode of Follow Your Different™! Christopher loves hearing from his listeners. Feel free to email him, connect on Facebook, Twitter, Instagram, and subscribe on iTunes!