222 America's Time of Great Questioning with Pastor Quentin M. Mumphery
Monday 20th November 2023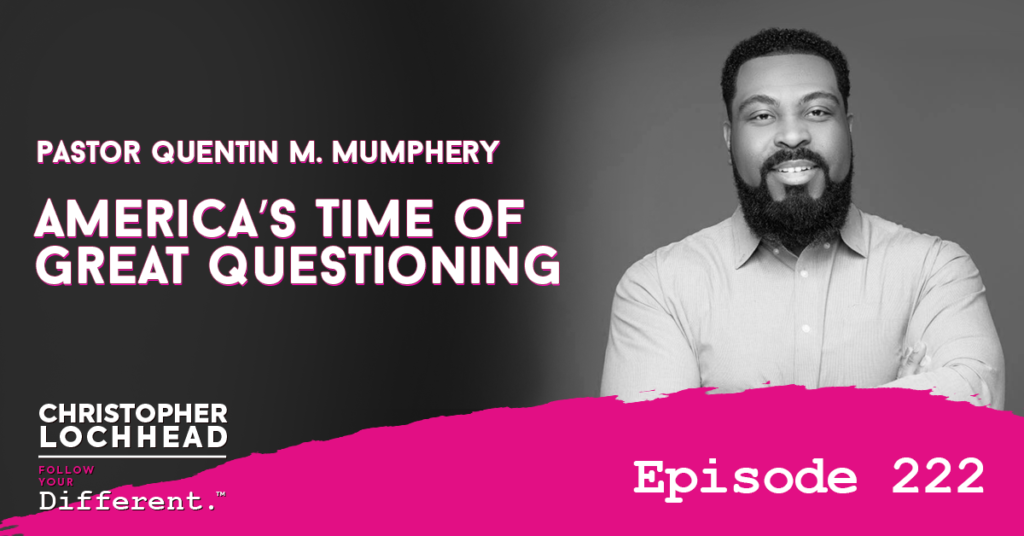 Podcast: Play in new window | Download (Duration: 1:42:38 — 70.5MB) | Embed
Subscribe: Apple Podcasts | Google Podcasts | Spotify | Pandora | RSS | More
We are living in a time of historical, cultural, and racial consequence in the United States. People are asking very big questions about fundamental design points around their life. How do they want to work, live and play? Many thoughtful Americans are also asking themselves about our country's design, and the kind of future they want for themselves and their family.
In this episode of Follow Your Different, we talk about all these and more with Pastor Quentin Mumphery. Pastor Quentin is a native of Chicago's South Side and is the founder and senior pastor at New Hope covenant church.
Pastor Quentin is also the co-author with Eddie Yun, Pastor Dave Ferguson and myself, of a Harvard Business Review post about justice deposits, encouraging people, people in companies for that matter to move some of their cash deposits to black owned banks. If you want to learn more about it, stay tuned to this episode.
Being a Pastor in Today's Society
Pastor Quentin shares how he grew up on the south side of Chicago, and some of his influences growing up. He muses that Chicago has always been a great yet troubled city, and has the best and worst of everything.
Everyone is exposed to the same extremes, though their reactions can be quite different. People clamor for change and a better future, while at the same time focus on finding ways to live at the moment. This dynamic tension of sorts is the reality that each of us is living with at the moment, and which Pastor Quentin hopes to understand.
"I'm a believer that people want the best, but sometimes do the worst. And I think that part of that is just the human condition." – Pastor Quentin Mumphery
Serving God in Different Ways
Pastor Quentin talks about his inspirations in church, and how they approach serving the Lord and the community in different ways. As a teen in a youth ministry of the church, they would go where the hurting people were. Whether it was the best place in town or places where you wouldn't normally expect a man of cloth to be in, they would go and pray.
"Part of what I believe it means to be a man of God and a man of faith is that we don't just run and turn our head when trouble is there. The scriptures call us to be soft and light. And I believe part of that is showing up where light is needed." – Pastor Quentin Mumphery
When given the example of St. Christopher, Pastor Quentin wholeheartedly agrees and states that there are a lot of ways you can serve God. You just have to find the best way you can do it.
Taking Things into Perspective
Pastor Quentin talks about the theological and philosophical sides of being good or bad. We often see people do bad things and justify them because they are doing it for a good cause. But according to who though? If you flip that and see it from the other side's perspective, you're the bad one doing the awful things to them.
"I tell this to people all the time, too. I said, every one of us are the villain in someone's story. The thing is when we tell our own story, we're always the hero. We're always the hero, right? Anything bad to happen, it's always someone did this to me." – Pastor Quentin Mumphery
So Pastor Quentin tells us to keep this question in mind: "Who determines whether you're good?" It will help in considering other people's perspective, and prevent the mindset of always having the moral high ground on things.
To hear more from Pastor Quentin Mumphery and his questions for America, download and listen to this episode.
Bio
A native of Chicago's south side, Pastor Quentin M. Mumphery is the Founder and Senior Pastor of New Hope Covenant Church, A contemporary urban church with classic experience in a modern environment, located on Chicago's south east side.
Pastor Mumphery previously served as Lead Pastor of Windsor Park Lutheran Church, as well as Associate Pastor of New Life Covenant Church Southeast, under the leadership of Pastor John Hannah. Pastor Mumphery received his foundation in the Kingdom at the Salem Baptist Church of Chicago, where he accepted his call to ministry as a teen in the Youth Church.
In addition to his pastoral role and civic leadership, his servitude extends extensively in the field of education. Pastor Mumphery serves as a Vice President for a national education management organization, working with high-risk youth in many of the most challenged communities in the country. Pastor Mumphery is a graduate of Whitney M. Young Magnet H.S and the University of Illinois at Chicago. He also received his Master's degree from North Park Theological Seminary.
A prolific preacher and teacher, Pastor Mumphery is committed to excellence in preaching through strong biblical exposition, powerful demonstration of the Holy Spirit's power, as well as relevant ministry outside of the walls of the church to uphold the cause of the poor and oppressed.
Links
Website: New Hope Covenant Church
Follow Pastor Quentin Mumphery: New Hope Covenant's Pastor
We hope you enjoyed this episode of Follow Your Different™! Christopher loves hearing from his listeners. Feel free to email him, connect on Facebook, Twitter, Instagram, and subscribe on iTunes!