012: Negotiation, Teams & Diversity w/ Stanford Prof. Margaret Neale
Tuesday 26th September 2023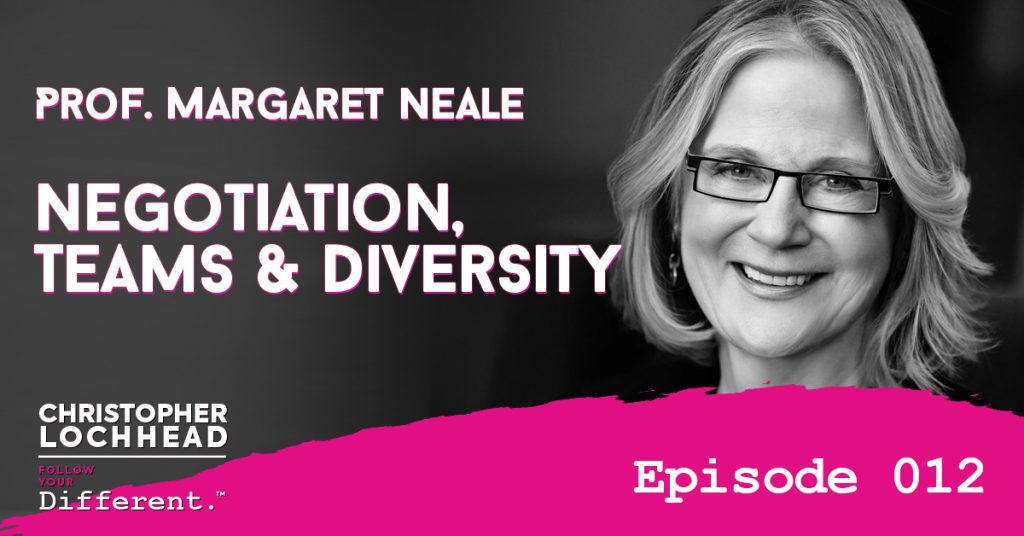 Podcast: Play in new window | Download (Duration: 1:23:55 — 76.9MB) | Embed
Subscribe: Apple Podcasts | Google Podcasts | Spotify | Pandora | Stitcher | RSS | More

Today, Prof. Margaret Neale joins us for a riveting conversation about research-based negotiation, teams, and diversity. She shares insights that haven't been heard before, like why engaging in a negotiation as though going into battle is a bad idea.
"When I have this view of negotiation as a battle, then that mindset becomes the filter through which I evaluate all your behaviors." – Prof. Margaret Neale
On Research-Based Negotiations
Too often, people have a lot of negotiation beliefs and insights that are not supported by empirical evidence. And often, these beliefs are repeated. This is the reason why Prof. Neale tries to help people think about negotiation in a broader sense.
Through her work and teaching, she also shares strategies and tactics that are research-focused and probably not mainstream.
Value Creation and Claiming
Take for example the infamous strategy of most people who engage in negotiation and talking about the price. In order to get what they want, they're most likely not being truthful. They start way above their ideal price so they can argue their way down the middle, while the other party does the same thing from below.
"The challenge in negotiation is that you are trying in most situations to trade off value creation and value claiming." – Prof. Margaret Neale
But value creation is a process that's independent of value claiming. When we think of them simultaneously during a negotiation, we cause the other party to come up with more extreme counteroffers. We are then less likely to find an outcome to the negotiation.
Collateral Damage of Negotiation Battles
The concept of negotiation as a battle creates all sorts of collateral damage. And this is why Prof. Neale wants to move people away from it.
"I make my most malevolent interpretation of those behaviors because you're the other, you're the enemy." – Prof. Margaret Neale
Not to mention that this mindset, when reciprocated, ultimately causes laser-focus on winning the fight. It then becomes a matter of who gets to beat whom, which is far from the true goal of the interaction.
To hear more do's and don'ts of negotiation and insights on teams and diversity from Prof. Margaret Neale, download and listen to the episode.
Bio:
Dr. Margaret Neale is the Adams Distinguished Professor of Management, Graduate School of Business Stanford and Co-director of Executive Program for Women Leaders.
Margaret Neale's research focuses primarily on negotiation and team performance. Her work has extended judgment and decision-making research from cognitive psychology to the field of negotiation.
Dr. Neale was the Graduate School of Business John G. McCoy-Banc One Corporation Professor of Organizations and Dispute Resolution from 2000-2012.
Trust Faculty Fellow in 2011-2012 and in 2000-2001. Dr. Neale received her BS in Pharmacy from Northeast Louisiana University, her MS from the Medical College of Virginia and Virginia Commonwealth University, and then her Ph.D. in Business Administration from the University of Texas.
Links:
Graduate School of Business Stanford
Women's Leadership Innovation Lab
Articles:
We hope you enjoyed Prof. Margaret Neale on this episode of Follow Your Different™! Christopher loves hearing from his listeners. Feel free to email him, connect on Facebook, Twitter, Instagram and subscribe on iTunes!