310 The Work/Life Flywheel with Bestselling Author Ollie Henderson
Friday 1st December 2023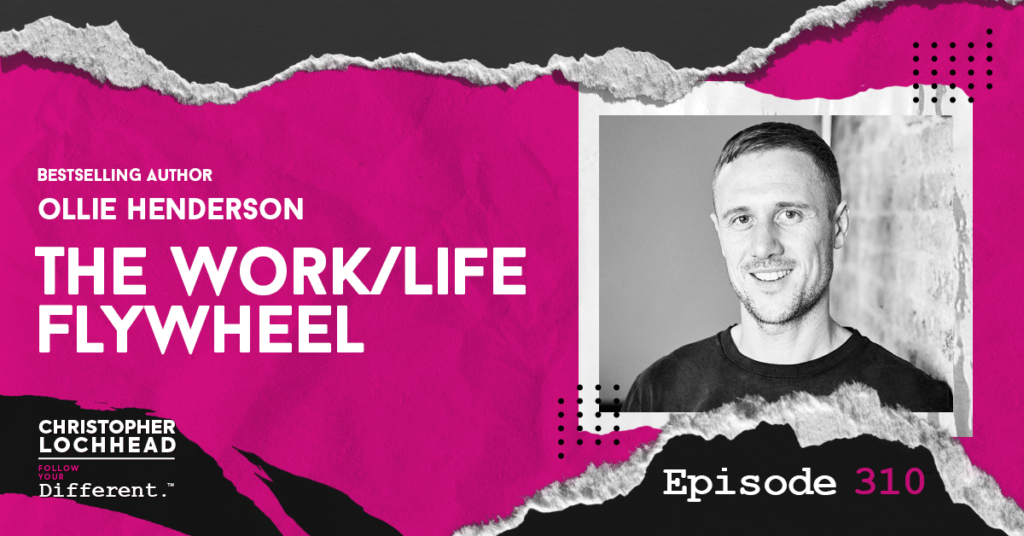 Podcast: Play in new window | Download (Duration: 1:10:26 — 48.4MB) | Embed
Subscribe: Apple Podcasts | Google Podcasts | Spotify | Pandora | RSS | More
Almost everybody wants to design a legendary life and make a difference, but it can be harder than it sounds. On this episode, you'll get a very different conversation about designing a life with meaningful work that works for you. And who better to have this conversation than with our guest, Ollie Henderson.
Ollie Henderson is an entrepreneur, CEO, and bestselling author of the book called "The Work/Life Flywheel". He is a great guy, and we really get into a heartfelt conversation about how we can all design the legendary life for ourselves. By the end of this episode, we hope you'll have some new tools for living your life, your way.
You're listening to Christopher Lochhead: Follow Your Different. We are the real dialogue podcast for people with a different mind. So get your mind in a different place, and hey ho, let's go.
Ollie Henderson on Work/Life Balance
The conversation starts off with the two agreeing on how much they "love" work/life balance. Ollie responds that he had kept a few choice words in the book that his editor would rather not have, but it was important to the point Ollie was making.
That being said, Ollie shares that his issue with Work/Life balance is just a term people used to oversimply a supposedly complex matter in our lives, mostly due to laziness and have something easy to adhere to, like a schedule or a task to do.
"I think the thing about work life balance is that it's a lazy feeling that we all have. It's something we think we should adhere to. Like, 'yeah, we should all have better work life balance', and it kind of makes sense. It has the best intentions, but it's frankly, wrong. It doesn't make sense."

– Ollie Henderson
Work vs Life
Another thing that Ollie pointed out is that the semantics of the word is also all wrong. Work/Life Balance conjures up the image of you pitting up Work versus Life; that you cannot have both at the same time, and that one of them is better than the other.
"I think when people say they aspire for work/life balance, what they're saying is, 'I am going to place work in life against one another, because work is bad and life is good. And if I can't find this equilibrium, then my life is not complete'."

– Ollie Henderson
The issue is that statement is not true for every individual, and there is no one-and-done balancing to be done. Nobody has achieved that precise equilibrium, because it doesn't work like a countermeasure of one over the other.
Work/Life Flywheel
Christopher adds that we have to reject the notion of work and life are compartmentalized in different sections, and we somehow need to balance them on weighing scales. There is only "Life", and we do a lot of things in that life.
So if not Work/Life Balance, what then? Ollie shares that there are some who use the term "integration" to add a new perspective to it. For him, he prefers to use the term "Flywheel", because it entails that everything he does in life are interdependent of each other.
"It's this idea that there isn't a single part of your work your life that is any more important than the other; they're all interdependent. For me, when I'm doing great work and I'm happy at work, I'm a better person, I'm a better dad, I'm a better partner. And when I'm a better partner and a better dad, that manifests more in my work."

– Ollie Henderson
To hear more from Ollie Henderson and the Work/Life Flywheel, download and listen to this episode.
Bio
Ollie Henderson
Experienced founder and CEO, Ollie Henderson, pivoted his career while juggling the pleasures and pressures of raising a young family.
He believes work/life balance is a myth. Rather than seeing career and personal life as two opposing forces, Ollie argues that the secret is to design an integrated approach that allows them to work in harmony.
Ollie's weekly newsletter and Top 10 Careers podcast, Future Work/Life, provides news and analysis to thousands of people interested in the future of work, covering subjects like creativity and innovation, data and technology, peak performance and workplace culture.
He's the author of the Amazon bestseller Work/Life Flywheel: Harness the work revolution and reimagine your career without fear.
Links
Connect with Ollie Henderson!
LinkedIn | Future Work/Life Newsletter | Work/Life Flywheel
We hope you enjoyed this episode of Christopher Lochhead: Follow Your Different™! Christopher loves hearing from his listeners. Feel free to email him, connect on Facebook, Twitter, Instagram, and subscribe on iTunes!