296 Our Worst Episode with Neil Pearlberg, Santa Cruz Surf & Skateboard Podcast Legend from Off The Lip Radio
Monday 20th November 2023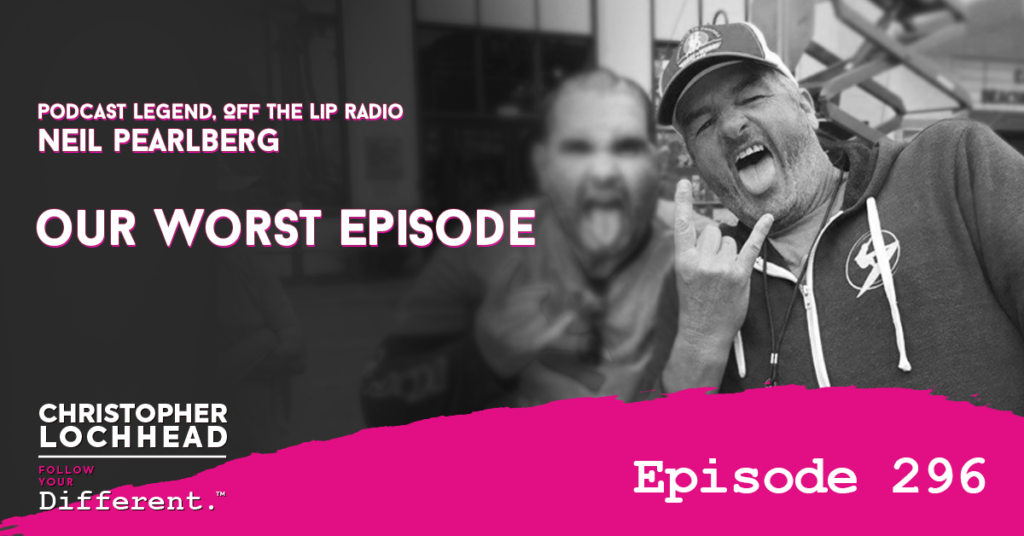 Podcast: Play in new window | Download (Duration: 59:52 — 41.1MB) | Embed
Subscribe: Apple Podcasts | Google Podcasts | Spotify | Pandora | RSS | More
On almost every episode of Christopher Lochhead: Follow Your Different, we strive to provide radically valuable, radically different real dialogues that hopefully make a big difference. Today, we aspire to do none of that. Because what you're about to hear is a fun funny ADHD conversation with our guest, my buddy and Santa Cruz icon, Neil Pearlberg.
So sit back and listen to two buddies have a conversation while the cocktail flows and the better judgment goes out of the window.
Neil Pearlberg On podcast high jinks and Cameo
The conversation begins with some light-hearted ribbing about podcasting, and how they don't get together often anymore unless there's a podcast. There's also a couple of stories about their previous attempts and always having an issue every time they do so.
Afterwards, Christopher brings up the idea of Cameo, and maybe hiring someone to do audiobook readings of their Category Pirates mini books. They muse if UFC fighters could be good audio books readers, and also wonder how much they would charge if they set up their own Cameo.
Neil Pearlberg on high-profile guests to the podcast
The conversation then shifts to the past guests they've had on their respective podcasts, particularly the higher-profiled ones.
Neil recalls the time when he had Jimmy Panetta on as his guest, back when he was still a District Attorney and was running for Congress. He remembered how nervous he was and how he wanted to ask great questions rather than the usual ones they dish out at interviews.
So as Neil's interview winds down and he is down, to his last question, he decides to take a chance.
"So at the end of my 10 questions. I'm like, fuck it, I'm just gonna ask the guy. Because I know he's gonna say No, and I'm not afraid of the word No.

So I said, "Mr. Panetta, What could you tell me? What it was like to be in the situation room with you and Obama went off to bin Laden? Can you describe to me that process?" I'm thinking, "Fuck no. Hey, that's top secret", you know?

He answers, "Do you have half an hour?" Yes, sir. I do. And he told that story about the whole thing with the three helicopters and that black ops and Navy Seals and the whole thing was badass. was pretty cool."

– Neil Pearlberg
Getting Banned on Twitter
Christopher then talks about Twitter, and given its recent trends, how he got suspended for the most ridiculous reasons.
One of his suspensions was from an offensive Covid tweet, where he sarcastically replies that Bill Gates has a farm that puts Covid on 5G towers (a weird conspiracy hoax perpetuated at the time). Unfortunately, Twitter customer service bots can't detect sarcasm, and he was suspended the next day, although he got immediately reinstated once he deleted the tweet.
Though given the current trend, getting banned or suspended on Twitter is almost a badge of honor for some, especially if their ban came from the most ridiculous or offhand reason. Which is sad, because despite its flaws, Twitter remains one of the few places were people could have an open discourse, provided it is executed properly.
To hear more from Christopher Lochhead and Neil Pearlberg, download and listen to this episode.
Bio
Since September 2009, Neil Pearlberg has written over 200 articles covering the sport of surfing, as well as skateboarding, and soccer, for the Bay Area News Group, & Santa Cruz Waves.
He is also the host of the "Off the Lip Radio Show", & Hour Local Radio Show aired on Santa Cruz Radio Show KSCO AM 1080, FM 104.1, ksco.com and streamed on Santa Cruz Waves Facebook Page.
Neil has also published articles in Adventure Sports Journal, National Geographic, Stand Up Paddle Board Magazine.
Links
Connect with Neil Pearlberg!
Off the Lip Radio | Instagram | Twitter | Linkedin
We hope you enjoyed this episode of Christopher Lochhead: Follow Your Different™! Christopher loves hearing from his listeners. Feel free to email him, connect on Facebook, Twitter, Instagram, and subscribe on iTunes!