195 Neil Pearlberg, Santa Cruz Surf & Skateboard Podcast Legend
Sunday 1st October 2023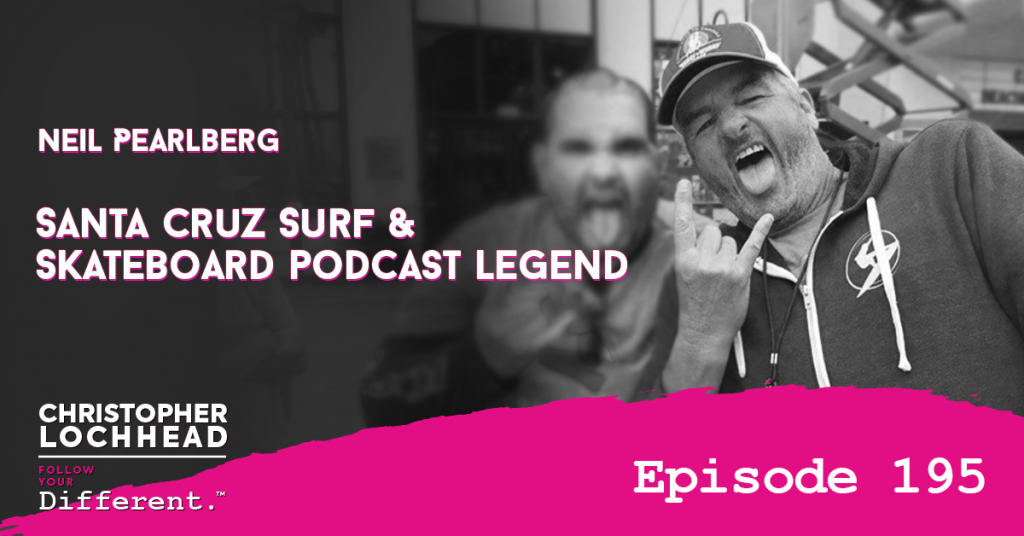 Podcast: Play in new window | Download (Duration: 1:09:26 — 47.7MB) | Embed
Subscribe: Apple Podcasts | Google Podcasts | Spotify | Pandora | Stitcher | RSS | More
Imagine sitting on a wonderful backdoor deck, overlooking the vast beautiful bluey green Pacific ocean as sets of waves. Roll in on a perfect warm sunny fall day in beautiful Santa Cruz, California. Then imagine a funny, ADHD infused conversation between two buddies with the beers and tequila flowing. Well, that's what we have today, with none other than Santa Cruz, icon, surf/skate legend, host of the mega popular podcast Off The Lip, Neil Pearlberg.
In this episode, we get silly. We swear a lot and have tons of fun. I invite you to crack open a cold one and join Chris and Neil for a lot of fun.
Bio:
Since September 2009, Neil Pearlberg has written over 200 articles covering the sport of surfing, as well as skateboarding, and soccer, for the Bay Area News Group, & Santa Cruz Waves.
He is also the host of the "Off the Lip Radio Show", & Hour Local Radio Show aired on Santa Cruz Radio Show KSCO AM 1080, FM 104.1, ksco.com and streamed on Santa Cruz Waves Facebook Page.
Neil has also published articles in Adventure Sports Journal, National Geographic, Stand Up Paddle Board Magazine.
Links:
Instagram: @offthelipradioshow
Twitter: @offthelipradio
Linkedin: Neil Pearlberg
We hope you enjoyed this episode of Follow Your Different™! Christopher loves hearing from his listeners. Feel free to email him, connect on Facebook, Twitter, Instagram, and subscribe on iTunes!