321 Mental Health with Morra Aarons-Mele, Bestselling Author of The Anxious Achiever
Wednesday 20th September 2023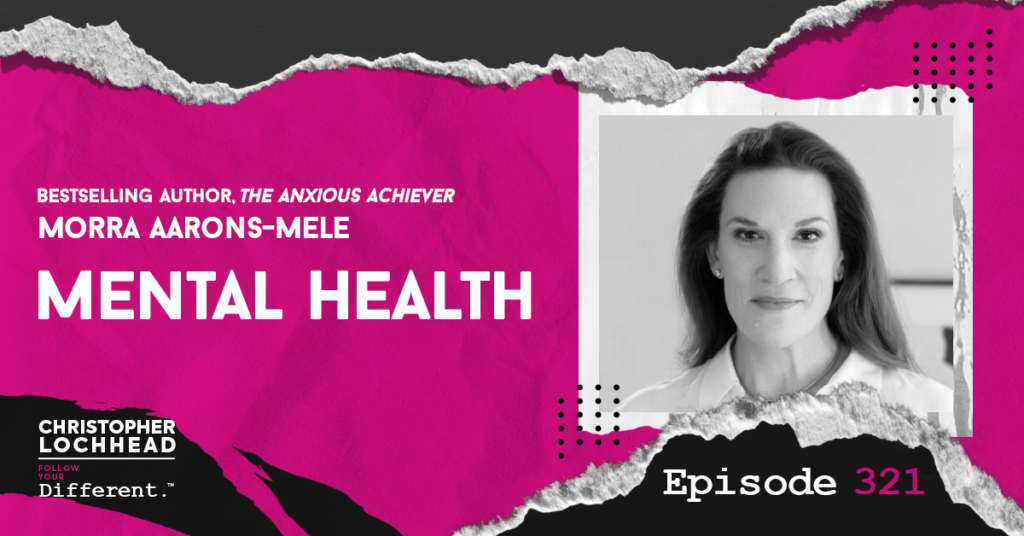 Podcast: Play in new window | Download (Duration: 54:25 — 37.4MB) | Embed
Subscribe: Apple Podcasts | Google Podcasts | Spotify | Pandora | Stitcher | RSS | More
We all face mental health challenges, and learning to navigate them is the difference between a super successful career and life or living a career and life of struggle. But the business world is not exactly the most welcoming place to talk about our mental well-being. One of the people leading the way to change that is our guest, Morra Aarons-Mele.
Morra Aarons-Mele the author of The Anxious Achiever: Turning your biggest fears into your leadership superpower. She is also the host of the popular The Anxious Achiever podcast, and is on a mission to normalize anxiety and leadership.
Morra says that anxiety is built into the very nature of leadership and can be harnessed into a force for good. So if you've ever experienced that feeling in your stomach that comes from being nervous, or if you've ever grappled with fear, you're going to thank yourself for listening to this conversation.
You're listening to Christopher Lochhead: Follow Your Different. We are the real dialogue podcast for people with a different mind. So get your mind in a different place, and hey ho, let's go.
Morra Aarons-Mele on talking about Mental Health
The discussion opens up with the topic of mental health in the workplace. Christopher expresses his gratitude for a book on the subject and acknowledges the growing acceptance of talking about mental health.
Morra then reflects on her interactions with others while doing so, noting that the value is in providing a sense of normalcy and acceptance. She hopes to assist people in incorporating mental health considerations into their lives and encourages them to consider how this affects their performance. She also emphasizes the value of humor and a human approach in dealing with mental health issues.
The Shy Loud and the Introverted Extrovert
The next part explores the experiences of Christopher and Morra as introverts and extroverts in social situations. Morra describes herself as an extreme extrovert who enjoys being in the spotlight, engaging with media, and giving speeches, but finds herself quite introverted when it comes to casual conversations and one-on-ones. She emphasizes that introverts can also enjoy public speaking and have a humorous side, challenging common stereotypes.
Christopher, on the other hand, identifies as an extrovert but mentions being an "introverted extrovert." He explains that while he is comfortable speaking or participating in events, he tends to avoid social gatherings without a clear purpose or role. Christopher shares his preference for meaningful interactions rather than superficial networking. He mentions that online platforms like TED Talks have allowed him to avoid uncomfortable socializing while still sharing his ideas.
Managing Mental Health is important
Morra emphasizes that managing mental health does not weaken a person's ability to show up and be successful. She challenges the misconception that anxiety and depression make individuals weak and highlights that they are common human experiences and sometimes medical conditions.
Morra draws attention to the fact that stories of overcoming adversity are celebrated because they demonstrate resilience and personal growth. She argues that mental health should be viewed in the same light, as individuals who confront and integrate their mental health challenges can become stronger and more effective leaders.
Morra criticizes the tendency to deny or mask mental health issues, stating that it hinders our ability to be there for others. She ultimately suggests that managing and embracing mental health challenges can contribute to personal growth and leadership development.
To hear more from Morra Aarons-Mele and how to thrive as an Anxious Achiever, download and listen tot this episode.
Bio
Morra Aarons-Mele
Morra Aarons-Mele knows that taking your mental health seriously is a leadership strength.
She hosts The Anxious Achiever podcast for LinkedIn Presents, which won the 2023 Media Award from Mental Health America, was a 2020 Webby Awards Honoree, 2022 "Best Commute Podcast" Signal Award winner, and is frequently a top 10 management podcast and top 50 business podcast.
She's passionate about helping people rethink the relationship between their mental health and their success.
Morra speaks to and consults frequently with Fortune 500 companies, startups, and U.S Government agencies. She is a LinkedIn "Top 10 Voice" in mental health.
Her new book, The Anxious Achiever: Turn Your Biggest Fears into Your Leadership Superpower, was published by Harvard Business Review Press in April 2023.
Harvard Business School Professor Amy Edmondson calls the book "a game changer, wise and practical," and Andy Dunn, who co-founded and sold the popular men's clothing brand Bonobos, says "Morra has written an astonishing book.
She moves from stories to data to advice in a page-turning way. This is not a book just for anxious achievers — it is a book for any human being who wants to transform their mental health."
Morra Aarons-Mele is an entrepreneur and communications executive. In addition to her work in workplace mental health, Aarons-Mele founded the award-winning social impact agency Women Online and created its database of female influencers, the Mission List, which she sold in 2021.
Morra was named 2020 Entrepreneur of the Year at the Iris Awards, created to recognize excellence among digital content creators.
She has helped three US presidential candidates and a range of mission-driven organizations create communications, marketing, and fundraising campaigns.
Aarons-Mele is also a prolific writer. Since 2004 she has covered the campaign trail, the White House, the lactation room, and the office cubicle. Her first book, Hiding in the Bathroom: How To Get Out There (When You'd Rather Stay Home), was published by Dey Street Books in 2017 and was an Amazon bestseller. She has written for the New York Times, Entrepreneur, Fast Company, Slate, InStyle, O, the Wall Street Journal, Forbes, and the Guardian.
Aarons-Mele has degrees from the Harvard Kennedy School and Brown University. She and Nicco Mele live in Boston with their three children.
Links
Follow Morra Aarons-Mele!
Morra's Website | LinkedIn | Twitter | Books
We hope you enjoyed this episode of Christopher Lochhead: Follow Your Different™! Christopher loves hearing from his listeners. Feel free to email him, connect on Facebook, Twitter, Instagram, and subscribe on iTunes!