280 Future of Crypto, The Economy, Silicon Valley Startups & More with Sequoia Partner Michelle Bailhe
Monday 25th September 2023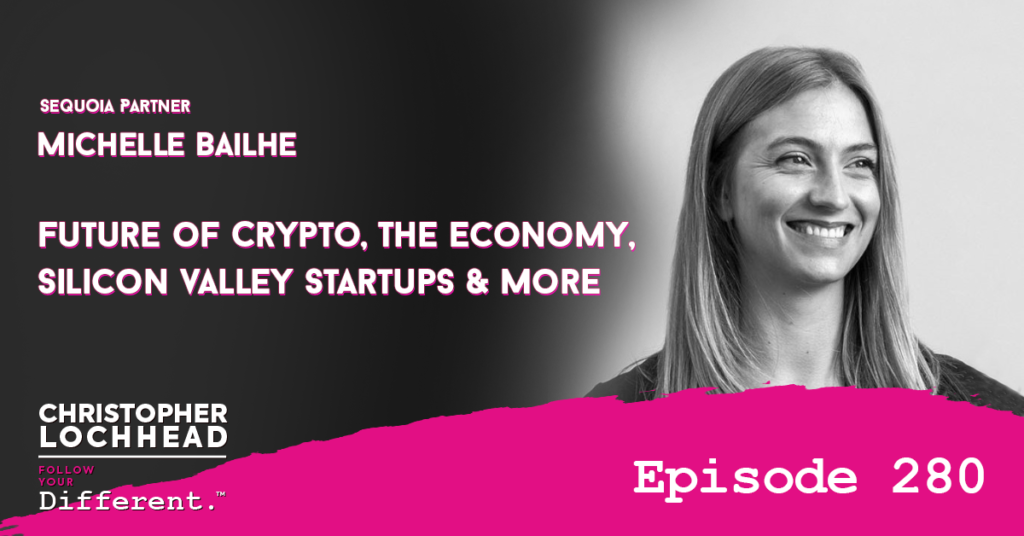 Podcast: Play in new window | Download (Duration: 1:25:06 — 58.4MB) | Embed
Subscribe: Apple Podcasts | Google Podcasts | Spotify | Pandora | Stitcher | RSS | More
The turmoil in the economy and stock market has created massive turmoil not only in Fiat currencies, but also in Cryptocurrency. As such, Silicon Valley tech entrepreneurs are bracing for tough times. Today at Christopher Lochhead: Follow Your Different, we are here to make sense of it all with Sequoia Partner Michelle Bailhe.
As you know, Sequoia is one of the giants of venture tech in Silicon Valley, and I have known and worked with the folks at Sequoia for over 20 years. Today, we get to hear from one of their partners and learn what advice Sequoia is currently giving to their entrepreneurs and much more.
Michelle Bailhe and I go deep on what's really going on with the crypto markets as they face their first meaningful downturn. Why bad times tend to yield great entrepreneurs and startups, and what we can learn from the 1600s.
Michelle Bailhe on the crypto market
The conversation starts off on the topic of the crypto markets. Michelle shares that she thinks crypto is in a very interesting moment, for a lot of reasons.
While crypto has its own problems, on top of the current economic conditions, Michelle thinks it can weather the situation.
"Crypto has been through a lot of bear and bull markets, or winters and summers. And so there's a sense of, well this is winter, and we have been here before. We know what it's like, and we know how to build through it." – Michelle Bailhe
Though according to Michelle, it's worth noting that what lies in the future may be way different than before. For one thing, valuation will be unlike before when crypto was on the rise, and investors are savvier than before. So it's all a matter of how crypto will adapt and integrate itself into the market in the long run.
Crypto's first downturn
When asked when the first downturn was for crypto, Michelle explains that crypto has had its ups and downs over the years. As to why it went unnoticed, it was mostly due to the issues being with crypto itself, and not due to external factors.
As for whether Covid had anything to do with it, 2020 was actually an explosion of new cryptos due to people taking an interest in investing and growing their current funds. Though it wasn't all for the better. Much like the tech boom in 2000, where there was a hunger for new tech, but not enough focus on quality. So a lot of new cryptocurrencies were minted, only to collapse on themselves in a few months.
What's different this 2022 is that crypto, along with other markets, is going through a global macro issue. As it becomes more ingrained in other sectors, companies, and markets, it also incurs the problems those systems have. That will be the fundamental difference between the winters before and the upcoming one now.
Hedging against Inflation
There has been a prevailing thought that crypto would be a good hedge against inflation, particularly around the time when Bitcoin has more or less stabilized. While Michelle thinks of it as a novel idea and has heard the arguments for it, crypto has never been created and traded as a hedge against inflation.
"Bitcoin has not at all traded as a hedge against inflation. It has been extremely correlated to technology stocks, and it looks much more like an unprofitable technology stock, partly because money people are still wrapping their heads around how to think about it: Do I think about it like equity? Do I think about it like a commodity? What are the demand and supply drivers?" – Michelle Bailhe
As for whether you should invest in crypto or not, Michelle Bailhe gives her thought on the matter. So download the episode and continue to listen.
Bio
Michelle Bailhe is a Partner at Sequoia, a leader in technology venture capital. She focuses on crypto, fintech & software.
Learn more about Michelle Bailhe.
Links
Connect with Michelle Bailhe!
We hope you enjoyed this episode of Follow Your Different™! Christopher loves hearing from his listeners. Feel free to email him, connect on Facebook, Twitter, Instagram and subscribe on iTunes!