229 How To Live A Creative Life with NYT Bestselling Fiction Author of "Did I Say You Could Go" & "Wife 22" Melanie Gideon
Monday 25th September 2023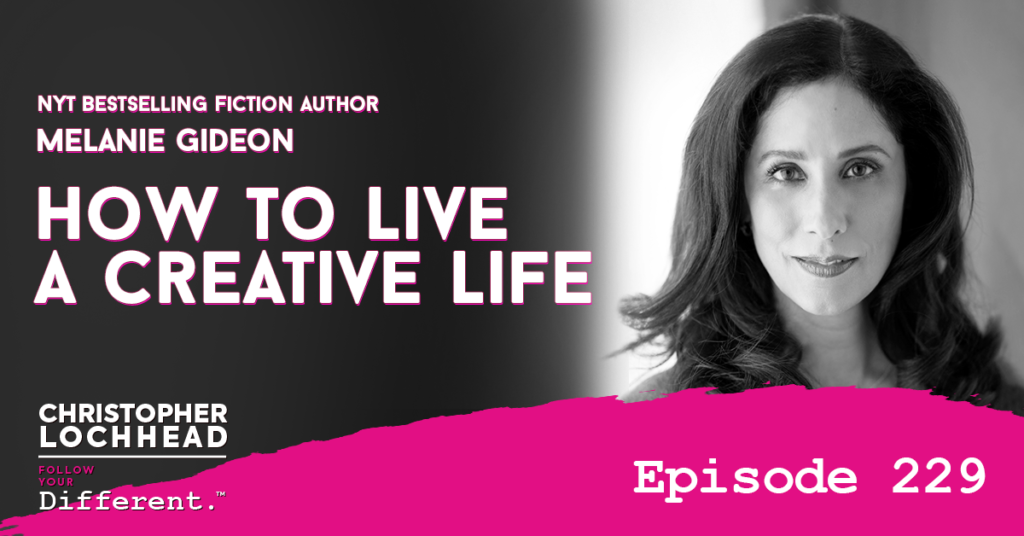 Podcast: Play in new window | Download (Duration: 1:10:59 — 48.7MB) | Embed
Subscribe: Apple Podcasts | Google Podcasts | Spotify | Pandora | Stitcher | RSS | More
Many of us would like to be more creative. Some would even aspire to make a living with their creativity. Yet without legendary role models like Melanie Gideon, it's hard to learn what it really takes.
Melanie Gideon is willing to get real with us and go deep about her experience in making it happen. She is a New York Times bestselling fiction author of monster hits like Wife 22, The Slippery Year, The Valley of the Moon, and much more. Her new book, Did I Say You Can Go, is one of the most anticipated novels of 2021.
In this episode of Follow Your Different, we dig into what it really takes to be a professional fiction writer and how Melanie works on her craft. If you care about creativity, I think you're going to fall in love with Melanie and what she has to share on the topic.
Melanie Gideon on Tours
The discussion starts off with a question about Melanie, and how she approaches book tours as an introvert. She shares that it can be quite an excruciating experience for her. She loves the writing aspect of her craft: from thinking of the story's design and structure to writing and even editing it afterwards.
"I do (love editing) because you're streamlining the story. You are sometimes finding the story in the editing. And you're just making it tighter and creating what you want for your reader. What I want for my reader is to create a page turner where they just have to know what happens next, no matter what genre I'm writing in. That is what I endeavor to do. So I love that." – Melanie Gideon
Though Melanie says she's starting to like the publishing aspect more nowadays, since everything can be done online. Being able to do it from the comfort of your home, and engaging with fellow authors rather than just having a conversation with herself was a nice change of pace. Not only that, her family can attend her virtual book events now that everything is online, not to mention all her fans from different places.
How to be Like Melanie
A lot of people certainly would love to achieve their dreams like Melanie. I remember asking her once how she did it. Her response was:
"I just didn't stop writing" – Melanie Gideon
She thinks not giving up is a huge part of being successful. This applies to a lot of things in life, but for Melanie it is more so when it comes to writing. Plus, her urgency and passion for storytelling was always there to drive her forward.
"You know, since I was eight years old, I read voraciously. I always just wanted to be in another world alongside the world I was living in. I was a weird little kid. And I would walk around in the woods, and hope that I would find the portal to Narnia.

As I grew older, and I became more serious about writing, I realized that every book that I wrote, I was creating a portal to another world that I got to live in for however long it took me to write the book. So that was magic. I found the secret that solved the mystery." – Melanie Gideon
Melanie's Approach to Writing
While some people get inspiration to hit them from their surroundings, Melanie prefers to go out and look for it herself. She often goes out to find inspiration, to find the story.
For some writers, they wait for the story to materialize, to develop in their mind and they go from there. That does not work for Melanie.
"I'm always actively looking for the story that will make something flutter inside me. And I know I have to follow that. It might not be the book that I write. But it will probably bring me to another path and another path, and eventually I'll stumble upon it." – Melanie Gideon
When asked where she goes to find her story, Melanie shares that she reads, a lot. Magazines, articles, sometimes other fiction novels that strike her interest. Which is interesting, as most writers would say, "I don't have time to read, I'm too busy writing". Clearly, Melanie is not like most writers.
To hear more from Melanie Gideon and her new book, Did I Say You Can Go, download and listen to this episode.
Bio
Melanie Gideon is the New York Times bestselling author of the novels, Did I Say You Could Go, Valley of the Moon and Wife 22, as well as the memoir The Slippery Year: A Meditation on Happily Ever After. Her books have been translated into 30 languages.
She was born and raised in Rhode Island and now lives in the Bay Area.
Links
Connect with Melanie Gideon!
Website: MelanieGideon.com
Melanie's Books: Amazon.com/Melanie-Gideon
Twitter: @MelanieGideon
See her works at NYTimes.com:
Car-Pool Epiphanies: A Memoir About the Ordinary
A Diesel Engine Woke Up Our Love
We hope you enjoyed this episode of Follow Your Different™! Christopher loves hearing from his listeners. Feel free to email him, connect on Facebook, Twitter, Instagram, and subscribe on iTunes!