184 Create Your Own Calm | Bestselling Author Meera Lee Patel
Friday 22nd January 2021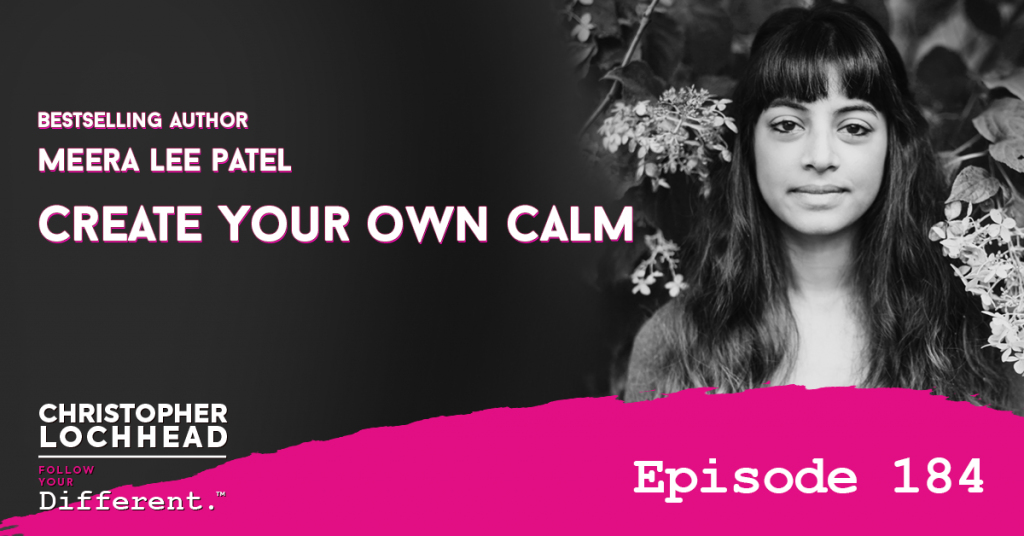 Podcast: Play in new window | Download (Duration: 56:43 — 38.9MB) | Embed
Subscribe: Apple Podcasts | Google Podcasts | Spotify | Stitcher | TuneIn | RSS | More
Today, we have a riveting conversation with bestselling author and artist Meera Lee Patel. She's got a new book out called Create Your Own Calm: A Journal for Quieting Anxiety.
We have a powerful conversation about dealing with anxiety and why Meera thinks, "the more you run away from something, the more it follows you." You'll also enjoy Meera's thoughts on self-acceptance, why journaling is a powerful conversation with yourself, and pay special attention to Meera's ideas around "the only way out – is through."
Dealing With Anxiety
Meera describes where she is at the moment. She is in an in-between/transition time where she is feeling overwhelmed. Further, she shares that she is struggling to be "at the moment." She is at, exactly what Christopher describes as, the "cocoon period."
"I feel unable to act sometimes to take action and that's on several different levels. Personal, emotional professional, I feel like I can't take action or make the changes that I want to make. Some of them are true, some of the limitations that I faced that we're all facing — travel, leaving our homes, things like that. They're real. Some of them, especially the emotional and mental ones, like, in most cases, they're not real. They're self-implemented and I'm working on undoing them." – Meera Lee Patel
What You Resist, Persists
Meera describes how we are all in a constant anxious state. She reminds us of the importance of understanding why things are happening to us and the need to address this head-on to be able to work through them. She believes that ignoring what causes your anxiety will run after you in a different setting.
"I think that is far more healthy and productive and useful than simply ignoring or pushing aside, or forgetting about what's happening. So often when people say 'to just suck it up,'  'you need to move on,' 'don't dwell on this.' What they're doing is ignoring what's happening to them."  – Meera Lee Patel
Different Worlds and Philosophies
People are often surprised when they meet Meera as she has "different worlds and philosophies." She has different sides that are not exactly visible on her Instagram account. 
"I think in my work, my artwork especially, which tends to be very vibrant, and ethereal, expresses a side of me that would be unseen. Otherwise, that is simply the form it takes. It comes out in my painting, this very upbeat, kind of beautiful, peaceful watercolor, those aspects of my personality and my being come out in my work." – Meera Lee Patel
Meera also talks about why journaling is a form of conversation with oneself and a whole lot more. 
To know more about Meera and how to create your own calm, download and listen to this episode.
Bio:
Meera Lee Patel is a self-taught artist and writer who believes that anything is possible. 
She is the author of My Friend Fear: Finding Magic in the Unknown (TarcherPerigee, an imprint of Penguin Random House) a beautiful meditation on fear and how it can help us become who we really are–if we let it.
She is also the author of three journals with TarcherPerigee, an imprint of Penguin Random House: Create Your Own Calm, a journal for quieting anxiety which encourages self-acceptance for quelling anxiety and stress.
Made Out of Stars, a journal for self-realization that encourages the belief that we are already whole. Start Where You Are is a journal for self-exploration that is designed to help others understand that the answers they are seeking are contained within themselves.
She is currently a core contributor to Uppercase Magazine, where she creates visual essays about the intersection of creativity and mental health.
Links:
Website: Meera Lee 
Instagram: @meeraleepatel
Etsy: Meera Lee Patel
Amazon: Meera Lee Patel
We hope you enjoyed this episode of Follow Your Different™! Christopher loves hearing from his listeners. Feel free to email him, connect on Facebook, Twitter, Instagram, and subscribe on iTunes! Get amazing, different stories on business, marketing, and life. Subscribe to our newsletter The Difference.