095 #1 Tech Startup In Africa w/ Matt Brown
Monday 25th September 2023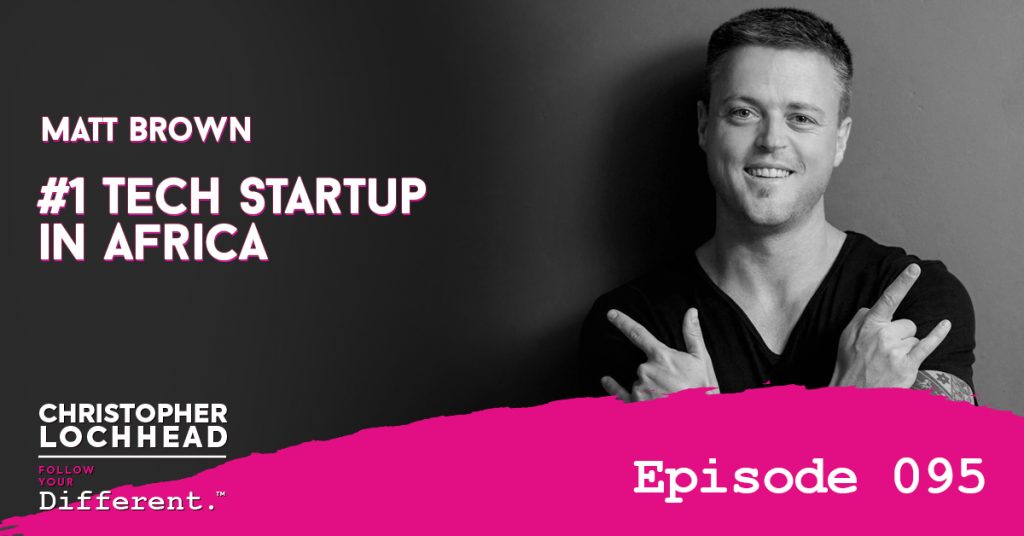 Podcast: Play in new window | Download (Duration: 1:11:59 — 66.1MB) | Embed
Subscribe: Apple Podcasts | Google Podcasts | Spotify | Pandora | Stitcher | RSS | More
Entrepreneur, CEO, and top podcaster Matt Brown joins us today for another no-BS conversation about being a Techpreneur in South Africa. He gives us a glimpse of the South African Tech scene, as well as his successes, as he was voted as #1 Tech startup in Africa in London Tech Week. Matt gives practical insights on business and life design as well.
#1 Tech Startup
Matt Brown, a very down to earth guy, recounts to Christopher his experience at London Tech Week, as organizers named him the #1 Tech Startup in Africa. Although he admits he now has unnecessary pressure due to the title, he claims it was a great opportunity for international development in the technology space.
"It was pretty insane when a government like the UK gets behind an idea. So what they have done is, they mobilized literally billions of pounds just for Africa Tech, 1.2 Billion pounds available for distribution." – Matt Brown
The Storytelling Technology
Matt runs a firm called Digital Kung Fu and he candidly shares with Christopher his elevator pitch — "we're the world's fastest tech story production business." He further shares that Christopher's books Play Bigger and Niche Down inspired him in this business.
"The truth is were evangelizing this idea — which I totally started from your thinking by the way — category design thinking and creating a point of view that is unique and different." – Matt Brown
He further shares that through his firm, they are connecting that point-of-view at scale to a market a way that it creates value. In his case, it is the storytelling technology.
"It's about taking proven powers of storytelling and marrying that with technology — data, automation, AI — and delivering stories essentially at a scale that makes very complicated things in ways that are memorable and relatable and understandable." – Matt Brown
The South African Tech Scene
Matt also talks about the South African tech scene, as other countries do not exactly know what is happening locally. He shares about the different challenges and opportunities they have there and the similarities in terms of trends.
"I think Africa has some unique challenges. We have infrastructure challenges, connectivity challenges, bandwidth challenges, and these things don't typically exist in developed markets." – Matt Brown
Amidst these challenges, Matt shares how these forces techpreneurs to innovate, especially in the mobile phones market.
"African tech has got a bad name in many respects. Basically at a type of expansion into emerging markets, it's less competitive in many respects. But, the economic opportunities are huge because there is no competition." – Matt Brown
Bio:
Matt is the CEO of Digital Kungfu. It was named as "Best Tech Startup 2019 – Africa Tech Week Awards." The company is a lead generation and storytelling production company purpose-built for technology businesses.
Links:
The Matt Brown Show in partnership with London Tech Week creates State of X Season One on Prime
We hope you enjoyed this episode of Follow Your Different™! Christopher loves hearing from his listeners. Feel free to email him, connect on Facebook, Twitter, Instagram and subscribe on iTunes!