092 1000+ Little Things Happy Successful People Do Differently w/ Marc & Angel Chernoff
Monday 25th September 2023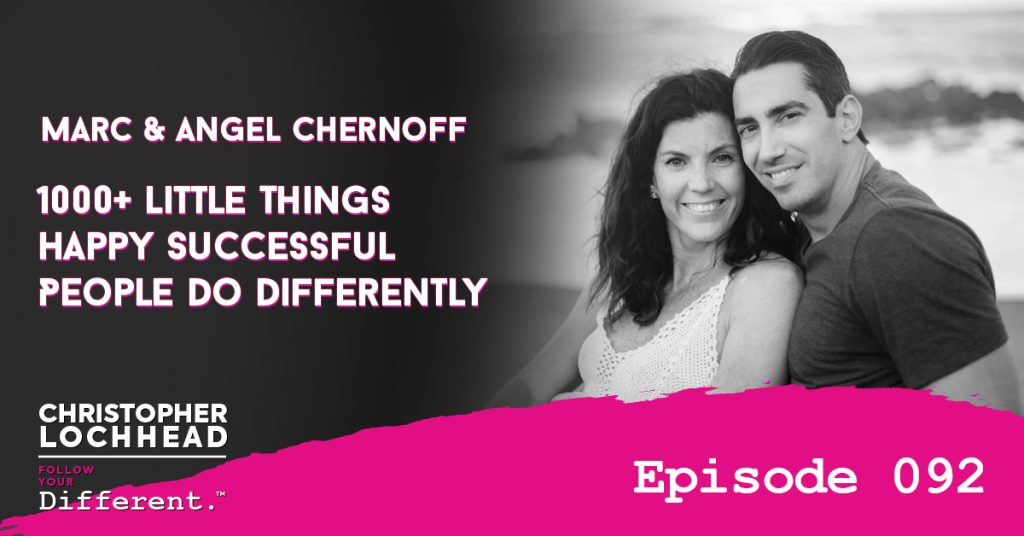 Podcast: Play in new window | Download (Duration: 55:53 — 51.3MB) | Embed
Subscribe: Apple Podcasts | Google Podcasts | Spotify | Pandora | Stitcher | RSS | More
Our guests for today, NY Times best-selling author/power couple Marc and Angel Chernoff talks about their new book and other self-help topics. We had an insightful conversation about happiness and unhappiness, as well as overcoming serious set-backs and other tons of practical insights for living.
The Journey is Worth It
Marc and Angel Chernoff got into this line of work when they lost someone — a best friend and a sibling. Just in their late 20s, they found themselves investing a lot in personal development and self-reflection.
"It was those moments where ultimately — we saw therapists, I mean depression sets in. We had no tools for coping and coming out of it. We realize what we want to do on a daily basis was to reflect." – Marc Chernoff
Fast forward to the present day, Forbes dubbed this duo as "the authors of the most popular personal development blogs on the planet." They are promulgators of the idea of acknowledging that "our present lives are more important than all of the lofty goals we have set for ourselves."
"Because obviously it's a cliche, but the journey is worth it. The journey is more important. Are we spending our days the way we want to spend our lives? Our days are our lives." – March Chernoff
Live a Life Worth Living
Marc and Angel further share some wise words about living a life worth living. Marc pointed out how lucky most people are, as there are a lot of people living in dire situations and facing immense challenges. He further discussed the importance of a positive mindset and the ability to focus on the present.
Christopher also shares his own views on living life, especially about dealing with failures. He quoted Marc when he discussed "the belief that failure is the opposite of success." He shares candidly that he has failed himself into a life that he loves and shares a quote that says "failure feels fun."
"I don't necessarily think that time wasted is wasted time. It's time for self care, it's time to relax. We don't always have to be go-go-go." – Angel Chernoff
Other practical insights
Both Marc and Angel share tips on how to cope with heartbreaks ⁠— from love interests to a divorce or a broken friendship to a loss of life. Marc shares how we can use these experiences to empower us in moving forward with our lives.
Marc, Ange-and Christopher discuss a lot more about things that happy and unhappy people do, as well as dealing with expectations of others.
To hear more about the 1000+ little things happy successful people do differently, and more information about Marc and Angel Chernoff, download and listen to the episode.
Bio:
Marc and Angel Chernoff are New York Times bestselling authors, professional coaches, full-time students of life and admirers of the human spirit. Forbes recognized the couple as having "one of the most popular personal development blogs."
Through their blog, books, course and coaching, they've spent the past decade writing and teaching proven strategies for finding lasting happiness, success, love, and peace.
Marc and Angel's New York Times bestselling book, Getting Back to Happy: Change Your Thoughts, Change Your Reality, and Turn Your Trials into Triumphs, is a guide to spark sustainable action—and to return to whenever needed.
Links:
We hope you enjoyed this episode of Follow Your Different™! Christopher loves hearing from his listeners. Feel free to email him, connect on Facebook, Twitter, Instagram and subscribe on iTunes!