315 Mastering Crisis with Liz Hoffman, Bestselling Author of Crash Landing: The Inside Story of How The World's Biggest Companies Survived an Economy On The Brink
Monday 20th November 2023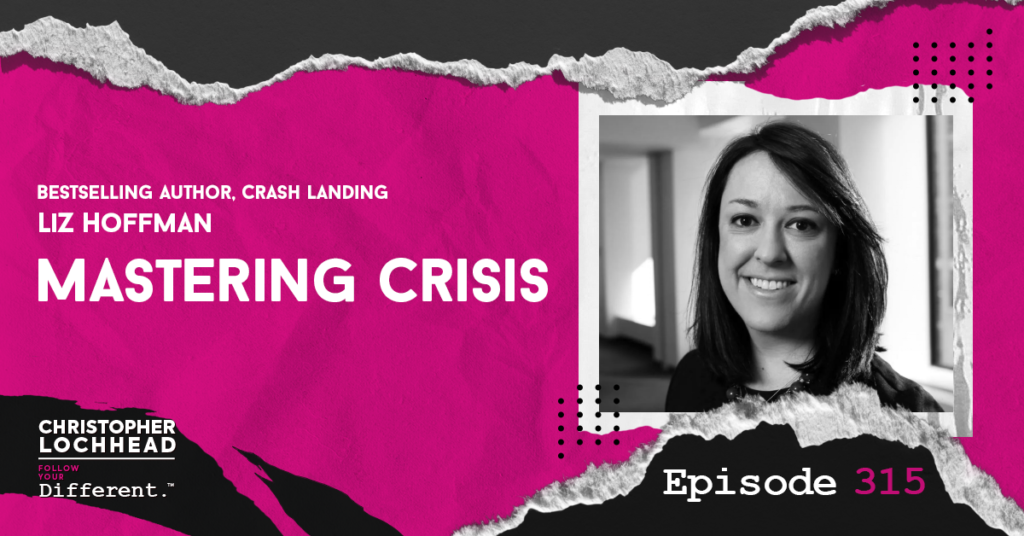 Podcast: Play in new window | Download (Duration: 1:23:46 — 57.5MB) | Embed
Subscribe: Apple Podcasts | Google Podcasts | Spotify | Pandora | RSS | More
Over the last three years or so, we've all been through one of the craziest most challenging times in modern history. On today's episode, we have a conversation with Liz Hoffman on how we can take stock of what just happened, and how we can master ourselves during a time of Crisis.
Liz Hoffman is a legendary author and journalist. She used to be a senior reporter at The Wall Street Journal, and now she's a business and finance editor at the new startup called Semafor.com.
She's got a riveting new book out that I really enjoyed, called Crash Landing: The Inside Story of how the world's biggest companies survived an economy on the brink. We'll discuss more about this new book and much more in today's Follow Your Different, so stay tuned.
You're listening to Christopher Lochhead: Follow Your Different. We are the real dialogue podcast for people with a different mind. So get your mind in a different place, and hey ho, let's go.
Liz Hoffman on the early days of the pandemic, and how we are today
Liz and Christopher discuss the emotional impact of the pandemic's early days, which they regard as a global trauma. She then talks about how the emotional pitch of those days helped her set the emotional tone of her book's characters.
Christopher reflects on the dramatic changes in the world since then, as well as his sense of loss for lost time and loved ones. Liz agrees and mentions a recent article on the pandemic's delayed reckoning with global trauma. They then talk about the bumpy re-entry into the world and the pandemic's lingering effects, of whether we are post-pandemic or not.
Liz Hoffman on the ending that never came
Liz and Chris discussed how they, like many others, had hoped for a clear endpoint to the COVID-19 pandemic, but that it had remained elusive.
And for Liz, there was an added layer of it as a reporter, looking for a conclusion to her work, but it never came. Christopher mentioned how both parties were hoping for a Hollywood-style ending, but the emergence of the Omicron variant dashed those hopes.
Liz Hoffman believes that, as humans, people prefer clarity and closure, but the pandemic has been a long-term experience that defies easy categorization. The pacing of Liz's pandemic book reflects this, as it begins with a frenzy before settling into a long and uncertain funk.
What legendary leaders do in times of crisis
Christopher then asks Liz for insight on how leaders can rise to the occasion rather than crumble under pressure.
Liz believes that making a large number of decisions quickly and efficiently, without over-analyzing, can be beneficial. She cites the CEO of Hilton, who pulled their credit lines from banks in early March and received $2 billion to get them through the crisis.
Liz emphasizes the importance of making decisions early and anticipating what will happen next, rather than getting bogged down in lengthy decision-making processes. She also points out that leaders should never run a multinational corporation on instinct alone, yet there is frequently unnecessary "process fat" in corporate decision-making that can be trimmed off.
To hear more from Liz Hoffman and how to master yourself in times of crisis, download and listen to this episode.
Bio
Liz Hoffman is the business and finance editor at Semafor.
Previously, she was a senior reporter at The Wall Street Journal, where she covered financial markets, corporate dealmaking, and the machinations of Wall Street.
A native of central Pennsylvania, Hoffman graduated from Tufts University and the Medill School of Journalism at Northwestern University.
She lives in Brooklyn, New York.
Links
Connect with Liz Hoffman!
Semafor | Twitter | LinkedIn | Crash Landing
We hope you enjoyed this episode of Christopher Lochhead: Follow Your Different™! Christopher loves hearing from his listeners. Feel free to email him, connect on Facebook, Twitter, Instagram, and subscribe on iTunes!