022 Legendary Marriage w/ Lance and Brandy Salazar
Tuesday 26th September 2023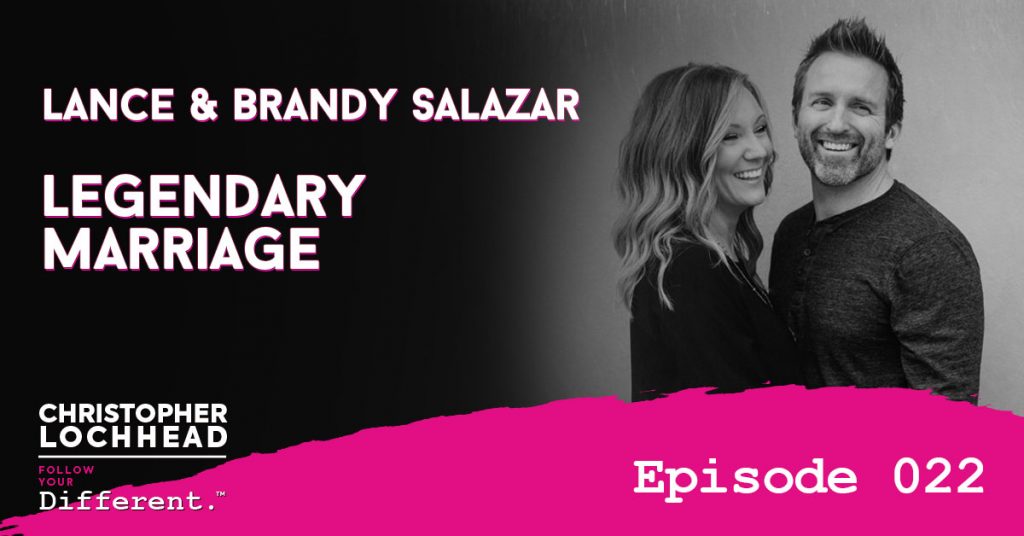 Podcast: Play in new window | Download (Duration: 1:21:19 — 74.6MB) | Embed
Subscribe: Apple Podcasts | Google Podcasts | Spotify | Pandora | Stitcher | RSS | More
On today's special episode, we hear from a legendary married couple, Lance and Brandy Salazar. They co-authored Hal Elrod's newest book, The Miracle Morning for Couples: Creating a legendary connection one morning at a time. They tell us about co-designing your life with your partner, coming back from the brink of divorce, and much more.
An Empty Sort of Happiness
Lance and Brandy's married life was a lovely adventure before they had their kids. No one ever prepares enough for a life with young ones and that was when the kick-in happened for them. They had to provide for their growing family and keep "feeding the beast".
With their priorities skewed, their mental fortitude deteriorated. They were overwhelmed and their marriage was falling apart. And the ultimate wake-up call to fix things was Brandy asking Lance to move out.
"We had all the great things that society told us apparently would buy us happiness or bring us happiness. And we had everything we needed and more… But our marriage sucked." – Lance and Brandy Salazar
Defining Their Values
All these things led to a decision to design the life they wanted. In the process, they found out that they hadn't defined their values. And so they sat down and mapped out all the things that they needed to achieve their dream life, and this included their home environment.
"It wasn't until that designing part really came to fruition that we identified the fact that weren't in the right town for us." – Brandy Salazar
Having realized the environment as an important life aspect, it became a catalyst to define more of their values.
Byproducts of Life Design
Lance and Brandy realized the benefits of operating from a place where they knew their values and the things that bring them fulfillment and freedom. Once they defined the center of their world, everything else fell into place. And among these is their happy, healthier marriage.
To hear more about how Lance and Brandy created the relationship of their dreams, download and listen to the episode.
Bio:
Lance and Brandy Salazar are on a mission to help couples reconnect with each other and stay deeply in love while raising their daughters. They created "Legendary Couples with Kids" because they know firsthand how challenging it is to keep your marriage a priority while juggling careers and being parents.
They now know that it is possible to be more in love than ever before. Their story is common, but their method is not.
Four short years ago, they were nearly divorced. Having kids abruptly deprioritized their marriage, and they lacked deep intimacy and connection. They were disconnected, frustrated, unhappy, and they knew they weren't modeling the marriage they wanted for their girls.
At the point of calling it quits, they made one last effort to save their relationship. This time, they tried something new. They took the best and most effective tools used by successful business and health coaches with proven positive psychology methods and applied these concepts to their marriage.
They stayed consistent with their commitments and made their vision a reality within a few short months. After almost 14 years of marriage and almost being divorced, they were now experiencing a remarkable level of connection, intimacy, and fun in their relationship.
Their results were so effective that they applied the same method and principles to their family and brought their daughters along on this journey with them.
So, in 2017 they quit their 20-year careers, sold their 'dream home', began homeschooling their daughters and have dedicated their efforts to this mission; helping Couples with Kids everywhere create the most amazing and Legendary relationships possible!
Links:
We hope you enjoyed Lance and Brandy Salazar on this episode of Follow Your Different™! Christopher loves hearing from his listeners. Feel free to email him, connect on Facebook, Twitter, Instagram and subscribe on iTunes!