254 How To Create Different Futures with Kevin Maney, Co-Author of Play Bigger & Co-Founder of Category Design Advisors
Wednesday 20th September 2023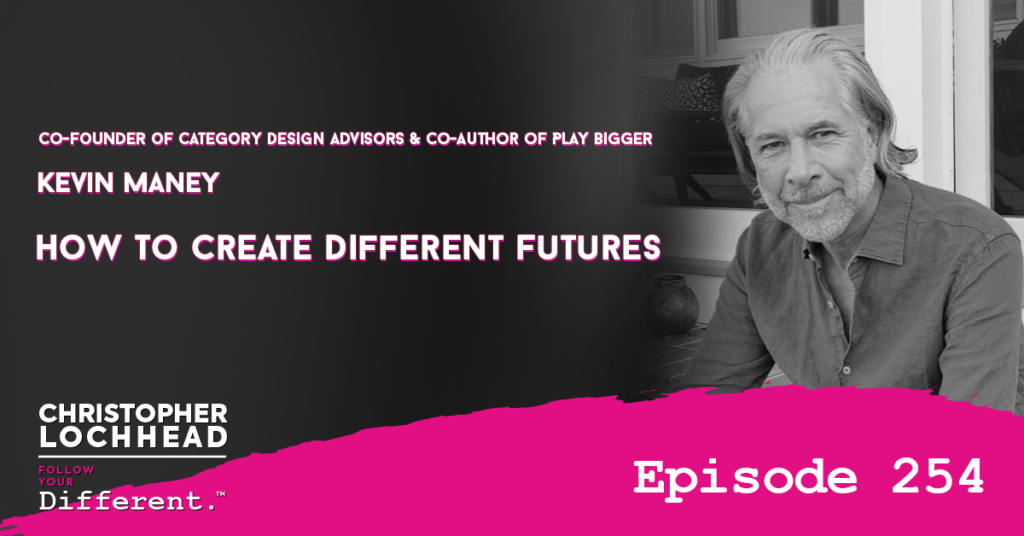 Podcast: Play in new window | Download (Duration: 1:13:19 — 50.3MB) | Embed
Subscribe: Apple Podcasts | Google Podcasts | Spotify | Pandora | Stitcher | RSS | More
As we all know, Context is everything. Around here, we believe that thinking about thinking is the most important kind of thinking. So if you want to design a different future, the context of your thinking matters. In this episode of Christopher Lochhead: Follow Your Different, we discuss context and much more with Kevin Maney.
Kevin Maney is the co-founder of Category Design Advisors, where he and his partners advise CEOs on how to design and dominate market categories. He is also one of the godfathers of Category Design, and one of the co-authors of Play Bigger, alongside Al Ramadan and myself.
We talk about a lot of topics that will help frame your think, and why the barriers to entry for Category Design keep dropping. We also discuss why Category Design is more important now than it was in 2006. To know why that's the case, stay tuned to this episode.
Kevin Maney On Playing Bigger
It has been five years since Play Bigger came out, and there have been a lot of changes in Category Design over the years. Kevin suggests that they should get together again and pool together what they have learned over the years.
That said, Kevin has noticed a few things that were big drivers of why category creation and design is so important. Some of them they have touched on in Play Bigger, but did not have the bandwidth to delve deeper into. These drivers are what Kevin and the others have been explaining to CEOs over the past years, so they can be aware of how important it is in dominating the market.
Though the most obvious catalyst in the recent years has been COVID. COVID has accelerated the amount of category breakthroughs, mostly brought about by necessity.
 "One of the things that always happens in these times of crisis or radical change like wars, a pandemic, or other things that truly shake up the world (is that) everybody starts doing things in different ways, or looking for new solutions. And it really opens up the possibility of creating new things and new categories that didn't exist before, solving old problems in new ways or, or addressing problems that have never existed before that arise because of what's going on." – Kevin Maney
Kevin Maney on the End of Friction
In any business or market, there will always be friction present. One of the friction Kevin talks about is the friction of geography, and how that can affect the market. Because of such frictions, most people are limited to choose what is available, instead of the category leader for that market.
Fast forward to today, and those frictions are slowly being removed. Now that people have access to a wider variety of the market, they will tend to gravitate towards the category leaders of said category. Which makes aiming to be a category leader is a must now, lest you get left behind.
"The more that the friction of geography disappears, the more we can all choose the global, or at least national category leader of any particular category. So that makes it all the more important in whatever business you're in to try to be that category leader, or you're really just going to get sucked down the drain." – Kevin Maney
The Prevalence of Disintermediation Today
The conversation then shifts to how different things are done today compared to just a few years back. In a way, there's more disintermediation nowadays compared to the .com era. One of the way it's very visible now is how we consume entertainment. With the advent of different social media platforms, normal people can interact directly with their idols, rather than having to go to concerts or shows.
On the entertainers themselves, the old formula is getting discovered and debuting on TV or film. Nowadays, people could go viral on their own efforts, or at least without the backing of a major corporation and such.
All this because we have reduced the friction required to make things possible. In the early 2000s, you'd need a lot of equipment, money, and know-how to shoot a simple video, let alone have it viewed by people. Now, all that can be done with just your smartphone.
"That's an insane decrease in friction, and allows for the creation of these new categories. It allows for a niche player to find their audience everywhere in the world, and not just in some little location or some little pocket." – Kevin Maney
To hear more from Kevin Maney and how you can create different futures for your business, download and listen to this episode.
Bio
Kevin Maney is cofounder of Category Design Advisors, where he works with CEOs and executive teams to develop and execute strategies to design and dominate markets. He is also a multi-time bestselling author and journalist who writes about technology and society.
His most recent book, UnHealthare: A Manifesto for Health Assurance, was co-authored with venture capitalist Hemant Taneja and Jefferson Health CEO Steve Klasko. It came out in 2020, and tees up how healthcare will evolve in the post-Covid era.
His previous book, Unscaled: How AI and a New Generation of Upstarts are Creating the Economy of the Future, was co-authored with Hemant Taneja and came out in 2018.
His book Play Bigger: How Pirates, Dreamers and Innovators Create and Dominate Markets (Harper Business, 2016), is a collaboration with Silicon Valley veterans Al Ramadan, Dave Peterson and Christopher Lochhead. The book introduces business to the idea of category design and gave birth to the advisory firm Category Design Advisors, where I'm now a partner.
He co-authored, with TIBCO CEO Vivek Ranadive, The Two-Second Advantage: How We Succeed by Anticipating the Future…Just Enough. Merging brain science and computer science, it was a 2011 New York Times bestseller, and predicted much of the conversation we're now having about artificial intelligence.
He also co-wrote Making the World Work Better, which marked IBM's centennial in 2001. More than 600,000 copies are in print in a dozen languages.
His other books include Trade-Off: Why Some Things Catch On, and Others Don't, The Maverick and His Machine: Thomas Watson Sr. and the Making of IBM and Megamedia Shakeout.
Over the years, he's been a contributor to Fortune, The Atlantic, Fast Company and ABC News, among other media outlets. He was a contributing editor at Conde Nast Portfolio during its brief run from 2007 to 2009. For 22 years, he was a columnist, editor and reporter at USA Today.
He's appeared frequently on television and radio, including CNN, CBS Sunday Morning and NPR, and lectured at conferences and universities, including New York University, UNC in Chapel Hill, and his alma mater, Rutgers.
Kevin also plays music with other New York rockers in a band called Total Blam Blam.
Links
Follow Kevin Maney today!
Website: KevinManey.com | CategoryDesignAdvisors.com  
LinkedIn: in/KevinManey |  company/CategoryDesign
Facebook: fb.com/CategoryDesign
Twitter: @KManey | @CD_Advisors
Instagram: @CategoryDesign
We hope you enjoyed this episode of Follow Your Different™! Christopher loves hearing from his listeners. Feel free to email him, connect on Facebook, Twitter, Instagram, and subscribe on iTunes!