292 Flat & Happy: Mastectomy – A Personal, Practical, Different Dialogue with Bestselling Author Katrin van Dam
Monday 25th September 2023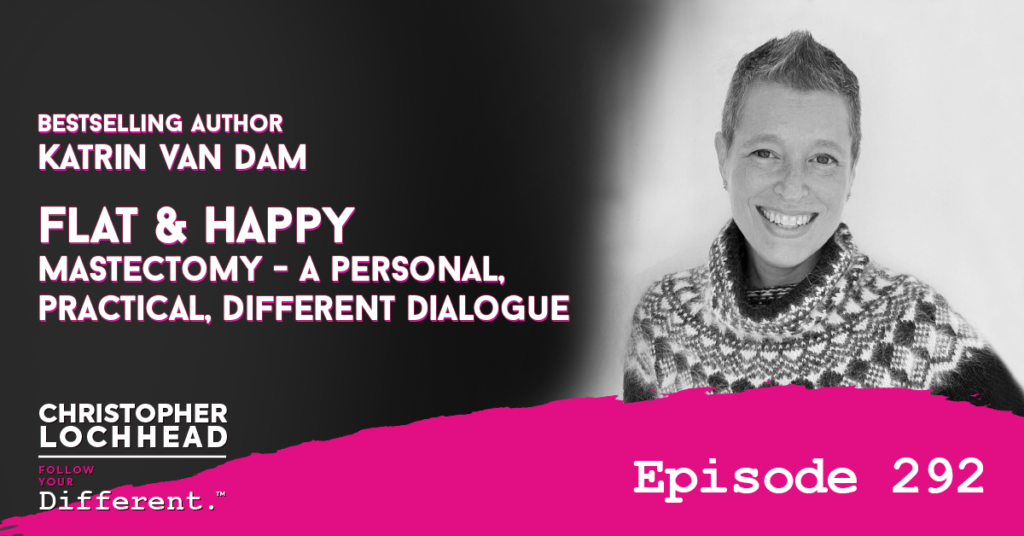 Podcast: Play in new window | Download (Duration: 1:20:06 — 55.0MB) | Embed
Subscribe: Apple Podcasts | Google Podcasts | Spotify | Pandora | Stitcher | RSS | More
On today's episode of Christopher Lochhead: Follow Your Different, what you're about to hear is a story of challenge, loss, courage, and triumph. We're also releasing it now in part because October is Breast Cancer Awareness Month. So join us as we have a meaningful dialogue with our guest, Katrin Van Dam.
Katrin Van Dam is a successful executive in the media business, and she's focused on content for kids and families. About three years ago, doctors told her that she had to have both breasts removed because of cancer. What she did next will surprise and will likely inspire you because she chose a different path.
By the end of this dialogue, I think you'll gain some legendary insights into a problem that almost all of us will be touched by.
Katrin van Dam on Breast Cancer
The dialogue starts of with Christopher sharing that as people stay longer in this world, they experience a lot of expected and unexpected things. One of the unexpected things would be cancer and other serious ailments.
Katrin van Dam replies that it is not as unexpected as we all thought. Given that one in eight women get diagnosed with breast cancer. So rather than unexpected, it's something to be aware of and get checked for every once in a while, after a certain age.
When Katrin was diagnosed with breast cancer, she found that both her breast had an invasive type of cancer. So rather than going for radiation, she opted to nip the problem in the bud and went with mastectomy.
Being Presented with Options
The part that Katrin found perplexing afterwards was when she found out that there was an option to not have breast reconstruction after undergoing mastectomy. Most would've probably taken reconstruction as part of the process, rather than an option.
But Katrin also clarifies that she's not advocating that everyone not to have reconstruction, but consider if it is really something they want.
"I want to be clear about this. It's a tremendous boon to somebody who wants to have breast mount reconstruction. For many, many women, that is a great way to be able to sort of move on from what's happened to them and to reconnect with their bodies. And I don't begrudge anyone that, but knowing that it was not for me." – Katrin van Dam
She also points out that Breast Mound Reconstruction is not a one-and-done thing. It is normal for those pursuing it to have multiple operations to have the desired outcome that they want, and as with any operation, each one of those presents risks.
This is why Katrin is pissed that women aren't given all the options upfront, and some have gone through painful and risky operations for something that they may have not wanted in the first place.
Making an Informed Decision
Katrin brings up a conversation she had with her husband when she informed him that she wasn't getting the reconstruction. It surprised her that he did not give his immediate support on the matter, which got Katrin thinking if she missed something.
In retrospect, Katrin realized that they were not operating on the same knowledge base. She who has had time to research on the complications and risks of reconstruction can confidently say that she doesn't want one, as compared to her husband who has not delved into the matter as deep as she did.
Another thing was that they were working on different assumptions: him thinking that having no breast would be a constant reminder of the cancer, while Katrin not caring about it at all.
In the end, Katrin realized that she could've communicated better, not just on the final decision, but on her process on how she got to that decision.
To hear more from Katrin van Dam on how to be Flat and Happy, download and listen to this episode.
Bio
Katrin van Dam has worked in children's media and licensing for nearly thirty years and is currently a creative executive at a major media company.
A few months after her debut Young Adult novel was published, she was diagnosed with breast cancer and underwent a double mastectomy.
After getting a taste of the societal pressure to have reconstruction, she felt compelled to provide a resource for women who are facing this difficult decision. FLAT AND HAPPY, her first work of nonfiction, came out of that commitment.
Katrin lives with her husband in New York City.
She is an avid theatergoer and enjoys hosting raucous dinner parties and traveling.
Katrin is also passionate about good food, storytelling, and saving our beautiful, besieged planet (not necessarily in that order). She is a graduate of Yale University.
Links
Connect with Katrin van Dam!
More information about Breast Cancer: www.cancer.org
We hope you enjoyed this episode of Follow Your Different™! Christopher loves hearing from his listeners. Feel free to email him, connect on Facebook, Twitter, Instagram and subscribe on iTunes!