094 How We Make Stuff Now w/ Jules Pieri
Monday 20th November 2023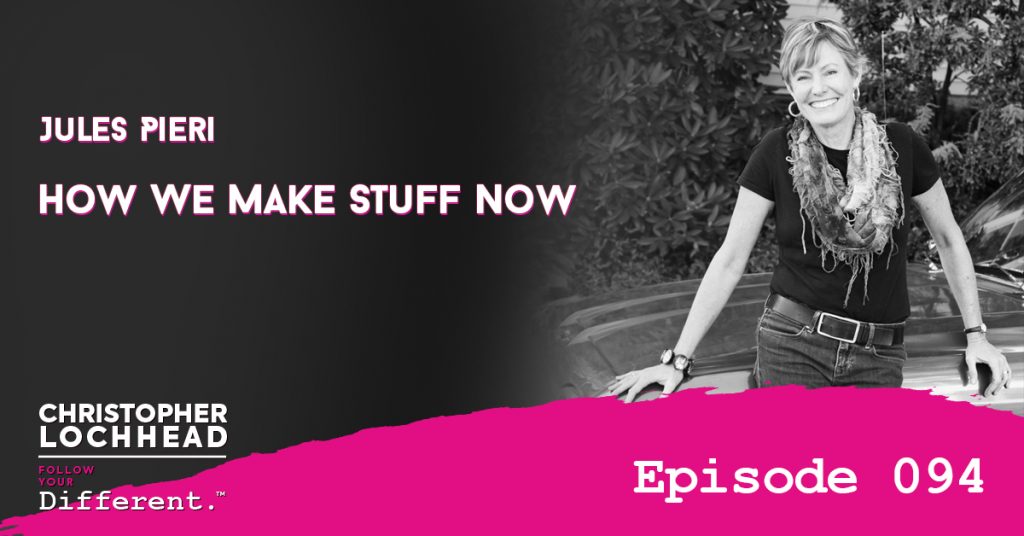 Podcast: Play in new window | Download (Duration: 51:45 — 47.6MB) | Embed
Subscribe: Apple Podcasts | Google Podcasts | Spotify | Pandora | RSS | More
Today's episode features a highly informative discussion between our host, Christopher Lochhead and Jules Pieri. She's the first designer to graduate from Harvard Business School. She shares some amazing lessons on how to create legendary new products and how to make sure those products succeed in the world.
Industrial Designer Turned Legendary Marketer
Fortune named Jules as one of the Most Powerful Women Entrepreneurs." She is the Co-Founder and CEO of the product launch platform The Grommet.
Jules shares that before she formed the company, she observed the huge shifts in technology ⁠— specifically the internet, like the development of 3D printing. 3D printing enabled a huge new class of entrepreneurs with physical products.
"Creative people have access to inexpensive tools, they will use that. Physical products are less abstract than software, so they're gonna inspire more people to participate." – Jules Pieri
What We Can Learn From Squatty Potty
Jules shares with Christopher the story behind the product Squatty Potty ⁠— a stool that raises the leg of the user during elimination. Christopher labeled the product as legendary because it created a new need for consumers.
Jules admitted that it is often quite a challenge whenever they start a new category. She pointed out the importance for companies to be as bold as possible when launching a new product.
"They hired a great agency to get the ads done and they had more vision and courage than most companies tend to have at the early stages. That's a super insecure stage of a company and they paid large money. Your reputation is aligned with these ads." – Jules Pieri
Category Creation Is a Must
Jules remarked about the importance of category creation. She believes that it is very hard to cut through in a crowded world. She added that through The Grommet, they can create categories that enable them to study product searches of users.
"Category search, 'cause names are not usually as memorable as descriptions." – Jules Pieri
Christopher and Jules discussed more about Legendary Marketing, the differences between creating demand and capturing a demand. They also touch base on to have an invention and bring it to the world in a way that it would be connected, unique and distinct.
Jules also shares some important parts of her great, new book out called How We Make Stuff Now.
Bio:
Jules Pieri is Co-Founder and CEO of the product launch platform The Grommet.
The company's Citizen Commerce™ movement is reshaping how consumer products get discovered, shared, and bought.
Jules started her career as an industrial designer for technology companies and was subsequently a senior executive for large brands, such as Keds, Stride Rite, and Playskool.
The Grommet is her third startup, following roles as VP at Design Continuum and President of Ziggs.com.
She completed her undergraduate degree at the University of Michigan and people tell her she is the first designer to graduate from Harvard Business School, where she is currently an Entrepreneur in Residence.
Fortune named Jules as one fo the "Most Powerful Women Entrepreneurs" in 2013.
In June 2014, White House Maker Faire invited Jules to launch The Grommet Wholesale Platform, connecting Makers with Main Street Retailers.
Links:
We hope you enjoyed this episode of Follow Your Different™! Christopher loves hearing from his listeners. Feel free to email him, connect on Facebook, Twitter, Instagram and subscribe on iTunes!