318 The Power of Questions with Jon Berghoff, Founder of XCHANGE Approach 
Monday 20th November 2023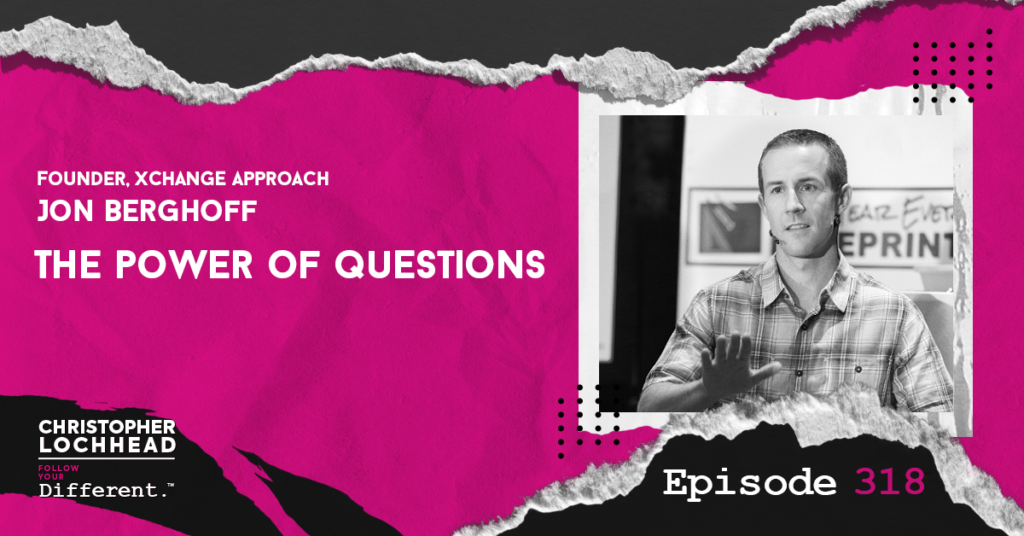 Podcast: Play in new window | Download (Duration: 47:54 — 32.9MB) | Embed
Subscribe: Apple Podcasts | Google Podcasts | Spotify | Pandora | RSS | More
Today, we are living in a world where access to all of the knowledge of humanity is getting easier, faster, and more accessible to all. This means that know what and how to ask questions to obtain the required answers have become a skill onto itself. On this episode, we have a dialogue with Jon Berghoff about the power of questions, and how to know if you're asking the right questions.
Jon Berghoff is the founder of XCHANGE Approach, a company that delivers legendary group learning experiences designed to blow open exponential thinking, and exponential results.
Jon's a living legend for a reason, and he's a ton of fun. We promise you; your brain will thank you for listening to this dialogue today.
You're listening to Christopher Lochhead: Follow Your Different. We are the real dialogue podcast for people with a different mind. So get your mind in a different place, and hey ho, let's go.
Jon Berghoff on creating an experience where people feel safe
The conversation starts off with a question for Jon, particularly on how he could create successful digital events in a world where people don't fully subscribe to them yet.
Jon shares that he drew his drive from his own experience back in high school, where he felt like he was left out and was disconnected for other people. In time, he realized that breaking through this disconnect is one of the important details in getting people excited for conversations, meetings, or on his case, digital events. Because they have a place where they feel safe and where they feel they belong.
Jon Berghoff on the role of questions
The next part of the dialogue focuses on the importance of asking the right questions and creating meaningful experiences in meetings and gatherings. Christopher recognizes that a company's success is attributed to asking the right questions, listening, and creating a positive experience, and Jon is an expert at asking questions and creating a safe environment.
They then talk about the difficulty of adapting to a rapidly changing world and how it relates to ineffective meetings. Jon emphasizes the importance of designing meetings that address complex issues and move away from the notion that a few people have all the answers.
The Ego-centric design of meetings
The conversation then shifts to the ego-centric design in meetings and conversations. Christopher observes that some meetings have the feel of dictatorial ego-centric events in which a few people present their vision and have all the answers.
Jon agrees and explains that many meetings are unconsciously designed with an ego-centric approach, in which either a few people have all the answers or participants are more concerned with convincing each other of their own ideas.
They do, however, recognize the need to tap into collective intelligence and shift the paradigm to engage everyone's thinking. Jon emphasizes the importance of questions in this process, stating that the world's complexity requires less emphasis on having all the answers and more emphasis on asking the right questions. He refers to John Kelly's view that future intelligence will be measured by the ability to ask the right questions rather than what one knows.
To hear more from Jon Berghoff and the power of questions in today's knowledge-driven world, download and listen to this episode.
Bio
Jon Berghoff is the founder of the XCHANGE Approach, a scientific approach to unlocking collective wisdom in any group.
These are extraordinary times, which call for exponential conversations. Which is why innovative leaders have run to XCHANGE as the solution for bringing together companies, communities, customers in powerful ways.
Before COVID-19, XCHANGE was leaned on by companies like Facebook, BMW, Costco, to facilitate powerful, large-scale conversations… when the stakes were highest.
Since the COVID-19 outbreak, change agents of every type: coaches, consultants and thought leaders… are using XCHANGE to create connection, community and accelerated learning in every imaginable environment.
All of it digitally, of course.
Links
Connect with Jon Berghoff!
We hope you enjoyed this episode of Christopher Lochhead: Follow Your Different™! Christopher loves hearing from his listeners. Feel free to email him, connect on Facebook, Twitter, Instagram, and subscribe on iTunes!