212 How To Be An Entrepreneur Category Designer With John Spagnola, CEO of Ublendit and Pioneer of the Custom Spirits Category
Monday 25th September 2023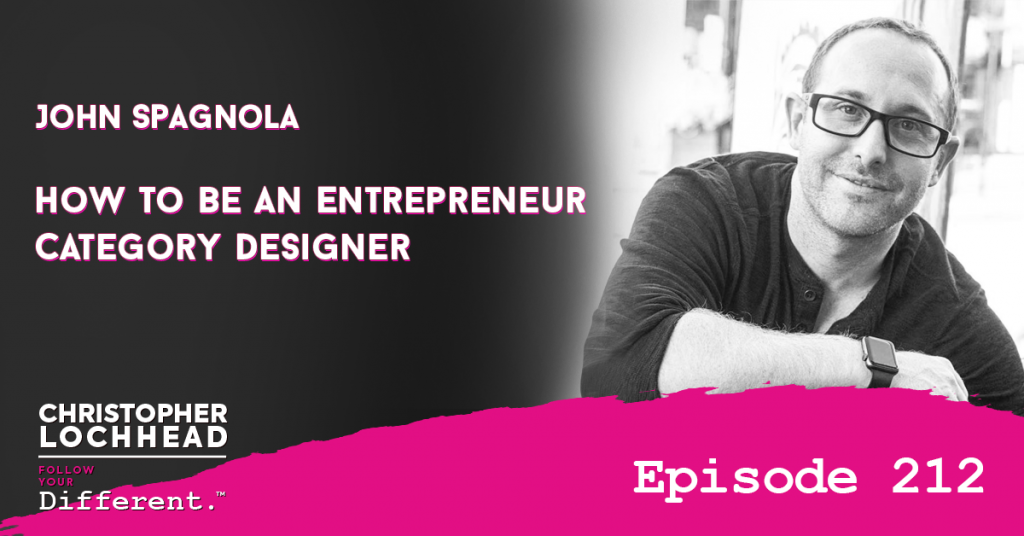 Podcast: Play in new window | Download (Duration: 1:13:56 — 50.8MB) | Embed
Subscribe: Apple Podcasts | Google Podcasts | Spotify | Pandora | Stitcher | RSS | More
Have you ever wondered what it takes to upend one of the oldest categories ever? To create real, radical innovation and do something that almost everyone in the industry said was impossible? If so, you're going to love this dialogue with our guest, John Spagnola.
In this episode of Follow Your Different, John Spagnola talks about how he redesigned an old category and broke through expectations and preexisting ideas in the Spirits category. He is the epitome of a pirate , dreamer, and innovator.
John Spagnola is the founder of Ublendit, THE pioneer in custom Spirits category. They create custom blended spirits for hotels, bars, nightclubs, and restaurants so they can have their own unique, custom-branded and blended spirits.
Ublendit: Breaking the Fixed Mindset
John talks about Ublendit and how he didn't want it to be just another spirits company. At the time, the formula for making a spirits company was as follows: You build a brand, market it to distributors, and hopefully get your brand into different establishments through said distributors.
There were those who commented that while John might start out with this completely new idea he had, he'll eventually move into the same model eventually.
John was having none of it.
"The more I go into it, the more I thought: no, you're totally wrong. The way you're thinking about is totally wrong. There are so many angles that we can manipulate here, that you're not even thinking about." – John Spagnola
John has always been into trying new things. Creating something that was game-changing and can disrupt the status quo was the dream. He feels fortunate that his investors shared the same views as he did and were willing to take risks.
Going Against the Grain
John further elaborates as to why most spirits companies follow the traditional category model. Eventually, it all boiled down to how big of an investment it can be, that they think it won't be worth their time. Most of the people who tried having multiple blends end up discarding underperforming ones and just focusing their effort to their best-selling ones.
"I kind of understand where people come from for there, but there's all these new, different elements that have opened up to allow us to, to be so versatile." – John Spagnola
John went against the grain and pushed forward with his custom-blended and branded spirits, and have not look back since. Nowadays, there are technologies that allow businesses to blend spirits in smaller scales, much like what Ublendit is doing. Yet John and Ublendit has the distinction of being the trailblazers for the category.
Knowing Your Market
As a Category Designer, one has to do their due diligence and know what you are working with. Otherwise, how can you change a category to something your target audience cares about?
This is exactly what John did by going around and doing research on the target market. He identified what the pain points of various businesses are, and create something new that solves those issues.
After doing his market research, he found two major factors that interest people. The first one was price, because they need to make money. The other one was having custom labels to promote their own brand.
So John got to work in combining these two factors, and a new category was born. As for his clients, they wished Ublendit was created sooner.
"The thing that stuck with me is (he said,) you're giving me goose for $5. He literally said, I wish that I had found you 10 years ago when I started this company. I was like, well, we weren't there yet. We didn't exist yet. He's like, well, now you have us forever." – John Spagnola
To hear more from John Spagnola and how to be a legendary category designer, download and listen to this episode.
BIO:
John Spagnola is the CEO of Ublendit, LLC. Ublendit is a pioneer in the custom spirts category. They are the first to create custom spirits for hotels, bars, nightclubs, restaurants and special events.
John is also Managing Partner at Venture Santa Cruz, where they identify new markets to make a difference in and disrupt them.
He's based in Santa Cruz, CA.
Links:
Website: Ublendit.com
LinkedIn: in/JohnSpagnola
More about John Spagnola and Ublendit
A new blended whiskey draws attention to local bartenders' secret
We hope you enjoyed this episode of Follow Your Different™! Christopher loves hearing from his listeners. Feel free to email him, connect on Facebook, Twitter, Instagram, and subscribe on iTunes!