290 The End of Bias with Bestselling Author Jessica Nordell
Monday 25th September 2023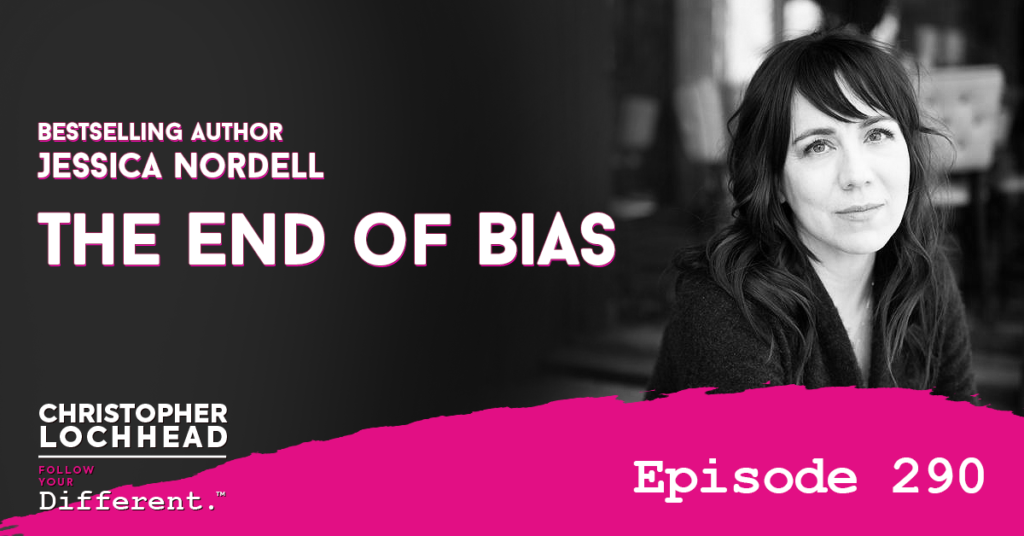 Podcast: Play in new window | Download (Duration: 1:29:10 — 61.2MB) | Embed
Subscribe: Apple Podcasts | Google Podcasts | Spotify | Pandora | Stitcher | RSS | More
Most people want to be welcoming of others and believe in equality for all human beings. But we're all a little biased. On this episode of Christopher Lochhead: Follow Your Different, we go deep on the topic of bias with our guest, Jessica Nordell.
Jessica Nordell is a bestselling author who has written a book called The End of Bias. Jessica's book has won a boatload of awards, including being named a Best Book of the Year by the World Economic Forum.
What you're about to experience is a real different dialogue about what it really takes to end bias.
Jessica Nordell on Bias and Racism
The conversation starts off on the topic of Bias, and how it relates to racism.
Christopher asks if racism and bias served a purpose for humanity or not, to which Jessica replies:
"Racism certainly emerged because it had a very specific social, political and economic purpose, which was to enable the existence of chattel slavery. In order to justify and sort of perpetuate the existence of that inhumane practice, what we would look at now as a criminal, criminally inhumane enterprise, Racism had to exist as a as a way to justify it. Because if a group of people are seen as lower on a social hierarchy, then it's much easier to justify that kind of inhumane behavior." – Jessica Nordell
Jessica Nordell on the Origin of Racism
Following up on the topic, Jessica was asked if these ideas of being superior over a certain race or gender started existing after a certain period, or did humanity have these notions from the start.
Jessica explains that this particular question was one of the things she really dug into in her research for her book, The End of Bias.
One of the things she found was that in ancient Egyptian civilization, there was no notion of skin color prejudice. There were even evidence of non-ethic people rising on the Egyptian political administration, which suggests a high intermingling of people in the region.
This suggests that contemporary racism was invented at a certain point in time for a specific purpose.
Jessica Nordell on Male-Female Bias
When asked if it was the same for Male & Female biases, Jessica shares that Patriarchy predates the written word, which means the position of men above women is a really old school of thought.
But there have been civilizations and ethnicities that flip that over its head. For example, in ancient Mesopotamia women are associated with divinity. There was a sense of women being associated with authority and leadership, which has eroded over time.
So it's hard to find the origin of Patriarchy, because by the time we have writing, it was already there, and men were doing the writing.
To hear more from Jessica Nordell and what it takes to actually end bias, download and listen to this episode.
Bio
Jessica Nordell is an award-winning author, science writer, and speaker known for blending rigorous science with compassionate humanity.
Her first book, The End of Bias: A Beginning, shortlisted for the 2022 Columbia Journalism/Lukas Prize for Excellence in Nonfiction, the 2022 NYPL Bernstein Book Award for Excellence in Journalism, and the 2021 Royal Society Science Book Prize, is the culmination of fifteen years of reporting and writing on the subject of bias and discrimination and how to solve it, for publications including the New York Times, the Atlantic, and the New Republic.
The End of Bias was named a Best Book of the Year by the World Economic Forum, Greater Good, AARP, and Inc and is currently being used by organizations from newsrooms and startups to universities, healthcare organizations, and faith communities to solve some of their biggest cultural challenges.
Deeply engaged with connecting across differences to expand and heal the human experience, Nordell's own early-career experience with workplace bias inspired her passion for tackling discrimination and for seeing others in their full complexity and humanity.
With degrees in physics from Harvard and poetry from the University of Wisconsin, Nordell undertakes pioneering collaborations across disciplines; her work with computer scientists to simulate the real-world impact of workplace bias became a 2021 viral NYT story. Nordell is the recipient of a Gracie Award from American Women in Radio and Television, was named a Best New Poet by Tracy K. Smith, and was a 2022 featured speaker at SXSW. She is a direct descendent of the last woman to be tried for witchcraft in the state of Massachusetts, and is an amateur rock drummer.
Links
Connect with Jessica Nordell!
Read her book: The End of Bias
We hope you enjoyed this episode of Follow Your Different™! Christopher loves hearing from his listeners. Feel free to email him, connect on Facebook, Twitter, Instagram and subscribe on iTunes!