248 The Burnout Epidemic with #1 Bestselling Author Jennifer Moss
Monday 20th November 2023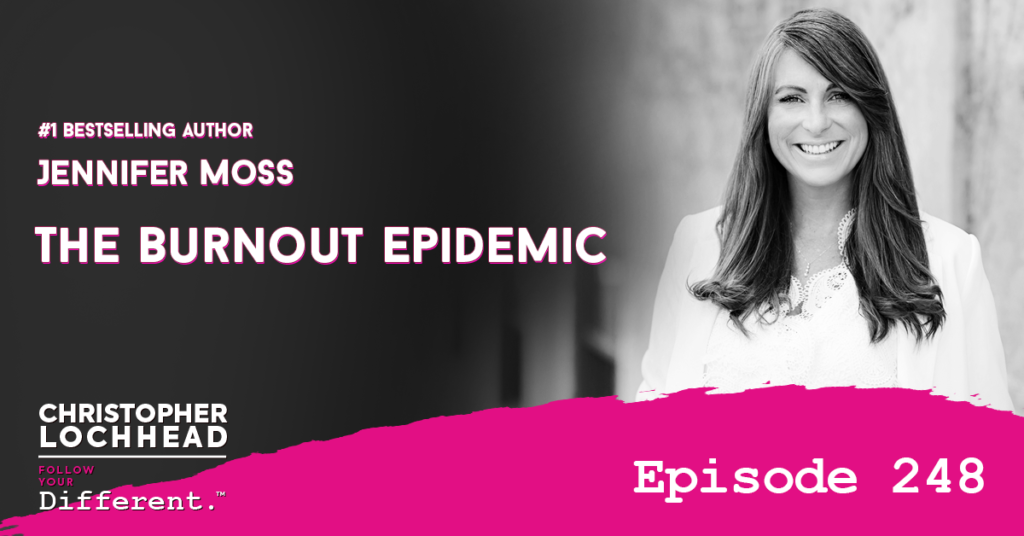 Podcast: Play in new window | Download (Duration: 1:22:35 — 56.7MB) | Embed
Subscribe: Apple Podcasts | Google Podcasts | Spotify | Pandora | RSS | More
Have you been feeling burned out over the last handful of months? Well, you are not alone. We live at a time that is extraordinarily challenging, yet exciting. This has caused many to freak out, or feel blown out or burned out. Our guest today, Jennifer Moss, calls what has been happening a "Macro Stress Event". In this episode of Follow Your Different, we explore the Burnout Epidemic and more.
Jennifer Moss is the author of the brand-new number one bestseller Burnout Epidemic: The rise of Chronic Stress and how we can fix it. She has an extraordinary point of view on the matter, particularly on how to transform this stress experience into what she calls a post-traumatic growth.
We get into what are the real causes of burnout, and what organizations can do to prevent it. There's also the idea of building an anti-burnout strategy based on prevention, and not offering them after the fact. We also discuss why traditional wellness initiatives seem to fall short these days.
Jennifer Moss and Working on Happiness
Jennifer Moss has always worked on the domain of happiness. Which makes it seem weird that she is talking about burnout, which is the direct opposite of it. Though according to Jennifer, happiness and unhappiness go hand-in-hand.
"You can't actually experience an increase in happiness set point, unless you've gone through some sort of challenge in your life that gives you that ability to experience resilience and rebound." – Jennifer Moss
Having the Right Mindset is the Key
For Jennifer, this experience came from seeing his husband come back from being acutely paralyzed to recovering remarkably well in an unanticipated rate. A huge part of this was that athletes go through an incredible amount of psychological fitness training very early on in their lives.
They go through that process of learning how to rebound, how to deal with loss, how to have emotional flexibility. All these things that actually lead to high levels of happiness, and be able to have post traumatic growth moments after they go through these pretty serious things.
"Part of what we noticed when Jim was in the hospital rehabbing was that this attitude played a big role in his healing. So six weeks later, he was walking out of the hospital. They had said, he may not ever walk again, or then it was a year, yet he's walking out after six weeks.

So it sort of became our mindset shift at that point to understand what it was that that contributed to that healing." – Jennifer Moss
Prevention is Better than Cure
With this shift of mindset, Jennifer and her husband founded Plasticity Labs, and worked on the happiness space and how to help companies further develop theirs in the workplace.
Though Jennifer noticed that they were working with companies that already have good happiness spaces and burnout prevention strategies in place. They just needed to improve on it and take it to the next level. But what about those companies who didn't have any semblance of one, and are burning out their employees left and right?
Which is why she wanted find a way to let such businesses and companies know how to prevent burnout from happening in the first place, rather than having to put the fires down later.
To hear more from Jennifer Moss and how to prevent burnout for yourself and your team, download and listen to this episode.
Bio
Jennifer Moss is a Harvard Business Review contributor and nationally syndicated radio columnist.
She also sits on the Global Happiness Council—a small group of leading scientists and economists that support the UN's sustainable goals related to global well-being and the Annual Global Happiness Policy Report.
Prior to this, Moss worked in Silicon Valley, eventually joining Barack Obama's California social team during his historic presidential campaign.
To acknowledge her contributions to business and public service, Moss was named a Canadian Innovator of the Year, an International Female Entrepreneur of the Year, and recipient of the Public Service Award from the Office of President Obama.
Her new book, The Burnout Epidemic, published by Harvard Business Press, launched September 28, 2021.
Links
Connect with Jennifer Moss!
Website: Jennifer-Moss.com
Twitter: @JenniferMossInc
TikTok: @JenLeighMoss
Instagram: @JenniferMossInc
Check out her new book: The Burnout Epidemic
We hope you enjoyed this episode of Follow Your Different™! Christopher loves hearing from his listeners. Feel free to email him, connect on Facebook, Twitter, Instagram, and subscribe on iTunes!