141 The Real DEA Narcos Javier Peña & Steve Murphy Part 2
Monday 25th September 2023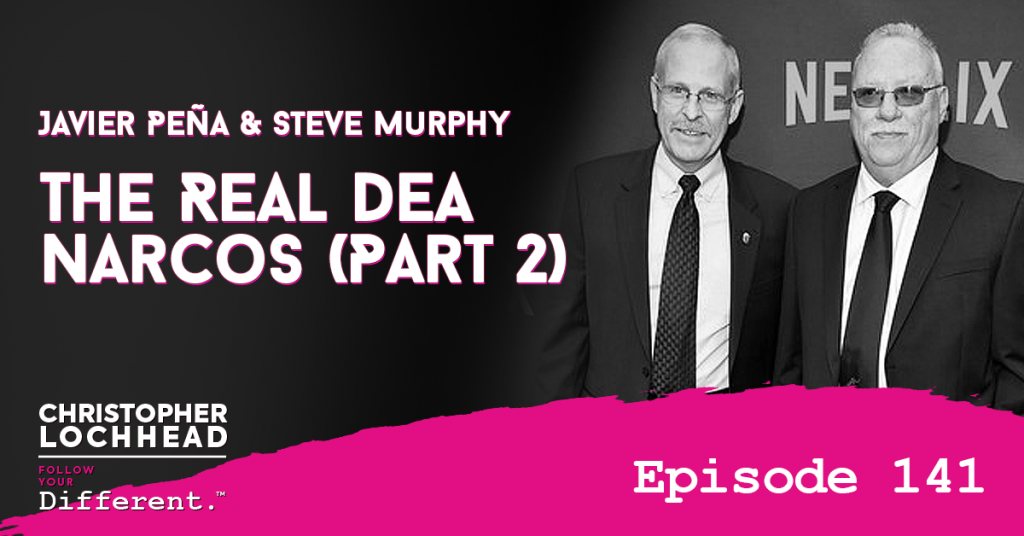 Podcast: Play in new window | Download (Duration: 1:15:08 — 34.4MB) | Embed
Subscribe: Apple Podcasts | Google Podcasts | Spotify | Pandora | Stitcher | RSS | More
Welcome to part two of our dialogue with the real DEA Narcos Javier Peña and Steve Murphy. These are the two real American heroes who partnered with Colombian Law Enforcement to take down the world's 1st Narco Terrorist, Pablo Escobar, and their story is the basis for the Netflix smash hit Narcos.
In this second episode, you hear the conclusion of how Murph and Javier bring Escobar to justice. We also dig into their thoughts on leadership, management, and life.
The End of Pablo Escobar
In this riveting conversation, we hear about how Murph and Javier bring Pablo Escobar to his end. They were honest enough to say it was a story of revenge, especially thinking about how many innocent people were killed, some are personal friends of the two .
Javier further recounted what transpired the moment Pablo got out of prison in 1991. They had a bounty of 5 million USD to take him down. Eventually, through the initiatives of the Columbian National Police, Pablo Escobar faced his death.
"If you watch the show Narcos, the part that I was on the roof when Pablo was killed, that's not true, that's Hollywood. That night, we were expecting retaliation attacks because of the death of Pablo. It was the quietest night I have even spent. I mean, there was nothing. It was quiet. The next day, Javier was back in the country." – Steve Murphy
Narcos Netflix Series
Javier and Murph, in all of their appearances, wants to get the record straight that the Columbian National Police was the one who took down Pablo Escobar. The two also share how some of the scenes in Narcos were made dramatic. There were a lot of fictional events that were added to the stories to appeal to the audiences.
It was surely effective because the show was embraced not only in the US but in Europe, Australia, Asia and even in Latin America.
"The writers, directors are phenomenal. They are extremely intelligent. When I get to the writer's room at Hollywood to work with them, they had a library of books there. I thought I knew everything about Escobar and the cartel, they had books that I never even heard of." Javier Pena
On Leadership and More
Javier and Murph had some interesting thoughts on life, leadership and more. For instance, Javier shared the importance of going on the field and listening to the field men who report their surveillance first hand.
"When I retired, one of my men says, 'Boss, I respected you because you went on the field with us' even though I'm in the background." Javier Pena
To hear more about the real DEA narcos Javier Pena and Steve Murphy, download and listen to this episode.
Bio:
You may have seen TV shows and documentaries, or read books about the world's wealthiest, and most violent drug trafficker, but now you have the opportunity to hear the real story of what happened in the investigation of Pablo Escobar and the Medellin Cartel.
DEA special agents Javier Peña and Steve Murphy were assigned as the lead investigators targeting Escobar and his organization.
These true American heroes provide a first-hand lesson in history as they discuss their efforts bringing down the world's first narco-terrorist, the challenges they faced in oftentimes hostile and life-threatening environments, and the innovative strategies they employed to successfully end the reign of terror of the world's most wanted criminal.
Their presentation is followed by a Q&A opportunity during which Javier and Steve will entertain questions related to their investigation, the making of Narcos, what history changing investigation is next for them, and more.
Links:
We hope you enjoyed this episode of Follow Your Different™! Christopher loves hearing from his listeners. Feel free to email him, connect on Facebook, Twitter, Instagram and subscribe on iTunes!