141 The Real DEA Narcos Javier Peña & Steve Murphy Part 1
Monday 25th September 2023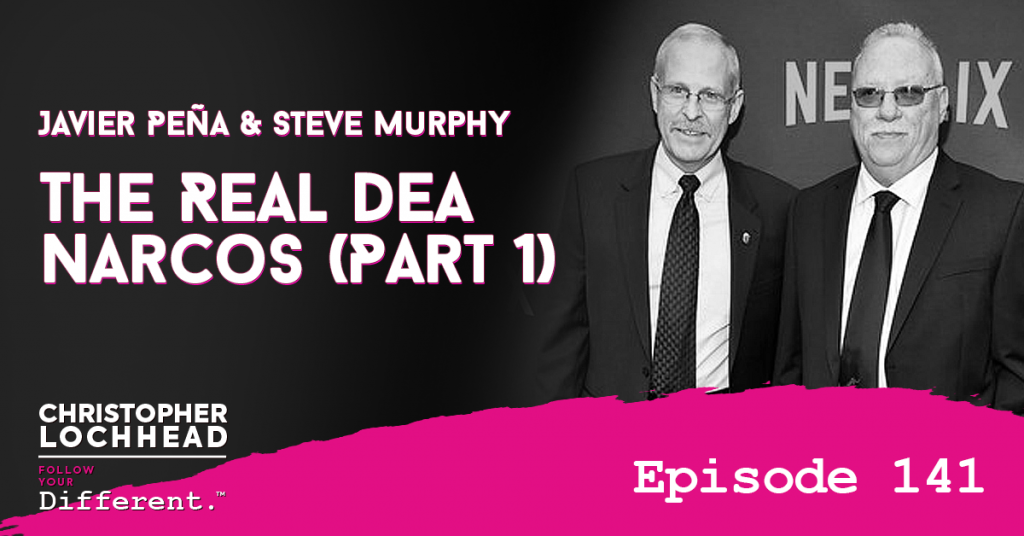 Podcast: Play in new window | Download (Duration: 1:00:35 — 27.7MB) | Embed
Subscribe: Apple Podcasts | Google Podcasts | Spotify | Pandora | Stitcher | RSS | More
Welcome to our super, special two-part dialogue with the real DEA Narcos Javier Peña and Steve Murphy. In this first episode, they take us behind the scenes of how they came together, from the US to Columbia, and worked for six years, to get Pablo Escobar.
We learn, what it feels like to have a $300,000 bounty on your head and how they dealt with the emotional ups and downs of this long-term, often very lonely and of course extraordinarily dangerous mission.
Street Deals to Cartels
Javier and Steve are two real American heroes who partnered with Colombian Law Enforcement to take down the world's 1st Narco Terrorist, Pablo Escobar. Their story is actually the basis for the Netflix smash hit Narcos.
Javier recounts how he used to work in Austin Texas, where he runs after street dealers. From street buys to surveillance, he never expected he will be sent to Columbia. It has been months before their superiors transferred them to handle the cartels and Pablo Escobar.
"Pablo Escobar is one of the richest traffickers in the world. He built his empire on terrorism, on violence and its something we had never seen before. This is why we weren't really ready when we started going after Escobar, cause we had never seen this type of tactics before." – Javier Peña
Narcoterrorism
Javier and Steve recounted this different kind of terrorism that promulgated in Columbia. Pablo Escobar had orchestrated car bombs, which ranged from 10-15 a day which slowly escalated to 50 per day.
"He wanted to kill as many innocent people as he could because this was his fight against Columbia. We try to explain that he challenged his country and we like to say that he actually won." Steve Murphy
He also had a bounty on the head of police officers. In fact, the DEA agents caught a 15-year old hitman who shot 10 police officers. The kid took home 100 USD per police officer he kills and he was able to feed and provide shelter to his impoverished family.
More on this episode
Listen to how Murph and Javier had to bend and break the rules and why they think the courage of the Colombian people and why they think their partners in Colombian Law Enforcement ate the "real heroes." You're also going to hear in their voices, the powerful bond, and friendship that has developed between them.
In part two, you'll hear the dramatic conclusion of how they ultimately brought Escobar to justice. We also dig into their life and leadership lessons. We touch on their book, Manhunters and their lives today as public speakers and teachers.
To hear more about the real DEA narcos Javier Pena and Steve Murphy, download and listen to this episode.
Bio:
You may have seen TV shows and documentaries, or read books about the world's wealthiest, and most violent drug trafficker, but now you have the opportunity to hear the real story of what happened in the investigation of Pablo Escobar and the Medellin Cartel.
DEA special agents Javier Peña and Steve Murphy were assigned as the lead investigators targeting Escobar and his organization.
These true American heroes provide a first-hand lesson in history as they discuss their efforts bringing down the world's first narco-terrorist, the challenges they faced in oftentimes hostile and life-threatening environments, and the innovative strategies they employed to successfully end the reign of terror of the world's most wanted criminal.
Their presentation is followed by a Q&A opportunity during which Javier and Steve will entertain questions related to their investigation, the making of Narcos, what history changing investigation is next for them, and more.
Links:
We hope you enjoyed this episode of Follow Your Different™! Christopher loves hearing from his listeners. Feel free to email him, connect on Facebook, Twitter, Instagram and subscribe on iTunes!