046 How to Crash Your Career with Isaac Morehouse
Saturday 2nd December 2023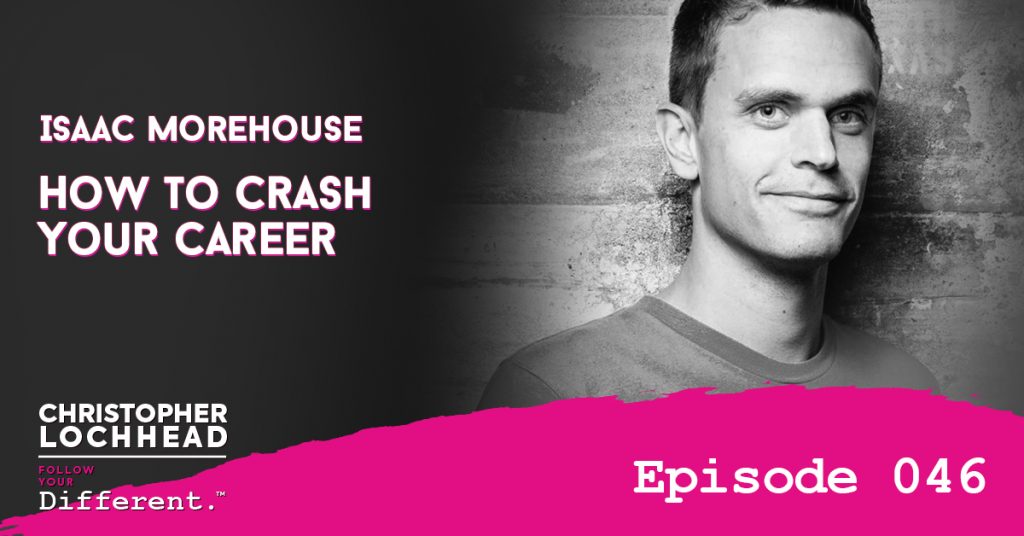 Podcast: Play in new window | Download (Duration: 1:08:15 — 62.7MB) | Embed
Subscribe: Apple Podcasts | Google Podcasts | Spotify | Pandora | RSS | More
It's time to get some deeper insights from our guest, we have Isaac Morehouse. In this episode, Isaac and Christopher had a wonderful conversation on how to start or restart your career. They also talked about how to discover the right role for yourself, how to build the right skills to fulfill those roles and how to get the job of your dreams.
Crash Your Career
This is the most condensed version that Isaac came up with to get across the same mindset in a way of thinking about career launch. He is very passionate about helping young people so they don't get left behind.
The way he processes his ideas is by talking and writing about them that helps him to put his visions of category designs into words.
"If I explain it, then maybe there's a big chance that I can build it." – Isaac Morehouse
Career Launch
This is the first step that we need to focus on in order to have a
legendary start. According to Isaac, they are focused on 3 things – discover
some roles, build a profile and tailor a pitch.
If you can do all those 3 things, it will get a lot easier and you can
have an amazing career launch.
"Paper credentials aren't going to launch your career, you've got to be your own credential" – Isaac Morehouse
Unpacking the 3 Things
He compares the idea of, what do you want to be when you grow up to a
funnel. Every step in your life, you should be moving in that funnel and people
are being trapped because of this.
The perfect fit for you is probably something that doesn't exist yet,
something that you have never heard of or hasn't been invented yet. The way to
get to it is to start experimenting as you will learn by doing it.
"The only way to know what is a really good fit is to try anything that is not really a bad fit." – Isaac Morehouse
To hear more about Isaac
Morehouse, founder and CEO of Crash, download and listen to this episode.
Bio:
Isaac Morehouse is the founder and CEO of
Crash, the career launch platform, and the founder of Praxis, a startup
apprenticeship program. He is the author of the wonderful new book called Crash
Your Career. Isaac's business was focused primarily not exclusively on
younger people in helping them get an amazing start to their career.
Some of his blogs are:
• The Delicate Art of Listening but not Listening
• Life By Subscription
• Music as Programming
Links:
We hope you enjoyed Isaac Morehouse on this episode of Follow Your Different™! Christopher loves hearing from his listeners. Feel free to email him, connect on Facebook, Twitter, Instagram and subscribe on iTunes!