115 Heidi Roizen Silicon Valley Legend
Monday 25th September 2023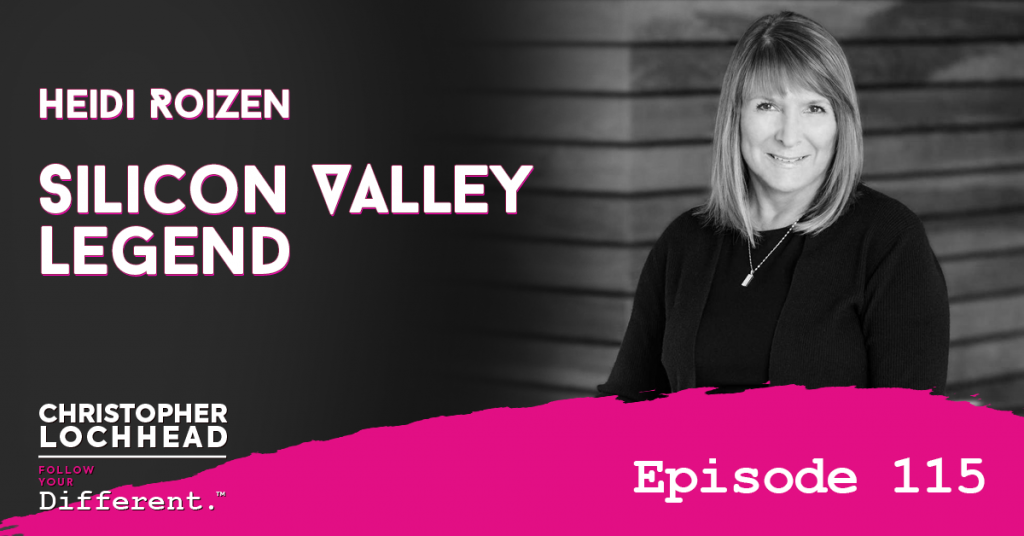 Podcast: Play in new window | Download (Duration: 1:06:50 — 93.1MB) | Embed
Subscribe: Apple Podcasts | Google Podcasts | Spotify | Pandora | Stitcher | RSS | More
Today's guest is none other than Silicon Valley Legend, Heidi Roizen. She is an accomplished, Entrepreneur, former head of developer relations at Apple and now, a legendary VC. She shares with us why today is the Golden Era for entrepreneurship, how any company is literally a tech company and more about VC-backed company, Memphis Meats.
Silicon Valley's Greatest Connector
The Financial Women of San Francisco honored Heidi as Financial Woman of the Year in 2018. She is also dubbed as "Silicon Valley's Greatest Connector." She is currently sits on the board of companies such as Zoox, Planet, Memphis Meats, HelixRE and DMGT.
"I talk about the fact that there should be more women entrepreneurs and there should be more women venture capitalists and diversity. Not just gender diversity but other diversity and I try to support that through my actions. I think it's appropriate given my role in Silicon Valley. If I have an opinion about that, I should be vocal about that." – Heidi Roizen
Other than these achievements, Heidi is a self-proclaimed animal lover. She adopted several dogs from the shelter, which she fondly shares in her social media.
Golden Era of Entrepreneurship
Heidi describes the market as a seller's market when it comes to early-stage equity. There are a lot of sources of capital in the market, its very competitive. She enumerates all the positive assets entrepreneurs have in today's world.
"There's just so many different avenues for funding. There are so many tech breakthroughs that can be built upon, whether that is networking or processing power, sensors, devices, GPS, next-gen VR technologies, ubiquitous platforms. When you think about the kinds of businesses you can start today for pennies, which costs hundreds of thousands of dollars in the past." – Heidi Roizen
The only negative she can mention is about competition, as she believes everyone else can also solve many big, interesting problems. Additionally, she mentions why companies nowadays are considered tech companies.
"I do think it's interesting today is, every company is a technology company, right? For the most part, how they interact with the customers, how they distribute their products, how they garner feedback, how they handle customer service, tech support, logistics, supply chain, internally, HR systems—every company is deep in technology now." – Heidi Roizen
Memphis Meats. Cell-based Meat
Heidi shares more about Memphis Meats and why she believes there is a huge growth potential for cell-based meat. First, she discusses how meat is inefficient to produce: from breeding to feeding to slaughtering and distribution to markets. Not only does it requires more resources, such as land and water use, it is also highly prone to contamination.
"The great thing about being a venture capitalist is, we don't have to actually invent this stuff. There are really awesome entrepreneurs that are way smarter than we are who come up with these ideas. We just have to make sure they want to come to talk to us, and that we can validate sufficiently what they are doing through our own research learning." – Heidi Roizen
To hear more about legendary Silicon Valley stories of Heidi Roizen, download and listen to the episode.
Bio:
Heidi represents the voice of the entrepreneur, having been one herself.
But she also represents the voice of the user, as those are the roots that led her to start a company in the first place.
She is on the boards of directors of Zoox, Planet, Memphis Meats, HelixRE and DMGT (LSE:DMGT.)
After Heidi earned her undergraduate and MBA degrees from Stanford, she co-founded T/Maker, where she served as CEO for over a decade through its acquisition by Deluxe Corporate in 1994. Next, she joined Apple as VP of Worldwide Developer Relations, and from there, Mobius Venture Capital.
She's been named to the Corporate Board Member's "Top 50 Women in Tech" list and Hot Topics' Top 100 Women in Tech.
In 2018, Heidi was named the Financial Woman of the Year by the Financial Women of San Francisco.
She has also earned the Forum for Women Entrepreneurs and Executives Annual Achievement Award, among other accolades.
Heidi currently holds two leadership positions at Stanford University.
She co-leads the Threshold Venture Fellows in the Management Science and Engineering department at Stanford. She is also a member of the advisory council of Stanford's Institute for Human-Centered Artificial Intelligence.
Links:
Silicon Valley's Greatest Connector
Financial Women of San Francisco Name Heidi Roizen 2018 Financial Woman of the Year
We hope you enjoyed this episode of Follow Your Different™! Christopher loves hearing from his listeners. Feel free to email him, connect on Facebook, Twitter, Instagram and subscribe on iTunes! Get amazing, different stories on business, marketing, and life. Subscribe to our newsletter The Difference.