305 How To Design A Legendary Career, Company, And Category with Gail Moody-Byrd of LinkedIn (Part 2)
Sunday 1st October 2023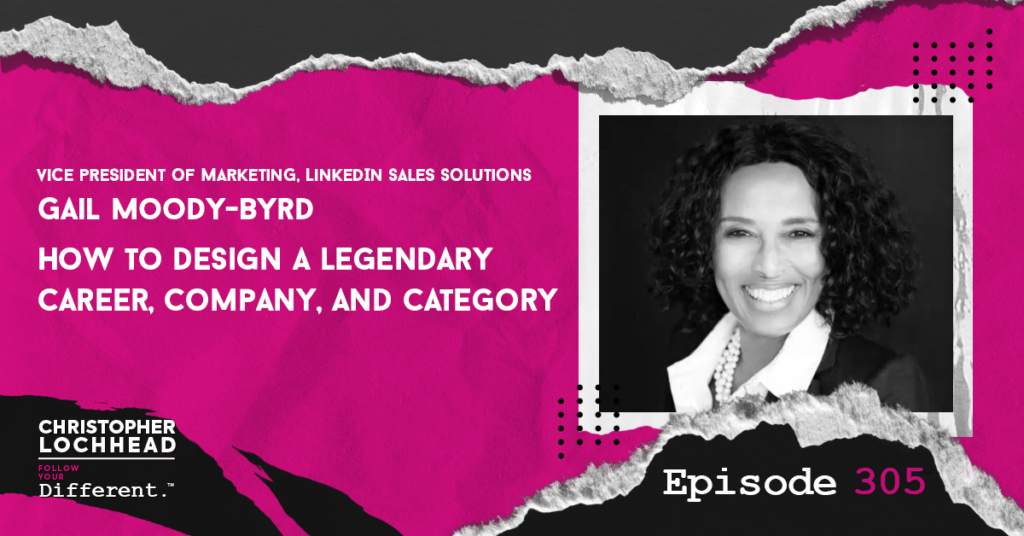 Podcast: Play in new window | Download (Duration: 1:03:08 — 43.3MB) | Embed
Subscribe: Apple Podcasts | Google Podcasts | Spotify | Pandora | Stitcher | RSS | More
This is part two of a very special Christopher Lochhead: Follow Your Different series that we are doing on how to design a legendary career, company and category. This two-part series is a masterclass on how to have a legendary career in technology from 2 different perspectives. On this episode, we have a dialogue with the amazing Gail Moody-Byrd.
Gail Moody-Byrd is the head of Marketing for LinkedIn Sales Solution Group. And the job that she's done there on category design is truly a stunner. I myself have known and done some work with Gail in the past, and she's also worked with my friends and adopted brothers from Category Design Advisors.
If you've ever wanted to know how to drive massive big change inside a massive big organization to make a massive big difference, you're in the right place. You're also going to learn what it took for a Harvard MBA to become a successful category designer, and get executive management bought in and participating in a massive new strategic initiative like category design.
There are many people who would easily pay $25,000 to have lunch with Gail, and today you got her for free and on repeat. We hope you'll enjoy this conversation as much as we did.
Creating a New Category in LinkedIn
The conversation starts off with acknowledging that Gail Moody-Byrd has done something extraordinarily rare in the business – which is to have implemented a category design approach within a monster corporation, which is within an even bigger monster corporation.
This is because normally when you think of implementing category design in a business, it is usually done by startups and entrepreneurship, which may develop later on to a category business leader. Though it is not unheard of, it's highly unusual for a megacorporation to attempt such a thing.
But according to Gail, it all stems from the culture within LinkedIn itself, where they are encouraged to pursue and grow their business the way they see fit, almost like the same energy as a startup would, but with the backing of a monster corporation behind it.
So when Gail joined the LinkedIn Sales Solutions Group, they already had the idea of finding something to elevate their status and "get their mojo back". And Gail was just the spark they were looking for.
Gail Moody-Byrd on the Curiosity of LinkedIn
Christopher shares his experience with introducing Category Design to big corporations, and the less than successful results he would get a times. This is because major corporations tend to stay rigid and not dive into new ideas that easily, especially if their current product or service still has a huge share of the market at the moment.
Gail agrees with this and adds that while LinkedIn may seem like the same on the outside, it has this inherent curiosity within that lets their people explore new ideas, as long as it stays within company guidelines and has the data to back it up.
"The beauty of LinkedIn is that they gave me the liberty to explore some of those ideas. There's a curiosity within LinkedIn that I appreciate. We're so market driven, and interactive, always looking for new ideas. And so the amount of support and the extreme receptivity to the conversation was, frankly, shocking to me."

– Gail Moody-Byrd
Evolving the Platform through Category Design
Gail Mood-Byrd then talks about LinkedIn Sales Solutions, and its growth and changes over the years. It was created 10-11 years ago to enable salespeople in the b2b space to connect on the LinkedIn platform with people who might need their services.
Over the years, it has grown from being a way to connect with potential buyers and fielding available talents, to something backed by support and data science to help you find the information and the system actively looking non-stop for related data to your inquiries and target audience.
It has also gone from one-way communication, to something akin to an active conversation between potential buyers and sellers; all in a trusted network like LinkedIn. And that is something Gail and her team aim to develop further with category design in mind.
To hear more from Gail Moody-Byrd and How To Design A Legendary Career, Company, And Category, download and listen to this episode.
Bio
Gail Moody-Byrd
Vice President, Marketing, LinkedIn Sales Solutions
Member, Board Of Directors, Grocery Outlet (NASDAQ:GO)
A seasoned Senior Marketing Executive, two-time Category Creator and public board member with extensive experience in all aspects of Global Marketing, Sales and Strategy across industries, from enterprise software to retail/commerce. Propelled by a vision full of possibilities, acts as a change-maker who leads and inspires teams to deliver results, exceed expectations and grow as leaders themselves.
Links
More about Gail Moody-Byrd
Category Design Advisors: Category Design Lightning Strike of 2022
We hope you enjoyed this episode of Christopher Lochhead: Follow Your Different™! Christopher loves hearing from his listeners. Feel free to email him, connect on Facebook, Twitter, Instagram, and subscribe on iTunes!