333 Israel: War in "Startup Nation"
Friday 1st December 2023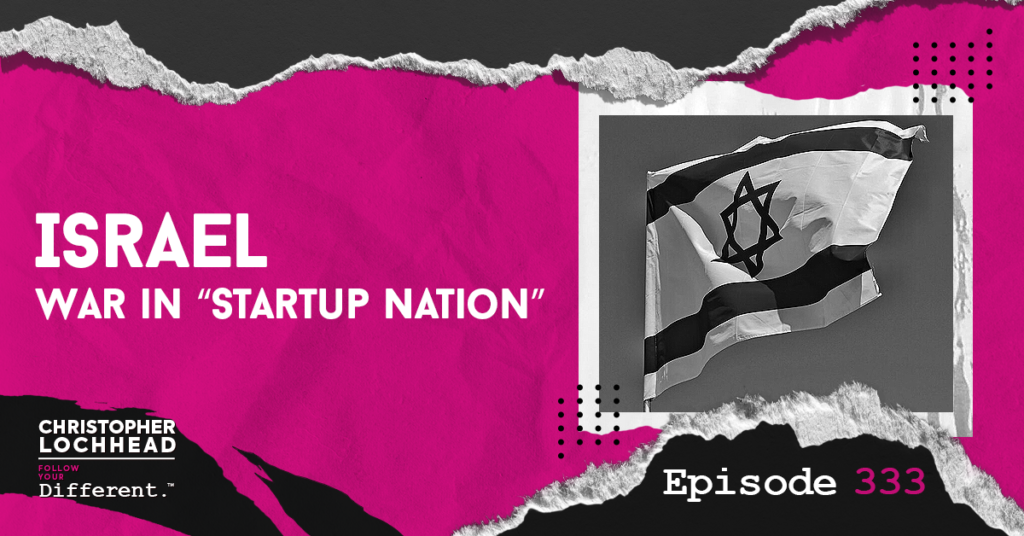 Podcast: Play in new window | Download (Duration: 11:23 — 7.8MB) | Embed
Subscribe: Apple Podcasts | Google Podcasts | Spotify | Pandora | RSS | More
On this episode, let's talk about Israel, and the war that has come to this "Startup Nation".
Off the top, let me say the pain and suffering of what's happening is unbelievable, unbearable. My heart goes out to Israel, all Israelis, and all Jews around the world.
I also want to say I have spoken with many Arabs since this happened. There's a very big difference between an Arab or a Palestinian and Hamas. They are not the same thing. My Arab friends wanted to stress that to me. My heart goes out to all the innocent Arabs in Gaza and in the region who are suffering and also experiencing extraordinary pain and loss.
Israel is a "Startup Nation"
If you've been in tech for a while, you've probably worked with Israelis. For the better part of my professional life, I've worked with entrepreneurs, engineers and executives from the country.
The Israeli's I know are smart, tough, driven, no-nonsense result producers. If you want to get big tech shit done, work with Israelis.
It has one of the highest concentrations of startups in the world. Its tech sector is a major contributor to the country's economy. Tech is 18% of Israel's GDP, and 14% of all salaried employees work in Tech. That's roughly 500,000 people. On top of which, 50% of Israel's total exports come from Technology developed by these people.
The framework Israelis created to co-locate Israel/US tech startups, established an innovation model that is envied the world over.
Israel has over 6,000 Tech Companies
The impact of this war borne out by the Israeli people.
Reports indicate that the start if this war was "the darkest day in Jewish history since the end of the Holocaust."
And, it will also be felt by virtually every major tech company in the world.
There are over 6,000 tech companies operating in Israel, including some of the largest names, with Apple, Microsoft, Google, and Intel to name a few. These companies have a variety of strategic operations in Israel, including research and development centers, sales offices, and customer support centers.
Israel is home to over 15,000 startups, and they employ over 100,000 people. In 2021, Israeli tech companies raised a record $25.6 billion in venture capital funding.
Today, they are scrambling to secure and support their people.
15,000 Israeli Tech Startups
Now, this evil war is extracting an unbearable human cost. More death, suffering and disruption is sure to follow. And this war will be felt by many of us in the tech industry.
My heart aches for Israel.
My heart aches for all of the innocent souls in the Middle East.
We're praying for peace, and the day we can all get back to building legendary companies.
To hear more of Christopher Lochhead's thoughts on the recent events that unfolded in Israel, download and listen to this episode.
If you wish to join the conversation and get more information on the matter, check out Christopher's post on LinkedIn:
We hope you enjoyed this episode of Christopher Lochhead: Follow Your Different™! Christopher loves hearing from his listeners. Feel free to email him, connect on Facebook, Twitter, Instagram, and subscribe on iTunes