311 The Future of American Healthcare with Dr. Ashwini Zenooz, CEO of Commure
Monday 20th November 2023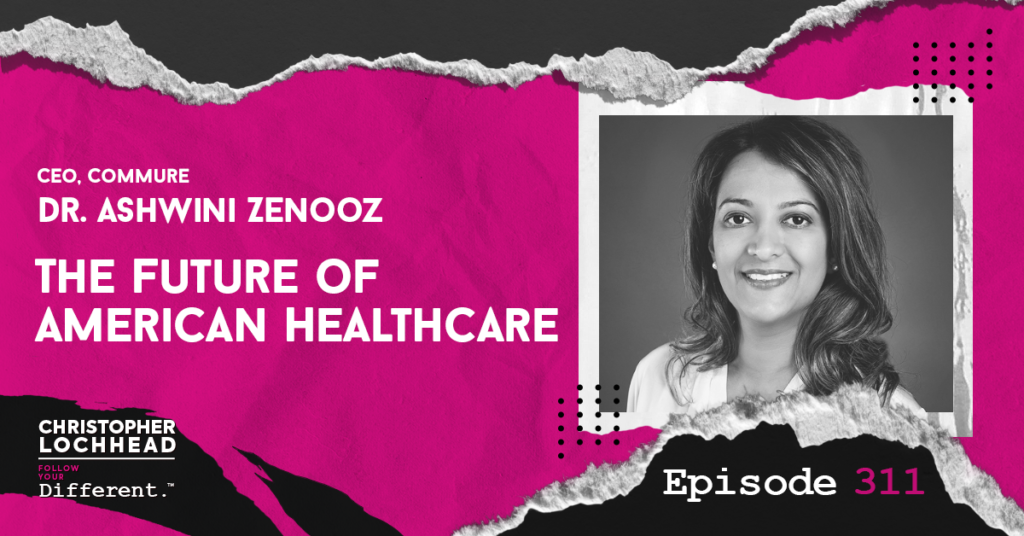 Podcast: Play in new window | Download (Duration: 1:00:31 — 41.6MB) | Embed
Subscribe: Apple Podcasts | Google Podcasts | Spotify | Pandora | RSS | More
All of us want the best healthcare for our families, our communities, and our country. But Legacy approaches and technologies in the United States often stop our healthcare heroes from being able to deliver the legendary care they want to deliver. So let us have a dialogue about this and much more with our guest, Dr. Ashwini Zenooz.
Dr. Ashwini Zenooz is a radiologist who became the chief medical officer of the United States Department of Veterans Affairs. She then joined the technology industry, and became the chief medical officer at Salesforce.com. Dr. Ash is now the CEO of Commure, a venture-backed startup on a mission to produce a breakthrough in digital health. Her achievements thus far have been incredible, and we hope that her personal story will inspire you.
You're listening to Christopher Lochhead: Follow Your Different. We are the real dialogue podcast for people with a different mind. So get your mind in a different place, and hey ho, let's go.
Dr. Ashwini Zenooz on the current state of COVID
The conversation starts of with a question for Dr. Ash on the current state of COVID, particularly if we are past the crisis part of it.
Dr. Ash responds that there's still a lot of things to look into, as COVID has not only affected our healthcare, but different parts of society and fields as well.
"I would say it's yet to be seen. I think it's not just the healthcare part. There's a lot of other implications from the pandemic that were seeping into with the economy. There's a lot of stuff that's happening around us that's related or as a result of the pandemic. So it's yet to be seen. But yeah, I would say that at least the crisis is over."

– Dr. Ashwini Zenooz
On how the US fared in the COVID pandemic
As much as it hurts to say, Dr. Ash shares that there were things that the US could have done better on. She thinks its partly because we try to "reinvent the wheel" every time there's an epidemic or pandemic. As a society, we have had a lot of ways to learn how to properly respond and mitigate the damages, yet we tend to commit the same mistakes over and over again once it happens.
What's even more frustrating from a healthcare standpoint is our lack of concern for future occurrences. When a major healthcare issue is resolved, it appears that no one is interested in researching how to prevent the next case, or what to do if the next one would be on a larger scale than the one before.
It's like we only care to look back once the current one is already at our doorstep.
Dr. Ashwini Zenooz on masks and vaccines
On the topic of preventive measure, Dr. Ash was asked about what she thought about wearing masks and taking the vaccine.
For mask-wearing, Dr. Ash shares that for her, it is a personal choice. Even if airlines and public spaces don't require you to wear them anymore, she opts to wear them because she wants to. For her, having that extra precaution for a little inconvenience is not a big deal, but she wouldn't be offended if she sees someone not wearing one in a public place.
For vaccines, her thoughts as a layperson or a simple mom is that there would be more documentation or data available to the public on the tests that were done that passed the approval of the FDA, and have  someone who can explain it to the general public. This avoids confusion and misinformation from spreading out, and less hesitation for asking assistance when someone eventually decides to finally get their vaccines.
To hear more from Dr. Ashwini Zenooz and the future of American healthcare, download and listen to this episode.
Bio
Ashwini Zenooz, M.D.
Dr. Ashwini Zenooz is the CEO of Commure, a venture-backed technology company dedicated to building a health ecosystem rooted in collaborative care and connected innovation.
Prior to Commure, Dr. Zenooz was Chief Medical Officer at Salesforce.
Dr. Zenooz was also the Chief Medical Officer at the Department of Veterans Affairs (VA) overseeing the national EHR modernization program, where she was responsible for organizational change management, business process redesign, and implementation of a new digital health platform. She has also held senior policy development and operational roles including serving as Deputy for VA Health Policy and Services, Legislative Health Policy Fellow with U.S.
Senator Richard Blumenthal, Committee Staff on U.S. Senate Committee on Veterans Affairs, and Chief of Imaging Services.
Dr. Zenooz graduated with summa cum laude distinction in undergraduate studies and received an MD in the Medical Honors Program at the University of Florida.
She completed radiology residency at Henry Ford Health System and an Abdominal Imaging fellowship at Massachusetts General Hospital.
Dr. Zenooz is board certified in radiology and continues to practice medicine today.
Links
Connect with Dr. Ashwini Zenooz!
We hope you enjoyed this episode of Christopher Lochhead: Follow Your Different™! Christopher loves hearing from his listeners. Feel free to email him, connect on Facebook, Twitter, Instagram, and subscribe on iTunes!