171 Black Entrepreneurs Matter w/ D'Narius Lewis
Wednesday 20th September 2023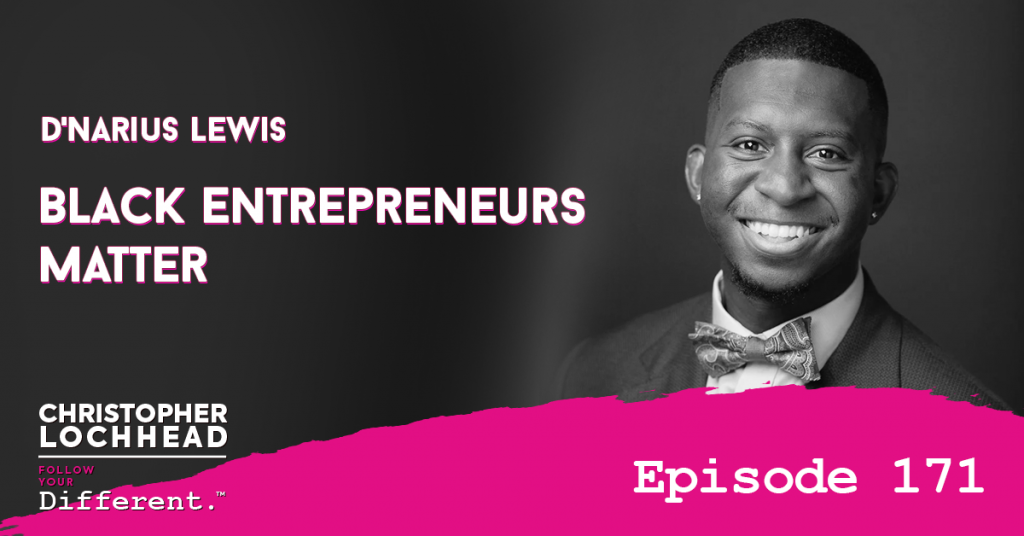 Podcast: Play in new window | Download (Duration: 1:21:23 — 55.9MB) | Embed
Subscribe: Apple Podcasts | Google Podcasts | Spotify | Pandora | Stitcher | RSS | More
Today, we have a very big conversation about social change, entrepreneurship, Black Lives Matter, and a whole lot more with author, entrepreneur, and speaker, D'Narius Lewis. We believe he represents a voice that is not being heard enough right now — the voice of young African American entrepreneurs.
D'narius has gone from homeless to successful. He is the founder of Optimum Outreach, a telecom brokerage firm. Frankly, we need to be asking ourselves "how do we foster an environment where there are a lot more D'narius Lewis' you see denarius amongst many entrepreneurs?"
Living in Ground Zero
Christopher probes D'narius what it is like to be a young black male American entrepreneur, living in the "hood" in Minneapolis, which, as you know, is where George Floyd was killed. D'narius described how on the same day as his birthday, literally just 30 minutes away, George Floyd suffered from police brutality.
"Everyone wants to have this conversation but until you actually put yourself on the ground level and take action and see why people are protesting, see why people are frustrated. There has to be a reform behind everything that's been created. It's a never ending conversation." – D'Narius Lewis
What It Would Take For A Breakthrough
D'Narius believes having the right conversations are essentially what needs to be done to get something out of the Black Lives Matter movement.
"Right now, we're still having a debate to why this isn't even a conversation. Racism is not real and so having that first conversation is really like 'let's actually sit down and break this down. Let's not be defensive. Let's actually break down the facts.' Once we get down that road, then let's break down defunding the police department. A lot of people want to defund the police department. The police department defunded funds is not completely defunding a police department. It is taking funds that can be allocated to the community, to allocate for individuals and mental health spaces. " – D'Narius Lewis
Crime is Crime By Humans
D'narius shares more about humans committing crimes and how people want to be treated as humans. He also shares about what is happening at the local level, especially why the activists are not the person responsible for the riots.
"We're still having the same conversation that Martin Luther King had Malcolm X had. Now we're in the 2020s many years away from that conversation and we're still saying, 'hey, are we're still being killed on the streets by police brutality,' 'hey, we're still living in poverty from from years of being set free, but not actually given a system to be a part of.' The list goes on and on of all these different roadblocks and loopholes that I might know I've had to go through because the system wasn't built for us." – – D'Narius Lewis
To hear more about D'Narius and social change, entrepreneurship, Black Lives Matter, and a whole lot more, download and listen to this episode.
Bio:
D'Narius Lewis was born May 25, 1993, in Shelby County, Tennessee. His family then moved to Minnesota in 1998 where he currently resides. D'Narius was raised by his single mother; being the youngest and only boy in his family shaped his outlook on life and the concept of survival and determination. He has stepped up to the plate as being the man of his household to keep his family as a unit.
A born entrepreneur, D'Narius Lewis started his sales career at the age of 15 when he began selling iPhones and Androids off Craigslist; this led to his passion for business and entrepreneurship.
While in college D'Narius balanced a full time job along with being a student. His balance became overwhelming and he often found himself having to decide to go to work or school. He later got fired from his job and eventually dropped out of college in rebellion to the demanding college lifestyle.
During that time, until he was 21, D'Narius had worked over 6 jobs and found his instability to be the result of his lack of passion, lack of freedom, and unfulfilling financial standing. Eventually, in 2012 D'Narius was a homeless-couch surfing kid with nothing but a suitcase and a name. He didn't have a permit, a license, or a car, so his ability to get around was also limited.
Fortunately, things took a positive turn and he found himself blessed to have a friend from high school whose family took him in. By the summer of 2013, the money D'Narius made was used to support rent, bills, and groceries–which was limited to $10. He often found himself left with $7.40 after all his bills were paid. He soon decided that was not the life he wanted to live, so he did something about it.
Fast-forward to 2016, D'Narius is now an author, speaker, and social media expert with multiple books on self-help and inspiration. His love for networking, desire for likability, and rebellious attitude towards societies' monotonous standards are what motivated, and still motivates him to attain his current level of success
D'Narius attributes his success to constantly moving and failing forward. Even when he had $1 to his name, no one knew his financial struggles, but he knew it would only temporary. D'Narius also attributes much of his success to his mentor Mary Dingmann, whom taught him the concept of transformational learning or guidance education.
D'Narius dedicates his career to teaching people that they can live the life of their dreams if they are willing to suspend their disbelief for an extended period of time and maintain the discipline it takes to work toward your dreams every day. D'Narius believes that people are meant to live an abundant, rewarding, and fulfilling life.
Links:
Amazon: The Power Of The Subconscious Mind – A Pocketbook Guide to Fulfilling Your Dreams
We hope you enjoyed this episode of Follow Your Different™! Christopher loves hearing from his listeners. Feel free to email him, connect on Facebook, Twitter, Instagram, and subscribe on iTunes!