331 How To Have A Legendary Career, Regulate AI & Much More with David Schellhase, Silicon Valley Legal Obi Wan and Salesforce & Slack's Former General Counsel
Friday 1st December 2023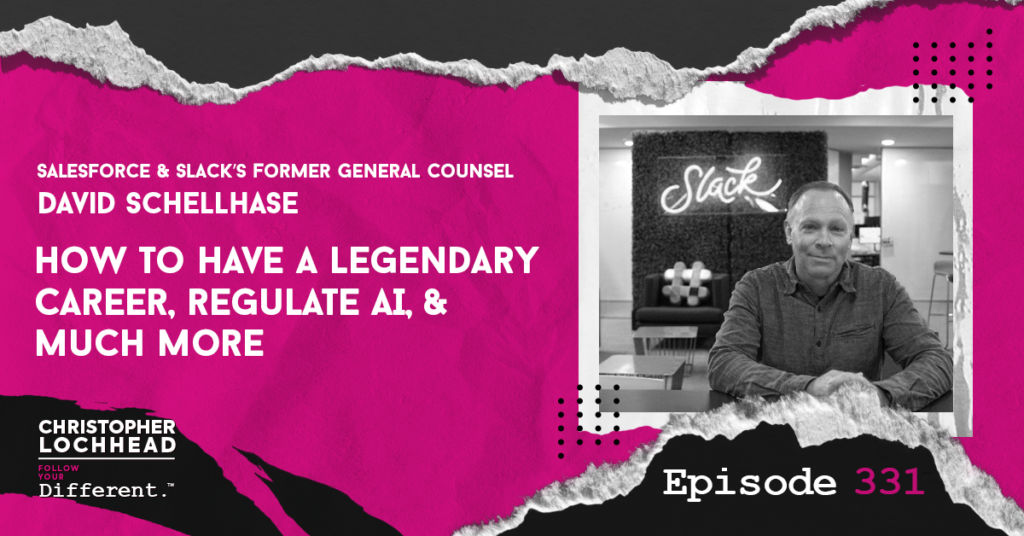 Podcast: Play in new window | Download (Duration: 1:34:15 — 64.7MB) | Embed
Subscribe: Apple Podcasts | Google Podcasts | Spotify | Pandora | RSS | More
If you're someone who wants to have a legendary, long-term, and super-successful professional career, you're going to love this dialogue with Silicon Valley's Legal Obi-Wan, David Schellhase.
David Schellhase is considered as one of the greatest General Counsels in Silicon Valley history. David was the GC at Salesforce for nine years, and he was the GC that took them public. He was the GC at Groupon, and most recently, the GC at Slack.
On this highly engaging episode, David and Christopher cover everything from the problems plaguing San Francisco in California, to how lawyers can be true partners who helped power the success of a legendary business.
You're listening to Christopher Lochhead: Follow Your Different. We are the real dialogue podcast for people with a different mind. So get your mind in a different place, and hey ho, let's go.
David Schellhase on the Challenges facing San Francisco
The dialogue starts off on the topic of the current state of San Francisco. David described downtown San Francisco as a ghost town with a lack of energy and a significantly reduced population, feeling like just a really small scale of what it was four years ago. He expressed concern that there's no immediate rebound in sight.
Christopher pointed out that policies and politicians may have contributed to the city's issues, but some complexity exists in understanding the causes. David acknowledged that many are well-intentioned but lack a clear understanding of cause and effect.
They discussed the challenges of addressing issues like addiction and the need for comprehensive solutions, rejecting simplistic approaches. David emphasized the difficulty of the situation and the desire for an easy solution.
Stuck in the middle
David Schellhase discussed the challenges of dealing with complex problems, particularly in San Francisco, where there's a high tolerance for individuals facing issues like addiction and homelessness. He noted the difficulty of reaching marginalized individuals with chemical problems.
Christopher shared a scuba diving analogy, emphasizing the need to make a clear choice between being supportive and caring or taking a more serious approach. He highlighted the inconsistency in dealing with crimes related to opioids, such as fentanyl, where some individuals receive lenient sentences despite carrying dangerous substances. Christopher argued that society is stuck in an ambiguous middle ground, where it either needs to fully legalize and regulate these substances or enforce stricter criminal penalties, as the current approach is leading to harmful consequences.
David Schellhase on addressing the societal issues in San Francisco
David and Christopher then continued to discuss the lack of a coherent strategy to address societal problems in San Francisco and the broader United States. They acknowledged the need for a balanced approach that avoids mass incarceration but also holds individuals accountable for their actions.
David emphasized the complexity of San Francisco's permissive culture and the challenges it faces in dealing with issues like addiction and homelessness. Christopher highlighted the importance of a holistic approach, including both support programs and consequences for criminal behavior. He argued that the U.S. lacks effective measures to deter crime, with many serious offenses going unsolved and unpunished.
To hear more from David Schellhase and his thoughts about the current Justice system, rise of AI, and how to build a long-term successful career, download and listen to this episode.
Bio
David Schellhase is of Counsel to Sullivan & Cromwell.
He is resident in the Firm's Palo Alto office and focuses on a range of technology-related and business issues.
David has more than 25 years of experience in the technology industry and most recently served as the General Counsel of Slack Technologies, Inc.
While at Slack, David oversaw the company's 2019 direct stock listing IPO.
Prior to that, he served as Chief Operating Officer at Honest Work Corporation, a software company that was acquired by Twitter, Inc.
He also previously served as General Counsel and then Strategic Advisor at Groupon, Inc. and for more than eight years as General Counsel of Salesforce, Inc. where he guided both companies through successful IPOs.
Professional Activities and Community Involvement
Trustee, Junior State of America Foundation
Board Member, Next Chapter Publications
Cited in a Law360 article, "4 Major Concerns on GCs' Minds for 2023" (January 3, 2023)
Credentials
Education
Cornell Law School, J.D., 1990
Columbia University, B.A., 1985
Links
Connect with David Schellhase!
LinkedIn | Sullivan & Cromwell
We hope you enjoyed this episode of Christopher Lochhead: Follow Your Different™! Christopher loves hearing from his listeners. Feel free to email him, connect on Facebook, Twitter, Instagram, and subscribe on iTunes